Ahmad Hassam
Brief Profile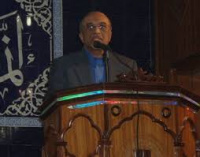 A dedicated community worker for over 20 years, Ahmed was born in Zanzibar, brought up and educated in Uganda where he obtained his Bachelor of Science degree from Makerere University in Kampala. In 1972, he migrated to the United Kingdom and studied at the London University and obtained a Ph.D. in Biochemistry in 1975. He is married and has two children.
Business Skills
He set up Quest Vitamins Ltd in 1983. The company, with its subsidiary Flavex International Ltd, now employs 75 people, has a Department of Health licensed pharmaceutical manufacturing plant and quality control laboratory and produces a range of nutritional supplement products in tablet and capsule form. Ahmed travels widely to Europe, Africa, India, Pakistan, North America, and the Middle & Far East where he has business interests.
Community Service
He was the Vice President of the World Federation.He has been the past President of Birmingham Jamaat.He has been elected Executive Councillor at Conferences in 1991, 1994 and 1997.He was on the WF-Medical Advisory Board and previous Chairman of WF-Careers, Education & Training Board.He was actively involved in building of the Birmingham Imamwada/Mosque and flat complex.He was involved in the primary healthcare and education programmes of the MAB in India.He set up career guidance at schools in East Africa. He worked with the Education Board of Africa Federation in supporting them on career guidance, university choices and education loans to students.He undertook a feasibility study on setting up of community Muslim schools in the UK.He enabled and facilitated jointly the successful resettlement of our communities following the earthquake in Kutch and Gujarat as part of the resettlement project.He established networks with Sewa International, British Red Cross and Indian Red Cross on projects relating to the earthquake resettlement in Kutch and Gujarat.He travelled to Iraq recently to meet with our Marjaas and discuss the needs of Iraqi communities and establish secure routes of supply of aid. Two sessions of face-to-face discussions were held with Ayatullah Seestani and meetings were held with other Marjaas in Iraq.
He has established networks with the International Federation of Red Cross and Red Crescent Societies in Geneva and the Director of Iraqi Red Crescent Society to establish opportunities for joint work in Iraq in setting up primary healthcare centres. He has, through the Red Cross and Macmillan Cancer Relief, set up assistance for Iraqi doctors to treat patients with nuclear radiation burns in Iraq.He recently attended the UN NGO Forum convened by the Economic & Social Council of the UN in Geneva, to discuss poverty eradication and sustainable development in developing countries.
Accessible to every member of the community.A community servant valuing other people's opinions. Wider community service, both national and international.Experience of delegating responsibility and focusing on strategic role.Provides strong and decisive leadership.A good listener who learns from his mistakes.Values staff & volunteers; with a focus on their welfare.Ability to achieve conflict resolution by discussion and compromise if necessary.Strong belief in wider participation, transparency, accountability and efficiency in the organisation.
Achievements & Awards
Chairman of West Midlands Refugee Doctors Steering Group, which facilitates the employment of refugee doctors, dentists, and other health care professionals into the National Health Service; the project is funded by the UK Department of Health.Chairman of Learning & Skills Council Refugee Review Group, which ensures integrated services to assist the refugees who come to settle in the Birmingham and Solihull areas, and is funded by the government.Board Member of Macmillan Cancer Relief, the second largest cancer charity organisation in UK, where he has initiated a project to look at the uptake of palliative care services by the socially excluded communities.Member of the 16-19 Education and Training in Birmingham & Solihull Review Steering Group that ensures that there is an integrated and collaborated educational approach by schools & colleges.
Council Member of the University of Birmingham where he has taken the lead on issues concerning recruitment of students from the more deprived and hard to reach communities, and types of courses that would attract such students.Chairman of Birmingham & Solihull Connexions Partnership. A new UK government initiative providing education, career guidance, advice, support and personal development to youths so that they have opportunities to fulfill their potential and become active citizens of tomorrow.Board Member of Advantage West Midlands, the UK government's Regional Development Agency with a budget of £750 million and responsible for the regeneration of businesses and communities. Board Member of Asian Business Forum of the Birmingham Chamber of Commerce, providing support for the needs of small Asian businesses.Previous Chairman of the National Health Service Trusts providing healthcare services to a population of 1.2 million, a staff of 3,000 and an annual budget of over £100 million.