Muhammad Dhirani
From KhojaPedia
This page is incomplete and require further information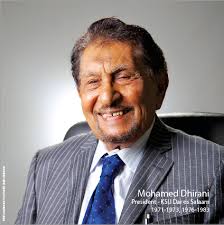 Birth
In his own words
My career in the service of my Community is close to 40 years and with the grace of Almighty Allah SWT, I am still in the leadership of my community having served the noble offices, in various capacities culminating to my present Chairmanship of the AF of the KSIJ. To date, I have served this position twice, two terms each. Indeed, it is the Africa Federation which has been a creation and a spring board for all other federations.
The opportunity of having been able to serve my Community all this long, is certainly a great achievement to my conviction to serve my people and must admit that I cannot, by any stretch of imagination, accredit this success due to my personal self but to Allah SWT whose blessings facilitated smooth discharge of heavy duties and responsibilities entrusted upon me each time.
This noble spirit that was kindled in my most prime years is still living and indeed, a major source of motivation and resolve into declaring my candidacy for the highest office in the Community.
I am cognizant and consider it absolutely vital that geographical mobility is inseparable part of the whole duties attached to the President of the WF in an effort to maintain pace with global changes in economical, social, moral and religious awareness, for the benefit of non else but our Community who are endowed with the religion, the best and the true one on this Universe.