Hussein Habib Abdulla Janmohamed
Birth & Death
Birthdate: In Year 1922
Deathdate: In Year 1980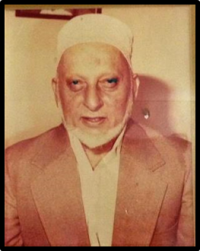 Brief Profile
Born in Mombasa, Husseinbhai was the eldest of Habib bhai's four sons. An active sportsman, he served the community in various capacities starting from a young age. He is however best remembered for his untiring efforts when the Hyderi Imambara was constructed in Mombasa from 1968-1970. He also supervised the extension of the Jaffery Sports Club pavilion. He served in the Jamaat, Africa Federation and Sports Club management.
Achievements & Family
During the Chairmanship of Marhum Mulla Asghar Saheb he served as Hon. Treasurer.
He was an active sportsman, especially in cricket. Husseinbhai passed away in Mombasa in 1980 at the age of 56. His children are Alhaj Mohamedraza Janmohamed (serving the community of Orlando), Zehrabanu Asgharali Kassam (Nairobi) and Salma Gulamabbas Gulamhussein (Mombasa).
Source: Mohamedraza Janmohamed (Orlando), Shams Janmohamed (London) and Mohamed Khaku (Allentown). Mogadishu School photographs and captioning courtesy of Murtaza Jivraj (Kerbala)
Prepared by Mustafa Pirmohamed (Orlando)
SECRETARIAT
AFRICA FEDERATION ARCHIVES SECTION
14th February 2020 (19th Jamadiul Akhar 1441 AH)

Resource: https://mcusercontent.com/5496132269473a782cfb7b798/files/87991ef8-bb32-49ca-a38a-2ef2fce0c55c/Archives_Serving_the_Community_Janmohamed_Family_of_Mombasa_edited_Final.pdf