Ebrahim Haji
From KhojaPedia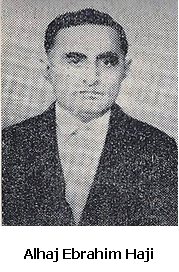 Birth & Death
Birth: 1892 in Lalpur, Kathiawad, India
Death: 1947, Dar es Salaam
Background
Murrabbi Ebrahim Haji was the younger brother of Juma bhai Haji and was born in Lalpur, Kathiawad, India in 1892. After obtaining his primary education in India, he travelled to Dar es Salaam in 1910 and joined his elder brother's business. He played an important part in establishing branches of their business in the Congo. Due to extremely difficult living conditions at the time in the Congo, people were reluctant to start a new life over there.
However Ebrahim bhai was able to do this because of his perseverance, adventurous and enterprising nature. As a result, some families followed him and settled in the Congo.
Service to the Community
Ebrahim bhai had an important contribution in the establishment of the Africa Federation. He was President of Dar es Salaam Jamaat from 1943 to 1946 and also previously held the position of Hon Secretary. He was the Vice-President of the Indian Chamber of Commerce at its establishment.
Ebrahim bhai Haji had the dream of moving to Pakistan and visited Pakistan before partition, but he died before Pakistan was created. His children established a business in Pakistan, where most of them lived and died.
Ebrahim bhai Haji died in Dar es Salaam in 1947 leaving eight children, all of whom are now deceased. The children are Rubab bai, Mohammed, Fidahussein, Habib, Banoobai, Nazmabai, Shokat and Hussain (Sheny).
Hussain Haji (Shaney), among his children was instrumental in building the first Khoja mosque in Toronto in 1980 with funds donated by the community members and the Ebrahim Haji and Juma Haji family. (Source: 1960 Trade Directory/Family source).
The grandchildren of Marhum Ebrahim Haji continue to support the community in various projects and developments.


Reference:
SECRETARIAT
ARCHIVES SECTION OF THE AFRICA FEDERATION
19th August 2016 (15th Zilkaad 1437 AH)
https://gallery.mailchimp.com/5496132269473a782cfb7b798/files/AFED_Archives_Bulletin_Marhum_Juma_Haji_Ebrahim_Haji_A_Philanthropists_and_A_Visionary_Edited_.pdf