The Community Sports Legends
Akber Gulamhussein (Fondly known as Aku)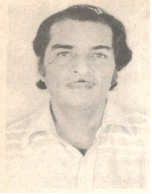 Once in Zanzibar in 1952 Ithnasheri Gymkhana 'A' lost to Arabs in a cricket game in which a young lad was left out from team 'A' and made to play for team 'B'. The young lad took shelter under a tree and wept profusely. Ironically the same Arabs side lost their next game against the Ithnasheri Gymkhana team 'B' side and were bowled out cheaply by that lad who took 8 wickets. The lad was Akber Gulamhussein. Born on 19th November, 1933 in Zanzibar, Akber played cricket accidentally in 1949 when one of the players dropped out of the 'ESM' side at the last minute and Akber had to be included to fill in the gap. He scored 32 runs and never looked back since then. Akber remained one of Zanzibar's top most all rounder representing the Zanzibar combine side from 1956 to 1963. He used to open the bowling attack and had the finest bowling style, a perfect model for cricket aspirants. He captained Ithnasheries from 1959 to 1961 during which period the KJ cup was won consecutively. He scored 87 in a partnership of 140 with Baker Tejani against the "Arabs" in 1959. One of his best bowling performances was when he took 7-21 to skittle the Mombasa Jaffery for mere 40. Akber's most regrettable moments occurred in the game against Pakistan when the great Hanif was dropped twice of his bowling. Akber was also a fine volleyball player. Incidentally he remained the Zanzibar Ithnasheri Gymkhana's last President.


Baker Tejani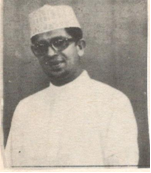 Born in April 1935, Baker Tejani was one of the Zanzibar's top most sportsmen. He was renowned for his cool temperament and sportive mannerism. It was cricket which gained him immense popularity. After starting playing for government secondary school in 1952 he became Ithnasheries major batsman and prolific run scorer from 1955 to 1963 during which period he almost represented Zanzibar XI. His highest score was 95 against the Arabs. However it was the game of tennis at which he excelled. He started participating in tournaments from 1956 onwards and was seeded No. 1 in 1965, he won both singles and doubles. He remained active with the game but did not compete in the tournaments. Baker was also a very neat volleyball player who besides playing for his school and Ithnasheris also got selected for Zanzibar combine. Another sports to have earned him laurel was badminton. He remained Zanzibar's champion from 1958 to 1960 and won both the singles and the doubles.



Bashir Nasser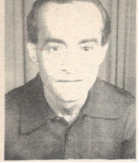 Born in 1939 in Zanzibar, Bashir Nasser shall always be remembered as a boy with a golden arm for having bowled the great Hanif Mohamed of Pakistan. He also bowled another star cricketer, Imtiaz Ahmed and claimed the wicket of Wallis Mathias. Imagine on that instant against Pakistan in 1956 he bowled for Zanzibar almost 50 consecutive overs! Bashir was a 'terrific' off spinner and overall a great all rounder who used to be the architect of Ithnasheries numerous victories. His slip fielding was a joy to watch and his batting highly relied upon. Once, Ithnasheris scored 119 against strong 'Hindus' side who were bowled out for a meager score of 29 with Bashir claiming the major share of wickets. When it was the turn of Ithnasheris to bat, again Bashir opened the innings and struck consecutive boundaries off the first five deliveries. Gajendra who was Hindus' captain and wicket keeper could not bear it, he uprooted the stumps and gave away the game to Ithnasheris. Bashir was also a very fine volleyball player.



Noorali Jessa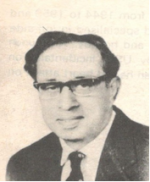 He was a prolific batsman with vast potential. He captained the Ithnasheri Gymkhana for several years played for Zanzibar XI and led his side on many occasions. It was under his captaincy that Zanzibar won the Pardhan Ladha Shield for the first time in 1951 against formidable Dar es Salaam XI. Mr. Noorali Jessa was essentially a dependable opening bat and executed his strokes, especially his late cuts, with admirable ability. He was sound wicket keeper too. Those with rich memory will not hesitate to pay tribute to his contributions. His cricket career started at the tender age of 16 when he played for 'A' division. He passed away in Mombasa in 1969 bat in hand.





Pyarali Merali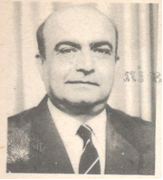 Known by the entire Ithnasheri community as Pyaralibhai, this unique cricketer had participated at the highest possible levels during his era. Born in Lamu in 1920, he first played for Allidina Visram High School, Mombasa during 1935 to 1938, and the matches being played mostly on Saturdays. Every year a shield match was played against Nairobi XI and in 1937 Pyaralibhai distinguished himself with an innings of 99. He made his debut for Ithnasheri Sports club in 1936 and played until 1940. In the season 1938 he took 151 wickets for the school and the club. His performances brought him to light and he was selected to play for Coast Asians against Coast Europeans in the annual 'Test Matches' from 1937 to 1940. Higher honors were still to come: Selected by Kenya Asians to play Kenya Europeans (an annual 'Test') at Nairobi in 1938 to 1940.
Two factors seem to hold up Pyaralibhai's career after that: the Second World War, and the fact that in 1941 he migrated to Lamu on business reasons, and hence played no cricket during the period when he would have been at his peak for 8 years, until he came to Dar es Salaam in 1949. In that year he played for the Bohora Sports Club. His career with Ithnasheri Sports Club was tragically cut short due to back problems (slip disc trouble) and after serving union faithfully from 1950, he called it a day in 1954. In that time he played for the then Tanganyika against Kenya, Uganda and Zanzibar.
There are some happenings that Pyaralibhai recollects vividly firstly in his very first match for Ithnasheri Sports Club against Sir Ali Muslim Club at Nairobi, he took 8 wickets in the first inning and 6 in the second, 14 wickets in that match. Once during the Ithnasheri's Championship year in 1954 playing against Goans, the Ithnasheries were all out for 47. Pyaralibhai then came into his own; taking the new ball, he rubbed it on the ground to remove the shine (Bedi and co. learnt it later), and spun his team to victory by 1 run. Bowling his leg spin, he was not afraid to flight the ball, and the batsmen were puzzled, not comprehending how to deal with him. He proved on that day that a cricket match can be won by positive play. Another memorable opportunity was in 1939 when he was offered contract to play for Maharaja of Patiala's cricket team in India which he declined as he was intending to go on with higher studies. Perhaps he would have been world-famous name had he taken his chance, but then Pyaralibhai has never been one to gloat over his triumphs.
Pyaralibhai career was sadly cut short by a slipped disc injury at the end of 1954 season. Though the club actively lost his services in the field, he has served in various capacities of the Jamaat committees. For a most of the Ithnasheri Union gatherings the highlights have been tremendous in conducting himself as the Auction master.
Gulamali Kermali (Kabana)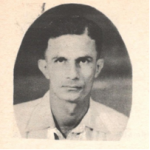 Kabana was one of the Zanzibar's greatest bowlers. He monopolized the cricket scene in 1930's and 1940's. He was a medium pace bowler, moved the bowl in the air and would revert to his "off spins". He used to be a major wicket taker in all the matches that he had played. He won the covetous ball, the most prestigious cricket award in Zanzibar, for a record number of eleven times. In 1938 he took 9 wickets for 8 runs against Goans bowling them for mere 12 runs. In his long career during which he must have bowled thousands of overs he never got struck for a six, a record which he is proud of. Incidentally once he split with the Ithnasheries and joined Comorians, that particular season Comorian emerged as the league champions.



Amir Gulamhussein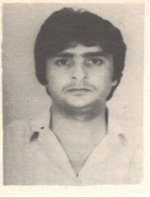 Amir is a tall, well-built and confident left arm extremely fast bowler. He moves the ball either way and gets close to the stumps as he delivers, enabling him to hit the stumps or claim the leg before decision if the batsman hits across the line. Made his debut for Zanzibar Ithnasheri Gymkhana in 1959 and was awarded "Best Bowler" trophy when he claimed 13 wickets in two matches against Mombasa Jaffery in 1961. Amir is the youngest brother of Marhum Akber Ghullamhussein, fondly known as Aku and Hussein Gulamhussein, famously known by the name of Chikley. He played in England from 1966 to 1974. He joined Union Sports Club on his return to Dar es Salaam in 1978 and was the backbone of Union's bowling side, a shining star with several outstanding performances, 7 for 15 vs. Dar cricketers, 6 for 13 vs. coast gymkhana. He used to open the batting but later was batting lower down the order.





Mohamed Nathoo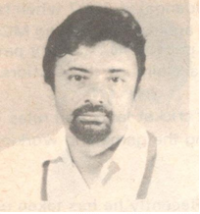 If the communal services of the grandfather, Ali Nathoo, remain unparalleled in the history of Zanzibar, the contributions of the grandson, Mohamed Nathoo, remains unequalled in the history of Union Sports Club (USC). The day in 1973, when he lifted Upanga Sports Club dependable baller Pranlal Divecha for a six clinching Union the league championship after a lapse of 19 years, Mohamed has proceeded all along the decade carrying Union's flag aloft amidst rough passages and critical moments.
Born on 11th February, 1946 in Zanzibar, Mohamed is a well built athlete and a pleasant personality. His attracts high respect from his contemporaries, and cricket fans. Mohammed's cricket career goes back to his school days in Zanzibar when h played for ESM in 1958 and represented the Ithnasheries in 1960. He joined USC in 1968 and has been a regular member of the Tanzania National team since 1972. He also captained the National team and had the honor of regaining the quadrangular trophy which had eluded Tanzania for 16 years. Mohamed has prevailed over the local cricket scene for the past two decades. He is a dependable cricketer who adds aesthetic values and delight to lovers of the game. He has registered more than 500 runs almost every season and records a half century every now and then. However it is not the runs he scores that form the subject of appreciation but the spirits and style with which he makes them. Mohamed's footwork commands fluent strokes. His front movement with his shuffling of the bat is pleasant to watch. He is equally at ease against both the seamers and the spinners. He was the very first recipient of the "Best Batsman" award on its introduction by DCA in 1974. Mohamed played big innings umpteen times but the sad note of his remarkable career has been a century that has always eluded him. He has reached the nineties on several instances but the nearest he reached toward a century was 99 when he was unfortunately run out. Mohamed scored 70 invaluable runs against minor countries. Wickets had been tumbling and the score read 26 for 5 when Mohamed and Bashir Tejani came together exhibiting brilliant cricket and sharing a partnership of 117 which gave some respectability to the score.
Concentration is one of Mohamed's biggest virtues. In the 1976 quadrangular he batted against Zambia for 4 hours 10 minutes scoring 93 runs. He times his innings as the situation demands. When a faster scoring rate is required run's flow from his bat as evidenced when he had scored 55 runs off 27 deliveries including 2 sixes and 6 boundaries against a top profile team of Kinondoni Club, 18 runs off one over from Tanzania's leading fast bowler Alnasir Hasham and four consecutive boundaries off Fazal, Tanzania's off spinner. Volleyball was another sport where Mohammed has excelled.
Shakir Sheralli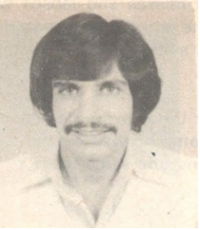 Shakir Sheralli owed his rich basic gifts of cricket to his father, Raza Sherali, and the incomparable grandfather, Sherali Meghji, famously known as Sherali Ndege who played cricket in Zanzibar when cricket was at its peak of the games played in the spice Island of Zanzibar. Though Shakir may not command the proves of his grandfather, the grandeur and innate nobility are encapsulated in the strokes he plays. The affixation 'ndimu' to his name links. 'Shakir Ndimu' so much with the 'Sherali Ndege.' Born on the 25th of July, 1955 in Zanzibar, Shakir is affable, carefree and the most popular amongst the Union Sports Club lots. Union supporters love him for his daring feasts and aggressive display. Ever since his emergence with USC in 1972, spectator interest has been given a new issue.
In physique his structure may reflect fragility but his desire to hit the ball far is met by method different from others. The grace of his batting is not merely show, a flourish added to please the eye of the spectator. The strokes are wristy. The follow through is high and free as by such means maximum force is applied to the ball with the minimum strength.To note a few of his majestic parades of batting display during his rich harvest of runs are his innings of 95 against Upanga Sports Club in 1981 and 51 scored off some 8 overs against Coast Gymkhana in 1982. His captain's knock of 89 against Dar Brotherhood in 1981 remains one of his finest innings. That innings contained 2 sixes struck on the off which were peculiar, there was something unusual about them. Approaching to such fineness rarely gets witnessed.
Shakir was one of the finest players of fast bowling and the most clinical dispatcher of a delivery. His best shot has to be off the front through the covers. His cover drive was dazzling with the motion off the ball accelerating as it speeds towards the boundary. The Union supporters rejoice in wonderment at his artistry and implied in their spontaneous prose that in such innings has no peer. In the recently concluded 'Quadrangular' Tournament Tanzanians were in all sorts of trouble against Ugandans as 5 wickets fell in quick succession. It seemed as if God has showered his bliss on the Ugandans with 'Marshall' in the form of Masoke who seemed unplayable. The conspicuous aspect of Shakir's cricket is his fielding with is par excellent. Irrespective of his position in the field his safe pair of hands couples with acute sharpness, vigilance and judgment saves his team a number of runs and avails the bowler his share of wickets.
Abdulrasul Virjee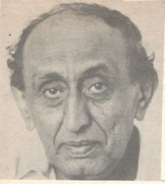 A right arm fast bowler who opened bowling for Mombasa Jaffery in 1930's led the first ever Ithnasheri team in the DSM league Cricket. After retiring from active cricket he served the club in various capacities being its first chairman in 1952 he also took active interest in coaching of youngsters.







Raza Sherali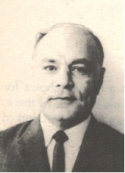 A fierce competitor, Raza represented Zanzibar both in cricket and volleyball for several years during the twilight years of his career, he lost none of his accuracy and represented DSM combine a hard hitting batsman and a good swing bowler, Raza always led by example.






Source: Sports Festival Souvenir Book of December 1984
Secretariat
Africa Federation Archives Section
16th December 2016 (16th Rabiul Awwal 1438 AH)
23rd December 2016 (23rd Rabiul Awwal 1438 AH)
3rd January 2017 (4th Rabiul Aakhar 1438 AH)
28th January 2017 (29th Rabiul Aakhar 1438 AH)
Reference: https://gallery.mailchimp.com/5496132269473a782cfb7b798/files/AFED_Archives_Community_Sports_Legends_Part_1.pdf