Syed Aliasgher Naqvi
Birth & Death
Birth Date: January 11, 1933
Death Date: September 02, 2002
Brief Profile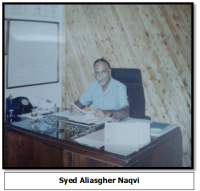 Memories of certain personalities will forever remain an inspiration to all who were fortunate to be a part of their journey. Alumni of Al Muntazir Islamic Seminary of the years 1989 to 1993 will recall the invaluable services rendered by the esteemed past principal Syed Aliasgher Naqvi. Syed Aliasgher Naqvi was born on 11th January 1933 in British India in the state of Uttar Pradesh (UP). He was the son of Late Syed Ali Akber Naqvi and Syeda Jalil Fatema and his siblings are Syed Ali Yawar Naqvi, Syed Ali Safder Naqvi, Syed Ali Zafer Naqvi, Syed Ali Shakir Naqvi and Syeda Shakila Zaidi.
Educational Journey
He completed his master's degree in political science from Agra University in 1953 and due to lack of opportunities in India he decided to move to Karachi Pakistan for greener pastures in 1957. He did his second Master's degree from Sindh University in English Literature whilst at the same time teaching in a college in the evening. He then joined Cadet College Petaro which is a Naval college under the Pakistan Navy about 32 kms from Hyderabad.
Life Journey
He got married to Syeda Anis Fatema Naqvi and they had three children: Nighat Fatema Naqvi, Shaheen Iqbal & Sohail Naqvi. He was first deputed to Tanzania in 1976 by the government of Pakistan and was stationed in Tabora as an Assistant Headmaster. After finishing his term of 5 years he was allotted to the Sultanate of Oman for a period of 6 years where he was a consultant in various schools in Ibri, Nizwa and Muscat. Upon completion of his duties in Muscat he was again transferred to Tanzania at the Mzumbe University. After his tenure with the government came to an end, he moved to Al Muntazir Islamic Seminary where he contributed greatly to its success serving as the Principal from 1989 to 1993.
From 1994 to 1996 he was in the private sector, then joined the Central Board of Education (CBE) from 1996 up to 1999 as the Director of all the schools under the umbrella of Al Muntazir which included Al Muntazir Islamic Seminary, Al Muntazir Junior School, Al Muntazir Primary School, Commercial College and Union Nursery School. He then worked as a consultant with Ahlulbayt Schools which are based in Kigoma until his untimely death on 2nd September 2002 in Dar es Salaam where he was laid to rest.
Personal Achievements
Syed Naqvi was a very helpful personality always at the fore-front whenever his assistance was required. As one of his hobbies was hunting, he had hunted down a tigress in the state of Uttar Pradesh in India where he used to live before. The tigress had terrorized the nearby villages and had killed and eaten a few villagers. The villagers made him a hero after this incident!
He also used to spend one day a week with mentally and physically challenged children while in Pakistan and played a vital role in raising funds for water projects in various parts of Tanzania. He was also interested in horse riding and tennis and was a very ardent Tennis player and had won several tournaments.
His unswerving commitment, passion and contribution to education is vast and will always serve as a reminder of the immeasurable impact he made on the lives of countless individuals. We pray to Allah (SWT) to amply reward Marhum Syed Aliasgher Naqvi for his efforts in serving the community. May the Almighty Allah (SWT) grant him maghferah and a lofty station in the proximity of Ahlulbayt (AS). Ameen.
A request for Sura-e-Fateha for Marhum Syed Aliasgher Naqvi and all marhumeen

Source: Nighat Fatema Naqvi (Daughter) and Assad Ali Naqvi (Grandson)
SECRETARIAT
ARCHIVES SECTION OF THE AFRICA FEDERATION
Dated: 5th July 2023 (16th Zilhajj 1444 A.H.)
Resource: https://mcusercontent.com/5496132269473a782cfb7b798/files/c4c2740c-e9b9-25b3-c6cf-2d39194889b8/Archives_Marhum_Aliasgher_Naqvi.pdf