Sheikh Mahmood Daya
Birth & Death
Birth Date: November 06, 1966
Death Date: August 29, 2021
Brief Profile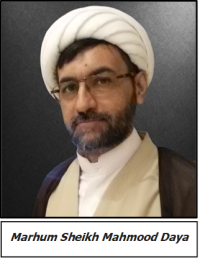 A humble and devoted scholar who displayed remarkable Akhlaq whenever approached – these were the modest qualities of this esteemed personality.
The (Late) Sheikh Mahmood Daya famously known as Sheikh Daya was born on 09th November 1966 in Moshi, a town in Tanzania. Marhum completed his primary and secondary education in Moshi. He was the last son of Hussayn and Sughra Bai Daya. Sheikh was the youngest sibling of Marhum Ahmad, Batul, Zehra and Shilu.
Life Journey
In 1983 Marhum travelled to the UK where accomplished his 'A' levels. Thereafter, he joined Portsmouth University and attained his bachelor's degree in Pharmacy. Marhum worked for a few years in the UK, where he then married Sajida bai - daughter of Gulamabbas and Zehra bai Rattansi in 1989 and they were blessed with 3 children Hawra, Hanna and Muhammadhussein. Thereafter, Marhum travelled to Dubai for a short time and then to Arusha where he worked for 8 years.
Marhum got the tawfiq to join the Hawza of Qom in the year 2004 where he succeeded to get both his bachelor's and master's degrees in Kalaam (intellectual theology / Aqaid). In 2017, Sheikh's elder brother Ahmed passed away so he left his PhD studies and came back to Dar es Salaam to support his aged parents.
Community Services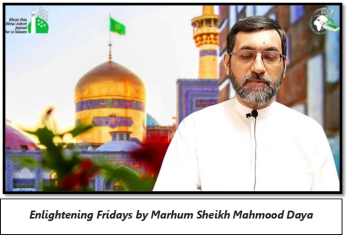 Marhum helped his father in running his shop Daya Premji Ltd. in Dar Es Salaam. Sheikh Mahmood Daya was also at the forefront in assisting the community in several ways. He was Imam-e-Jama'ah – the Imam of the congregational prayers in Dar es Salaam and a teacher at both MAZ (Madrasatuz Zahra) and the Husayni Madrasah. He was one of the scholars who enlightened the community every Friday through a YouTube platform run under KSIJ Dar Tabligh. Sheikh served as a Tabligh Board scholar as well where he offered his advice on various matters, including the Madressah syllabus. His scholarly guidance was invaluable.
In addition, Sheikh Daya had an amazing knowledge of the depth (Tafsir) of the Holy Quran and he trained the youths for the Annual competition in Ma'rifah (understanding of the Almighty Allah (s.w.t) through the beautiful verses of the Holy Qur'an). He conducted some Tadabbur sessions (contemplation on the verses of the Holy Quran) too. Moreover, Sheikh initiated the Qur'an nights programme in which the Quran is recited and the scholar gives the Tafsir of the verses recited. Sheikh Daya was an Imam for the boys Jamaat namaaz that was conducted at the Imambargah. Marhum also encouraged the Hussaini madrasah to obtain the services of an Aalim to guide them.
Marhum Sheikh was friendly with the members of all ages in the community and was approachable and ever-ready to assist the youths in any religious matter. He also extended his services to Mehfil Asghari on various occasions.
Death
In 2021, Sheikh Mahmood travelled back to Iran for his medical treatment and on 29th August 2021 Sheikh Daya left this transient world for his eternal journey. He is buried in the Holy city of Qom in the graveyard known as Gulzar e Shuhada. Sheikh Daya quietly and fervently served the community with humility without seeking recognition which is indeed worthy of emulation. His meritorious contribution shall always be cherished and he will always be remembered for his dedication.
May Allah (SWT) reward him amply for his noble deeds and grant Marhum Sheikh Daya a high station in the proximity of Ahlulbayt (AS) where he continuously receives Allah's (SWT) bountiful mercy and grace, Ameen. Let us remember him and all other Marhumeen with Sura-e-Fateha.

Source: Muhammadhussein Daya and Muhamedjawad Akber
Article by: Sukaina bai Habib - Daughter of Marhum Murtaza Jivraj (Kerbala)
SECRETARIAT
ARCHIVES SECTION OF THE AFRICA FEDERATION
Date: 15th July 2022 / 15th Zilhajj 1443 A.H
Resource: https://mcusercontent.com/5496132269473a782cfb7b798/files/f6d979db-c9f2-56bf-f491-a9a38a996758/Archives_Bulletin_Sheikh_Mahmood_Daya_Remembered_July_2022_002_.pdf