Seth Ghulam Ali Chagla
Birth & Death
Birth Date: In the Year 1871
Death Date: June 26, 1950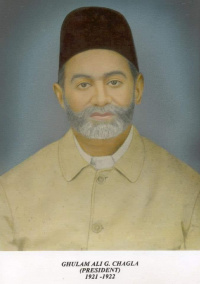 Brief Profile
Seth Ghulam Ali Chagla, the first Muslim president of Karachi Municipality, was born in 1871 in Kharudar Karachi, a famous Khwaja family of Sindh, called Chaglo (Chalo), the beloved person in Sindhi, the father of Seth Ghulam Ali Chagla, Ghulam Hussain Chagla was also a rich person from Karachi and supported Hassan Ali Afandi in 1885 to make Sindh. Madrasut Islam in Karachi and became a member of the first managing committee of Sindh Madrast Islam. Similarly Ghulam Ali Chagla was also a member of Sindh Madrast Islam Board. He was a member of the standing committee. Seth Ghulam Ali Chagla specialized in Sindhi and English as well as Persian Urdu Arabic languages. He also made a magazine Sukhri in Sindhi and Gujarati languages. Seth Ghulam Ali Khawaja in Karachi city in 1887 Chagla Dtu Khawaju (Challo kẖwạjw The passenger house was built in which the passengers coming from other areas of Sindh and the students of Isna Ashra Khwaja were to be given residence. That passenger house is still in its real condition.
Achievements
Ghulam Ali Chagla was nominated as the President of Karachi Municipality in 1921 In this way, he also became the first Muslim President of Karachi Municipality. Ghulam Ali Chagla was also the president of Karachi Electric. In 1910, when the delegation of Aligarh Muslim University came to Karachi, Ghulam Ali Chagla donated Rs. 10,000. Ghulam Ali Chagla gave Rais Ghulam Muhammad Bhargari, Jamshed Mehta, GM Syed And Harchand Rai Vishndas also participated in national movements as well as a good friend of Mirza Qaleach Baig, a literary personality of Sindhi language. Ghulam Ali Chagla supported Ojha brothers in 1939 to support TB hospital and patients in Karachi. I had also played my part in building a house, which is now Ojha Campus Diw University. Ghulam Ali used to spend time at the shrine of Shah Inayat Shaheed, a famous personality of Sindh, Chagla, Jhok Sharif.
Family
Ghulam Ali Chagla had four sons Ahmad Ali, Abdul Rahim, Hussain, Ali Muhammad and four daughters. His son Ahmad Ali Chagla was a famous literary personality and musician of the Sindhi language who also produced the tune of the national anthem of Pakistan.
Ghulam Ali Chagla died on 26 June 1950 in Karachi.
Reference: The book of Karachi is an imperishable character, Gul Hassan Kalmati
Report: Asif Ali Jokhio
#MakersOfModernKarachi