Ramzanali Salemohammed Jagani
Birth & Death
Birth Date: In The Year 1912
Death Date: January 31, 1989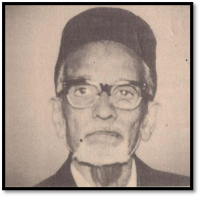 Brief Profile
Haji Ramzanali Salemohammed Jagani was born in Bharapur, Cutch, India in 1912 and migrated to Uganda in 1926. There he rendered various community services until 1972 when he moved to London during the Uganda Exodus.
Life Journey
He had hardly settled down in London, started organizing Majlis on a very regular basis. It is reported that there were Majlises held at his residence where both ladies and gents attended until the first Imambara was purchased in Hammersmith in 1973. From the very beginning, he participated in every religious gathering Namaz-e-Jumaah, Iftar, Thursday night and Muharram Majlises etc. He would travel in all kinds of weather by public transport being not so much conversant with English language and in completely unfamiliar surroundings. He always maintained very good relations with the Resident and Visiting Aalims, doing what he could do the best to make their stay comfortable.
Community Services
Haji Ramzanalibhai gave his voluntary services to the Community in every aspect he could. Over the years he served in Ghusal-Kafan & Dafan Committee with complete dedication and without any hesitation. Upon being informed of a death, he would be there for the Ghusal-Kafan Dafan regardless of the weather conditions, at any time and at any place in the UK. On an individual basis, he would willingly assist whoever needed guidance. He also served as a Trustee of the Jamaat. Haji Ramzanalibhai served the community modestly preferring to work quietly, doing what needed to be done, for the pleasure of Allah (SWT). He earned the respect of the Community members, young and old. He passed away peacefully on the 31st of January 1989 and was buried in Brookwood Cemetery outside London.
Let us pray for Marhum Ramzanalibhai and all Marhumeen for their maghferat and recite Sura-e-Fateha for the benefit of the departed souls.
Source: Souvenir Issue Newsletter, Husaini Shia Islamic Centre, Stanmore, December 1989, Rabi ul Akhar 1410 A.H.
SECRETARIAT
AFRICA FEDERATION ARCHIVES SECTION
14th June 2018 (29th Mahe Ramadhan 1439 AH)
Resource: https://gallery.mailchimp.com/5496132269473a782cfb7b798/files/c5e8d278-204d-4623-af59-6b3ce29d368a/Archives_News_Bulletin_Profile_Alhaj_Ramzanali_Jagani.pdf