Pirmohamed Dosani - The Pioneer of Lindi
Birth and Death
Birth: In The Year 1860
Death: May 15, 1915
Brief Profile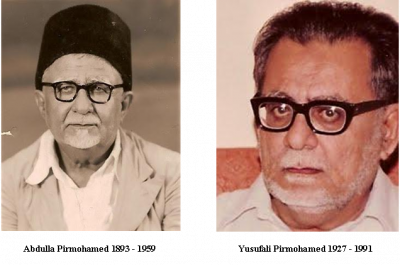 Pirmohamed Janmohamed Dosani was born in Mundra, Cutch in India in 1860. He migrated to Zanzibar after the death of his wife Fatma Bai, sister of Khaki Sajan, six months after their marriage. Pirmohamed's only sibling Remtulla Janmohamed was a Mukhi at Mundra Jamatkhana. He did not migrate to Africa. However his only daughter, Fatma was later married to Musa son of Jaffer Najak of Lindi. Pirmohamed's second wife was Jibai, also called Chagbai and sister of Nasser Kurji. He had two children with her, son Abdulla and daughter Sakina who later married Abdulla Hameer.
After the death of his second wife Pirmohamed travelled to Lindi around 1900 and married Sakina, sister of Rashid Alidina. Sakina had three children, Abdulrasul, Jenabai who later married Mukhtar Moledina and Kulsum who died in young age. Pirmohamed's son Abdulla migrated from Zanzibar with his father when he was child of six. In Lindi, Abdulla worked for Esmail Khimji for a short period during his youth. During the First World War, Abdulla, his family and other community members had to leave Lindi by canoe to the nearby port village of Mingoyo for safety as the battles raged in nearby areas.
Around 1916, at the age of 23, Abdulla went to Zanzibar to get married to Sugra, daughter of Jaffer Hameer. After marriage, Abdulla lived in Zanzibar and worked for his father in law. He later decided to return to Lindi where, on 11th May 1920, he started a small shop in the Ndoro area near Mpilimpili. Abdulla had ten children; the first three Mohamedrafiq, Fatma Kanji and Zehra Dinani were born in Zanzibar. Fizza, Mohamedhussein, Yusufali, Nargis Jaffer, Gulamabbas, Kaniz and Haiderali were born in Lindi.
Business Skills
In 1933, Lindi Jamaat offered Abdulla to move to a newly constructed one-storey house (Golfa House) owned by the Jamaat at the corner of Gold Coast St. Queen's Avenue (now Ghana/Uhuru). The shop at this premises was previously rented to Lindi Stores while the residential upper storey was reserved for Jamaat guests, especially visiting Aalims. Over the years, a total of four generations of the family lived in this premises. Abdulla originally started a provision shop at this premises famously known as Bachupira shop. The shop gradually developed into selling a many variety of provisions and a one-stop shop for everything food e.g. sugar, rice, soap, ghee, flour, all kinds of nuts, dried fruits, tinned food, fresh imported fruits including pomegranates from Spain and apples from South Africa, desi herbal medicines, as agents for chocolates from UK and Belgium, hand-woven Muslim caps from Singapore and fishing gear. The shop had a huge credit customer base. As such, things like a kilo of potatoes, a bottle of paan chutney, or an ounce of saffron would be invoiced monthly and paid monthly. In 1954, Abdulla with a group of community members from Lindi made a six month journey to Iraq for Ziyarat and then to Cutch, India.
Community Services
In his younger days, Abdulla was a good reciter of Marsiya as he had melodious voice. He served as Hon Treasurer and carried out Nyaz duties of the Jamaat. His son Yusufali also served the Jamaat as a Trustee and Hon Treasurer for many years. His son Gulamabbas, who lives in Orlando, was Marsiyah and Majlis reciter in Lindi and also a Mukhi at Mehfile Murtaza, Karachi. His nephew Fidahussein served Newala Jamat as President for 10 years. Mohamed served Dubai Jamaat as President during 1980's. The construction of mosque was done during his tenure.
Death
Pirmohamed died at his Ndoro home in Lindi on May 15, 1915. Several of his descendants including his son Abdulla and grandson Yusufali are also buried in Lindi.
Please remember the Marhumeens for their selfless services and devotion who have served the Jamaats in various capacities at various times with Sura-e-Fateha.
Article and Photographs Courtesy of Br. Mustafa Yusufali Pirmohamed (Orlando)
Source: AF Trade Directory 1960
Published in Africa Federation Archives Section
3rd June 2016 (27th Shabaan 1437 AH)
Reference: https://gallery.mailchimp.com/5496132269473a782cfb7b798/files/Abdulla_Pirmohamed_Lindi_Jamaat_Afed_Archives_Article_June_2016_final_.pdf