Nazir Jessa
Brief Profile
Nazir Jessa was born in Tanzania and came to the UK in 1964.
Academic Qualifications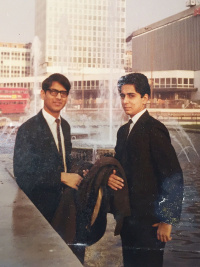 Achievements
• Between 1966 – 1971, 3 term President of East African KSI students Union UK
• 1971 Founder - Khoja Shia Ithnaasheri Muslim community of London
• 1972 Founder of Watford Electronics
• 1994 Founding chair of Hertfordshire Ethnic Minority Business Network; Remained at the helm for seven years
• 1995 One of the founding directors of Bedfordshire Business Link
• 2000 Launch of Bedfordshire 'UK Online for Business'. Opened by the then DTI minister Hon. Patricia Hewitt MP
• 2003 In recognition of Watford Electronics' pioneering work in the field of eBusiness, I was invited by the Queen to Buckingham Palace to celebrate the contribution of 400 Pioneers of the UK who had made so much difference to the lives of so many of our citizens.
• Amongst many other activities, Nazir Jessa set up a project to refurbish computers to donate to schools in his home country which is supported by the University of Bedfordshire's student volunteer programme.
• Mr. Jessa is a court member of the University of Bedfordshire and an ardent supporter. The newly-appointed High Sheriff carried out his first official engagement on 6 April when he attended the Mayor of Ampthill's Civic Service. Mr. Jessa will be in post until April 2009.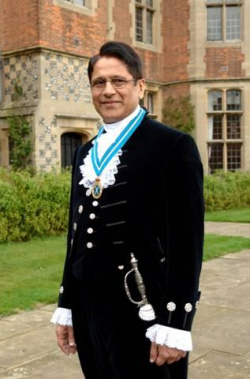 Services
Well-known businessman Nazir Jessa has been installed as the new High Sheriff of Bedfordshire at a special ceremony on Thursday 3 April 2008 at the University of Bedfordshire's historic Putteridge Bury campus. The former Chairman of Watford Electronics in Luton accepted the position in front of more than 70 guests including the Vice Lord Lieutenant of Bedfordshire, Colonel Colin Mason, Bishop of Bedford, the Right Reverend Richard Inwood, Justice of the Peace, Ann Rayment, Vice Chancellor of the University, Professor Les Ebdon and His Honour Judge Burke Q. C. In his speech, Mr. Jessa (66) said: "I'm honoured to take up this position and I look forward to serving the community. I hope to do my job well and serve my county to the best of my ability." Mr. Jessa was flanked by his family members who had come from various parts of the UK and three different continents.
The historic office, which is appointed by the Queen, dates back to Saxon times (1000+ years) and used to have the powers now vested in judges, magistrates, local authorities and coroners. Today the unpaid role is mostly ceremonial - duties include welcoming and supporting Circuit Judges visiting the county, community work, supporting voluntary organisations and welcoming members of the Royal family during their official visits to the county. Outgoing High Sheriff Dr. Vaughan Southgate thanked the people of Bedfordshire for making it a memorable year. Brian Hall was appointed Under Sheriff for the year.
Honours & Awards
• 1996 - Luton Community for Racial Harmony Empowerment Award
• 1997 - 'Lifetime Achievement Award' - Ziff-Davis
• 2001 - Entrepreneur of the Year – Muslim News
• 2002 - Honorary Fellow – PC Association of UK
• 2003 - Honorary MBA - University of Bedfordshire
• 2004 - UK's Asian Entrepreneur of the year – Runner up
• 2008/9 - High Sheriff of Bedfordshire
• 2010 to date - Deputy Lieutenant of Bedfordshire
Positions Held
Past Positions Held:
• Ann Frank Education Trust UK – Patron
• Bank of England Regional Economic Panel Member - 6 years
• Bedfordshire & Luton Community Foundation – Founding Trustee
• Confederation of British Industries Eastern Region – Councillor 7 years
• CBI eBusiness Forum – Committee member
• Carom Federation – Patron
• Chalney Boys High School, Luton – Governor
• Computers for Africa Initiative – Sole organiser
• East of England Development Agency Digital Partnership – Committee Member
• Hertfordshire Minority Business Network – Founding Chair
• London – Luton Airport Passenger Sub-committee - Member
• Luton Innovation Centre – Director
• Luton Minority Business Forum - Founding - Chairman
• Luton & Bedfordshire Community Foundation – Founding Trustee
• Princes' Trust – Advisor & Fund Raiser
• University of Luton Graduate Apprentice Scheme – Member
• University of Bedfordshire – Court Member
• Watford Chamber of Commerce – Director
• Watford Fields Primary & Infants School – Governor
- Nazir Jessa was also awarded with lifetime achievement award of the WF
Source: http://www.coej.org/secretariat/news/1010-nazir-jessa-appointed-bedfordshire-high-sheriff
Reference: https://www.world-federation.org/news/nazir-jessa-presented-world-federation-lifetime-achievement-award