Nazarali Hussein of Kasongo - Congo
Birth & Death
Birth Date: In The Year 1903
Death Date: June 15, 1967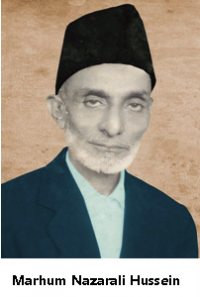 Brief Profile
This is narrated by Br Nazarali Hussein, resident of Kasongo, Congo. He was born in 1903. He lost his father when he was a toddler of 15 months. His upbringing was in difficult conditions. He studied in classrooms with dirt floors and completed Class 4 Gujarati primary in the village school in India. His mother died in 1918. In 1919 at the age of 16, he then travelled to Africa with his cousin's brother in law.
Life Journey
After arriving in Africa, he joined the employment of Amarsi Mawji in Kigoma. The salary was fixed at Rs 600 for 2 years, food and accommodation being provided by the employer. After 11 months, he left his job and went to Tabora where he started a business with Merali Rawji, himself as a minor partner. His brother Dinmohamed who lived in Madagascar went to India to get married and then moved to Tabora. Due to his brother not having command of local language, he advised him to work with him. Nazarali decided to quit the partnership and started a joint business with his brother in Ujiji. They ran the business for one year but due to limited capital, the business did not progress well. Br Dinmohamed decided to join the employment of Ebrahim Haji & Brothers at Alberstville, Congo. After working for one year, Dinmohamed returned to Madagascar.
Meanwhile, Br Nazarali joined in the employment of Br Ladha Damji at the salary of Rs 450 per year. The manager was Mulla Mohamedali Moloo. After working for four months, his employer was very pleased with him and made him the manager. Upon completion of the one year contract, he renewed his contract and increased his salary to Rs 600 for the second year and Rs 2000 for the third year. After completion of 3 years, he opened his own shop in Ujiji in 1925.
Community Service
Br Nazarali got engaged in Tabora in 1926 and got married in 1927. He held the position of Mukhi for Ujiji Jamaat. He had a major contribution in collection of funds and construction of Imambargha for Ujiji Jamaat. Due to the recession in 1931-32, it was getting difficult to get payment from his debtors which seriously affected his business. He then made a decision to move to Congo. At the same time, Br Kassam Shivji wanted someone to take care of his business. He purchased the stock of Br Nazarali and employed him to take care of his shop in Ujiji for three months. During this period he was able to obtain passport for travelling to Congo.
Business Journey
Br Nazarali finally made the journey from Ujiji to Uzumbura (Bujumbura) by boat on 30 November 1933. He joined in the employment of Alibhai Panju at a monthly salary of Rs 125. He worked at Kitegani branch for two months after which he was transferred to Kigali branch. After working for two years at Kigali, he was transferred to a branch in Congo and finally to Kasongo in 1936. At Kasongo, there was a shop owned by Ebrahim Haji which was managed by Br Kassamali Visram. Br Kassamali left the employment and opened his own shop. It was the practice of our businessmen in Congo to start branches and give it to local people to manage the shops – those who managed the small shops were called 'Kapita." Businessmen would regularly check the accounts of shops ran by the Kapita. M/s Ebrahim Haji had several shops managed like this. On advice from Sheth Nazarali Panju, Br Nazarali opened four such shops. In 1938, Br Kassamali Visram arranged for migration of Br Dewji Manji and Mohamedali Rajan from India and opened shops for them. At the same time, Br Musa Nagji was working at Alibhai Panju. There were now four members in Kasongo and they held majlis and nyaz at their homes in turns. In 1939, Br Kassamali Visram started to actively look for ways to educate the children. He arranged to hire a teacher, Br Hussein Omar Karim who had completed his matriculation exam, for the purpose of teaching Quran and English to children. After working for one year, the teacher opened a shop as side-business. As a result, he could not concentrate on teaching and was therefore relieved. Br Nazarali arranged to send his children to his father-in-law in Kigoma and Br Kassamali Visram sent his children to Dar es Salaam. In 1942, Br Kassam Esmail, father-in-law of Br Nazarali passed away. Moreover, Kigoma did not have facility for education beyond Class 5.
In 1945, Br Nazarali had to make arrangements for the education of his children in Dar es Salaam. Due to war, there was acute shortage of housing in Dar es Salaam. After a long search he was able to get an unfinished house made of CI sheets where he was able to accommodate the children. Meanwhile, Br Nazarali's employer had decided to close his business in Kasongo. Br Nazarali therefore decided to purchase the stock and start his own business. He opened several small shops in the rural areas to be managed by Kapita. Br Musa Nagji also opened several shops. Br Musa Nagji's brother Fazal Jetha moved from Mwanza to open a shop in Kasongo. Br Fidahussein Kermalli also left his employment with his uncle Ebrahim Haji & Bros and opened a shop. All this resulted in increase in the population of our community.
Contribution to Kosongo Jamaat
In 1948, they had visitors from Kampala – Br Habib Walji, Br Mohamedhussein Merali, Br Kassamali Hirji and Maulana Kazmini. Due to their encouragement, 100,000 Francs were collected from members in Kasongo. Habibbhai donated 60,000 Francs. It was decided to purchase a building for Imambargha at a cost of Fr 210,000. The loan on the Imambargha was paid off after collecting small donations and from the rent obtained from shops attached to the Imambargha. A further improvement to the building was also made at a cost of Francs 50,000. Business started declining in 1954 and this resulted in closure of many rural shops. The government also decided to construct a new town and half of our community moved to New Kasongo.
Family Legacy
After having completed their secondary education in 1951, two of Br Nazarali's children joined their father's business. Two other sons completed secondary education in 1958 – one of whom has proceeded to Europe for medical studies. Br Nazarali's wife, Sherbanubai daughter of Kassam Ismail passed away on 9 November 1959 and was buried at Kasongo, Congo. Br Nazarali recalls the difficulties he underwent in life and that now that it was time for retirement, his wife had passed away. He is relieved that his children have taken over the business. He becomes emotional when remembering his deceased wife.
Death & Family
Br Nazarali Hussein passed away in London, England on 15th June 1967. His children are Late Pyarali Nazarali Hussein, Fatmabai Mohamed Taki Nasser, Late Mohammed Jaffer Nazarali Hussein, Late Leilabai Rajabali Fazal Ismail, Dr Shaukat Nazarali Hussein, Asgerali Nazarali Hussein, Nazma Khatun Nazarali Hussein, Late Amirali Nazarali Hussein and Kaniz Abidali Kermali.
Let us remember the Marhumeens who have devoted their time and resources to develop Jamaats with their meager income, and today they are no more with us. Please remember them and all the Marhumeens with Sura-e-Fateha for the maghferat of their souls.

Source: 1960 AFED Trade Directory
Photograph courtesy Br. Shakeel Asgharali Nazarali Hussein.
SECRETARIAT
AFRICA FEDERATION ARCHIVES SECTION
Resource: http://africafederation.org/oldafrica/publications/archives/1467-africa-federation-archives-about-our-community-in-kasongo-drc-congo-marhum-nazarali-hussein