Naushad Mohamedraza Damji
Birth & Death
Birth Date: July 28, 1950
Brief Profile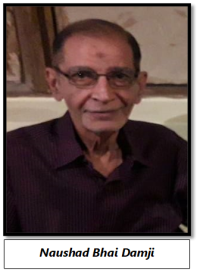 Sports builds character: it coaches you to play by the rules, teaches you what it feels like to win and lose and trains you about life. When we think about phenomenal sportsmen, one personality that stands out is Naushad Damji famously known as Naushad GHABA. He was a versatile player and won accolades for his outstanding skills in volleyball.
Naushadbhai was born in Zanzibar on 28th July 1950 to Marhum Mohammedraza Khamis Damji and Marhuma Merziya Khamis Damji. He is one of the six siblings in the family. From Zanzibar he migrated to Dar es Salaam and thereafter spent several years in Dubai, UAE, before returning to Dar es Salaam.
Life Journey
Naushad Bhai spent his childhood in Zanzibar and received his primary education from Sir Euan Smith Madressa, which is where his passion for volleyball began. There was a volleyball court at his school, and that is where he started playing the sport. It may have just started as a hobby, however, little did he know that he would end up loving the game. Due to the revolution in Zanzibar in 1964, his parents migrated to Dar es Salaam, Tanzania. He completed his secondary education at Shaban Robert Secondary School later that year.
A Passionate Volleyball Enthusiast
There were some senior students who would always have volleyball matches at the school ground. Upon seeing this, Naushadbhai would try and find every opportunity possible to try and join them. Thus, he used to volunteer to stand at the boundary line to return the ball back to them. "When the ball used to come to me, instead of throwing it back, I used to hit it in order to get a good grip" recalls Naushadbhai. One fine day, he was substituted in for one of the senior players on the team. He distinctly remembers that day because there was no turning back from then onwards. It was that moment that laid the foundation for what Naushadbhai has become.
After getting the necessary experience, he formed a private team of his own with a group of his friends and teammates, by the name of Young Challengers. Some of the team members he recalls playing with are Amir bhai Jessa, Marhum Sikandarbhai Dewji, Marhum Mustafabhai Nasser (Chichi), Nooralibhai Nasser and Abbasbhai Dossa. Together they played many games and attended several tournaments as they all shared the same passion and love for volleyball. However, some of his teammates migrated to different countries leaving Young Challengers to be incomplete. Nevertheless, Naushadbhai did not give up. He decided to form a new team by the name of MORNING STAR. They would always hold their practices at the famous volleyball ground which was located behind Jambo Inn Hotel. They would occasionally have matches there, that were open to the public. In fact, the ground would fill up with spectators cheering the team players. MORNING STAR had become so competent that they had even travelled all the way to Mombasa and Moshi for the renowned tournament, The Bahadur Cup.
On the 20th of December 1975, Naushadbhai got married to Shehnazbai Damji (daughter of Marhum Fidahussain Khamis Damji and Marhuma Zainab Fidahussain Khamis Damji) and they have been blessed with two children namely; Sarfaraz and Sharmeen Damji. A year later, Naushadbhai decided to migrate to Dubai with his family. He worked with MMI (a British company) as their sales representative selling consumer products. He worked for 17 years and then opened his own freight company in 1993. He migrated back to Dar es Salaam in 2018.
Moving to Dubai did not stop his volleyball career at all. In fact, him and his friends started their own volleyball team under the Dubai Jamaat, called Jaffery Sports. They were so committed that they would practice every Friday without fail. Jaffery became so talented, that they would participate in all the festivals that were held in Dubai and other places such as Nairobi and Dar es Salaam. Naushadbhai's historical moment to remember is when Jaffery beat Union Sports Club in the semi-finals in the Dubai festival, considering that Union Sports Club were undefeated team.
His Retirement age
In 2007, Naushadbhai retired due to old age. However, he didn't give up on his love for volleyball and continued to train children aspiring to be volleyball players, many of whom have become successful players and are now part of the Jaffery team today. Aside from his volleyball career, Naushadbhai was an active member of the Dubai Jamaat and was a niyaz volunteer from the time he arrived in Dubai. Naushadbhai's love for volleyball is still alive, and this is his advice to the youths of today, no matter what sport they play: "Don't try to be the best on your team, try to be the best for the team" .
We pray to Allah (SWT) to grant Naushadbhai a long, healthy and successful life with more energy to continue inspiring the youths of today and to mentor them into becoming better sportsmen of our community.

SECRETARIAT
ARCHIVES SECTION OF THE AFRICA FEDERATION
Article by: Sukaina bai Habib
Date: 8th May 2023 / 17th Shawwal 1444 A.H
Resource: https://mcusercontent.com/5496132269473a782cfb7b798/files/d1824504-12f8-2b0b-97ba-69e3faa3ce37/AFED_Archives_article_on_Naushad_Damji.pdf