Nargis Bai Rehmtulla
Birth
Birth Date: December 3, 1941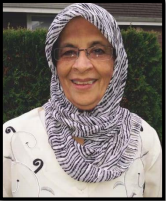 Brief Profile
On December 3rd, 1941, Fatima Bai Ebrahim Paryani, gave birth to the first of her three children, Nargis Rehmtulla. Nargis was a very active and curious child. She enjoyed running around with her friends, climbing trees, picking flowers and reciting the holy Qur'an. She attended Government Secondary school in Lindi where she graduated in 1961, taking her grade 9 year off to tend to her mother after the demise of her father. Nargis Bai was married to Marhum Anverali Rehmtulla. She first noticed him on her way to the school where she was an instructor and he was walking in the opposite direction, to work. When his family offered a proposal, Nargis Bai happily accepted and the couple tied the wedding knot on December 26, 1963. Shortly after, she gave birth to her firstborn, Farhana, followed by Mohamed and Ebrahim.
Life Journey
The small town of Lindi, Tanzania was their home. Here they had family, caring neighbours, respectable jobs, they were content and comfortable with their lives. Nargis was working as a teacher at Indian Public School and her husband was the manager of a car company - KJ Motors, while serving as Jamaat Secretary and later Jamaat President from 1974 to 1978. Their children had made life friends and the family had grown fond of their life in Lindi. However, a day came when Nargis Bai Rehmtulla and her husband, Marhum Anverali, sat at their large breakfast table contemplating the future of their family. They knew that their children could not receive the best education in the small town so they packed their bags and headed for the unknown— Squamish, Canada.
The entire family moved to Canada in July, 1978. Marhum Anverali, although an exceptional student, did not get the opportunity to further his studies due to family commitments in Lindi. At that point, they made a decision to ensure that their children would acquire good education. This was their dream that led them to Canada. Everyone realizes how challenging it is to raise kids in the western world where both parents are working. Anverali and Nargis were no exception; they juggled their family life with work. They were lucky enough to own their own business, a men's apparel store, which allowed Nargis Bai to be home as soon as the kids arrived from school. The small town of Squamish had a lot to offer; the people were very friendly towards the immigrant family. Nargis Bai's mellow nature enabled her to make friends very easily and it was these friends who stood by her side when her husband required medical treatment.
Living in a small town, with no mosque, imposed a struggle on her life mission of raising her kids with Islamic morals. However, being the persistent and God loving woman she is; she found that the best thing she could do for her children was love them unconditionally and be the most influential person in their lives from a young age. By being supportive in everything they did and being a great role model, she hoped that they would emulate her and follow her guidance in everything they pursued. After 22 years in Squamish, the family relocated again, to Vancouver, where Nargis was delighted to be able to regularly attend the mosque.
Community Service
Since Nargis moved from Lindi, she has enjoyed her new life. She has been blessed with 8 grandchildren, who keep her busy. She has become an active member of the Az-Zahra Community, reciting regular Gujarati majlises at the ladies' senior gatherings, attending Qur'an classes and listening to lectures. She is passionate, loves her community and enjoys the company of her friends. She believes that, "Trusting Allah (s.w.t.) would not make the mountain smaller but will make the climb easier. Do not ask Him for a lighter load but ask Him for a stronger back."
Nargis is very appreciative of the life that has been given to her. She believes that Allah (s.w.t.) has planned their lives and she is grateful for all of her blessings. Her only wish is that her husband, Marhum Anverali, could have been with her to experience the many blessings from the Almighty, including their 8 grandchildren and one great granddaughter. We wish Nargis bai and her family a long and healthy life, to continue with the noble services she provides to the Community with zeal.
Let us remember with Sura-e-Fateha Marhum Anverali Bhai Rehmtulla and all the Marhumeen who have served our Institutions.
Article by: Sister Shaina Dhalla (Vancouver - Canada)
SECRETARIAT
ARCHIVES SECTION OF THE FEDERATION OF KSI JAMAATS OF AFRICA
Date: 31st July 2020 (10th Zilhajj 1441 A.H.)
Resource: https://mcusercontent.com/5496132269473a782cfb7b798/files/b1425fcb-1ff3-4123-a858-1cbc50124b5e/AFED_Archives_Bulletin_Nargis_Rehmtulla_Biography_Jul_2020_Updated_.pdf