Mulla Kermalli Alibhai - Dar es Salaam
Birth & Death
Birth Date: March 24, 1889
Death Date: In Year 1958
Brief Profile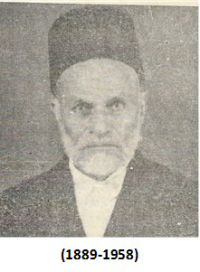 One of the well-known amongst the community workers of the Dar es Salaam Jamaat was Marhum Mulla Kermalli Alibhai. He will be remembered for his youthful enthusiasm and zeal in serving the community. In spite of his age, he was very active and would carry out duties that would put young people to shame. He was born in Hadiyana, Kathiawar, India on 24 March 1889 and migrated to Africa at the age of 16. He was well known for his business acumen and he used this expertise in Jamaat matters taking good care of financial resources of the Jamaat.
Community Service
He was very keen in controlling Jamaat's expenses, and was an advocate of accountability. He will be remembered for his important contribution in purchasing Jamaat properties and increasing revenue for the Jamaat. He was the President of Dar es Salaam Jamaat for many years and his services as a trustee during the last few years of his life were very valuable. He was also instrumental in the construction of Kanji Damani building opposite the mosque on Indira Gandhi Street.
Death & Family
He passed away in 1958 and was buried in Dar es Salaam. With his death, the Community lost a great personality, a leader and a sincere worker.
Marhum Kermalli Alibhai had two brothers Esmail Alibhai and Pirbhai Alibhai. His wife was Kulsumbai and his children were Allarakhia, Mohamedhussein, Yusuf, Fatma Kassamali Panjwani, Sherbanu Kassamali Panjwani, Laila Hassanali Lakha and Rubab Gulamhussein Bandali Damji.
Let us remember and pray for the maghferat of Marhum Mulla Kermalli Alibhai and all the past leaders and volunteers of our community and all Marhumeen with Sura Fateha.

Source: AFED Trade Directory (1960)
SECRETARIAT
ARCHIVES SECTION OF THE AFRICA FEDERATION
2nd June 2017 (7th Ramadhan 1438 AH)
Resource: http://africafederation.org/oldafrica/publications/archives/1646-africa-federation-archives-marhum-mulla-kermalli-alibhai-dar-es-salaam