Mulla Bibi Zahra and Mulla Bibi Aminah (Agha's of Zanzibar)
Brief Profile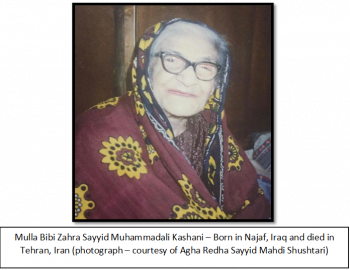 Many young boys and girls from Zanzibar attended the Qur'an classes, Namaaz and Dua learning at Mehfil-e-Bibi Fatemah (AS) where Bibi Zahra Sayyid Ali Akber Sayyid Husain Shushtari (daughter of Sayyid Muhammadali Kashani) and similarly by Bibi Aminah Sayyid Husain Shushtari at Pira Champsi building in Malindi area who were running afternoon classes (Madrasah) for many decades with the help of some ladies volunteers and teachers. These classes continued until the Aghas left Zanzibar after the 1964 revolution, some of them went back to Iran and settled there.
Role in Religious Studies
The magnanimous role played by these honorable ladies in imparting religious studies to the young children in Zanzibar were incomparable and shall go down in the history of Zanzibar as a unique kind of facilities which got established in Zanzibar upon the arrival of the Aghas from Iraq and Iran in the last decade of 1800. The afternoon classes also made great impact in the lives of the children as they grew up, it became a stepping stone to School Faize (Night School – Madrasah) which was operated by the Jamaat in Zanzibar – a full-fledged Madrasah for religious studies.
Please remember Mulla Bibi Zahra and Mulla Bibi Aminah and all those who sacrificed their valuable time in teaching religious classes who are no longer in this transient world with Sura-e-Fateha.

Article by: Sukaina bai Habib - Daughter of Marhum Murtaza Jivraj (Kerbala)
SECRETARIAT
ARCHIVES SECTION OF THE AFRICA FEDERATION
25th June 2021 / 14th Dhilqa'd 1442 A.H
Resource: https://mcusercontent.com/5496132269473a782cfb7b798/files/79358d37-842e-3e40-711f-28ce8e27158a/Archives_Batulbai_Fazal.pdf