Muhammad Walji
President Obama honors Dr. Walji with Early Career Award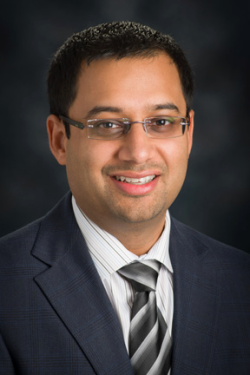 President Barack Obama has named Muhammad F. Walji, PhD, of The University of Texas Health Science Center at Houston (UTHealth) School of Dentistry, as one of 105 recipients of the Presidential Early Career Award for Scientists and Engineers. The award is the highest honor bestowed by the U.S. government on science and engineering professionals in the early stages of their independent research careers.

Walji is associate dean for Technology Services and Informatics at the School of Dentistry and also serves as a professor in the Department of Diagnostic and Biomedical Sciences. He is a graduate of UTHealth School of Biomedical Informatics, where he is associate director of the National Center for Cognitive Informatics and Decision Making in Healthcare. Walji will receive the award in Washington, D.C. this spring.

His research focuses on using informatics to improve the quality and safety of oral health. He has been principal investigator for three federally funded studies: "Developing a Patient Safety System for Dentistry," "Implementing Dental Quality Measures in Practice" and "Measuring Occurrence of and Disparities in Dental Clinic Adverse Events," and he is a co-investigator for additional grant-funded projects focusing on the development and dissemination of a standardized dental diagnostic terminology called the Dental Diagnostic System.

Walji leads the multi-institutional team developing the BigMouth Dental Data Repository, which currently contains identity-protected data from electronic health records of more than 2 million patients treated at six dental institutions. He also serves as the chair of the Consortium for Oral Health Research and Informatics.

School of Dentistry Dean John Valenza, DDS, said Walji "has advanced the meaning and understanding of informatics and its role in patient care for faculty, students and staff" since joining the school's faculty in 2007. "As each year has passed, his national reputation has grown, and this award only confirms his accomplishments and the high regard in which he is held by the health sciences community and now by the president of the United States," Valenza said. "We here at the School of Dentistry are so very proud of him!"

School of Biomedical Informatics Dean Jiajie Zhang, PhD, said it was an honor to have had Walji as a student. "I knew he was capable of making great strides in the informatics field, and he has done just that. The first dental patient safety repository and reporting system is the brainchild of Dr. Walji. He has also made major contributions to the usability, workflow and safety of electronic health records systems."

Although the award was a surprise, Walji said "it's nice to be recognized for the research that we're doing here." He stressed that the work is not an individual mission, but a collaborative effort with colleagues at the School of Dentistry, School of Biomedical Informatics and at other dental institutions.

Obama congratulated the honorees and said they illustrate the incredible promise and ingenuity of the American people. "These early-career scientists are leading the way in our efforts to confront and understand challenges from climate change to our health and wellness," he said.

President Bill Clinton established the Presidential Early Career Awards in 1996 to highlight and encourage American innovation.
Reference: https://dentistry.uth.edu/about/news-media/story.htm?id=0e0c5474-fd27-46e9-a4a1-550d14032120