Muhammad Ali Habib
Birth & Death
Birth Date: May 15, 1904
Death Date: March 30, 1959
Brief Profile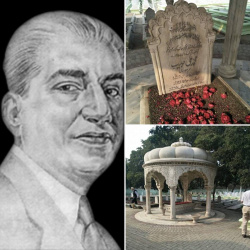 Saith Mohammed Ali Habib (Gujarati Business tycoon) and Founding Member of Khoja Pirhai Shia Isna Asheri Jamaat, Karachi showed exceptional qualities of leadership and vision. In India of late 30′s, when the independence movement gathered momentum, the All India Muslim League, led by Quaid-e-Azam Mohamed Ali Jinnah began to promote the cause of a separate state for Muslims.
Establishment of Habib Bank Ltd
The Habibs were close family friends of Mohammed Ali Jinnah, and soon after the Declaration of Lahore in 1940, Mohammed Ali Habib, with the full support of his brothers, particularly Dawood Habib, established the Habib Bank Limited in August 1941, as a Public Limited Company with a paid up capital of Rs 2.5 million. In this way, he formalized the Habib merchant banking activities, paid tribute to the memory of their much-loved father and created a landmark for the Muslims of India.
The Bank was organized from the very beginning on the principles of British banking tradition, with the main difference that the young and forceful Mohammed Ali Habib broke away from the dogma. It is said that when a British banker visiting Habib Bank Limited remarked on the absence of imposing leather-bound ledgers, Mohammed Ali said "What is important is not the shape and size of the books but their contents".
The Bank filled a vacuum in banking in the subcontinent, playing a pivotal role of bringing the banking habit to the middle-class masses in general and Muslims in particular. To open 34 branches in 5 years was to change the very pattern of branch banking in undivided India, where local banks preferred to restrict their activities to the province of their incorporation. It was all the more remarkable that this happened during and immediately after the Second World War and in the uncertain conditions of the pre-partition period.

Courtesy: Facebook post of Hyder Rasheed Mevawala