Mohamed Raza Virjee
Birth
Birth Date: July 17 1935
Brief Profile
Mohamedraza Virjee, famously known as Raza Virjee, was born in Dar es Salaam, Tanzania on 17th July 1935. He is the son of Abdulrasul Gulamhussein Virjee and Shirinbai (daughter of Suleman Daya Walji). His father Abdulrasul was born in 1914 in Mombasa, Kenya. Abdulrasulbhai was a great sportsman and played cricket for Kenya. He was a right arm fast bowler who opened the bowling for Mombasa Jaffery in 1930's.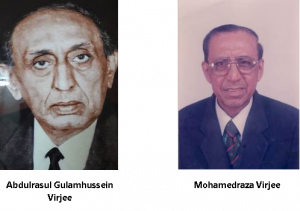 Life Journey
He moved to Dar es Salaam in 1933 and got married and was blessed with six children, four sons and two daughters namely; Ali, Mohamed Raza, Mohsin, Hasnain, Kanize Fatema and Raziya. He led the first ever Ithna-Asheri team in the DSM League Cricket. After retiring from active cricket, he served the Dar es Salaam Cricket Club in various capacities being its first Chairman in 1952 and he also took active interest in coaching the youngsters.
Raza completed his high school education in the year 1953 in Dar es Salaam. He had a very glorious career in sports and is an active person and to this date and age is still working past his retirement age. He joined the British Bank (formerly known as National & Grindlays Bank Ltd) in the year 1955. In 1967, the bank was nationalized and became the National Bank of Commerce (NBC) where he continued to provide his services till the year 1978. In 1978 he joined Design Partnership Ltd., one of the engineering firms in Dar es Salaam. He worked here till 2001, making the most out of the exposure and building a vast database of contacts for himself. In the year 2001, he joined Tanzania Sign Writers & Engravers Ltd. as an accountant where he continues to provide service to the company to this date.
Community Services
At the tender age of 10, Raza joined the community physical gymnastic group, under the leadership of Late Jaffer Merali and Jaffer Somji along with physical trainer Mr. Bhagvanji from Hanuman Vyamshala. He continued to be an active volunteer in the community for many years. At the age of 18, Raza joined the KSIJ Scouts under the scout master Br. Mohamed Pardhan. In the year 1994, Raza was elected as Committee Member to serve the KSI Jamaat of Dar es Salaam for two terms (total 4 years) under the chairmanship of Br. Asgher Bharwani and continues to be an active member in the KSIJ Senior Citizens group.
Sportsmanship Skills
In the year 1954, Raza was selected to be a part of the Ithna Asheri Cricket team. He was selected to play in a match, where the team required just one point to win the 1954 League. The captain (Late Pyarali Merali) instructed Raza to bring the match to a draw by not raising the bat and making any runs. Raza was the 6th player to enter the field at 3 pm and batted for 3 hours making only 3 runs, bringing the match to a draw and winning the league. This is how Raza made his public debut in the sports field.
In the years 1957 to 1959, Raza played badminton and won many community tournaments along with becoming Tanzania's top finalist badminton player. He dominated in a number of Bank tournaments and won many regional and club tournaments.
Raza took on the opportunity of training many of the community members, three of them who took the game seriously and went on to becoming the country's top players, they were:-
o Ahmed Rattansi
o Late Agha Sadri
o Mahmood Nurmohamed Kalyan (1964: Kenyan Open Championship / 1965:Tanzanian Open Championship / 1965: Uganda Open Championship)
Raza was then introduced to Lawn tennis; he learned the game with his tennis partner, late Abdulhussein Damji. It was not long before he learned to master the game and become one of the top players in the Dar es Salaam Gymkhana Club. In 1973, Raza was selected to represent Tanzania's Lawn Tennis Association to play in the 2nd All African Games in Nigeria. Raza then continued to use his skills to coach younger upcoming players within the community.
Raza had a great career in cricket as well. He scored 1000 runs and 2 centuries in one season and he had an average score of 62 runs in a match. In 1961, Raza was holding the title of the highest average score in the Southern Region and in 1962; he was nominated as the Sportsman of the year in the KSIJ Community. The desire to learn more about this sports, led him to take up a TCA Cricket Umpiring Course in 1965, where he was certified to umpire officially. Up until the year 1974, Raza umpired many cricket matches against Kenya, Uganda, Zambia, Nigeria, India, West Indies, MCC, PIA and other visiting teams. In the year 1974, Raza fell seriously ill and was in coma for 9 days. Thanks to the sincere prayers of family and friends, he recovered from his illness. However, the doctor had given him strict instructions not to play any kind of sports for a few years. This led him to continue his passion for coaching, where he selected a group of 10 to 12 young boys under the age of 15, and promised them under his training, they would be part of the community's A Division team. With the relentless training, the group made into the A Division team, from which some of them went on to being part of the country's national team.
During his medical treatment in late 1979 in Moshi, Raza would accompany his brother Ali Virjee and his golf partner DR C G Patel whenever they would go for a round of golf. On one occasion, Dr C G Patel asked Raza to hit a shot, he handed Raza a 5 iron golf club and asked him to hit on a 3 par, Hole No 2. Raza took his first shot in golf and landed it on the green. This was the very shot that gave him his chance at golf. His doctor insisted that he takes up to focus on and play golf. Raza's dedication to this game was very strong; he continued to practice the game to achieve a handicap of 24 in order to participate in the tournaments. His very first tournament was in Moshi in the mid 1980's. The tournament was played over a course of 3 days, where he won with a handicap of 24. Golf was a challenging game, and Raza had decided to reduce his handicap to 0.
However in the year 2002, Raza fell sick and was out of the game for 2 years, hence unable to reach his aim of a 0 handicap. He, however by this time had already reduced his handicap to 6. Raza was also selected to be the secretary of the Tanzanian Golf Union (TGU) for at least 8 years under the chairman of Mr George Kritsos. In 1994, he was elected as chairman of the Tanzanian Golf Union for a period of two terms.
The following is a short list of his achievements in Golf
• 1995 - Won the German Golf Cup with a handicap of 18
• 1997 - Won the 8th KSI Supreme Council Festival
• 1998 - Won 3rd Place in the Indonesia Trophy
• 1998 - Won SAS Viking Trophy
• 1999 - Won BMTL Trophy with a handicap of 11
• 1999 - Won DGC Senior Tournament with a handicap of 9
• 2000 - Won British Airways 36 Holes with a handicap of 11
• 2000 - Won South African Golf Competition with a handicap of 9
• 2000 - Won the lowest number of puts (26) In the Indonesia Anniversary
• 2007 - Captained the First Zulfiqar Cup in Arusha, Tanzania won against Kenya.
In addition to the above major tournaments, Raza continued to win many monthly mugs that were played every month in the Dar es Salaam Gymkhana Club (DGC). He has also won the Senior Golf Competition. Raza also has 2 hole-in-ones to add to his bag of achievements. At present, Raza along with four other golfers, Mohamed Pirbhai, Mohamed Hassam, Mohamed Takim and Dr Dilawer Pardhan continue to regularly enjoy a good round of evening golf. Raza gives the credit of his achievements to the Almighty Allah (SWT), his parents, his wife and family members for their support in his life.
"In any practice round of any game, I must learn 1% of the game" - Raza Virjee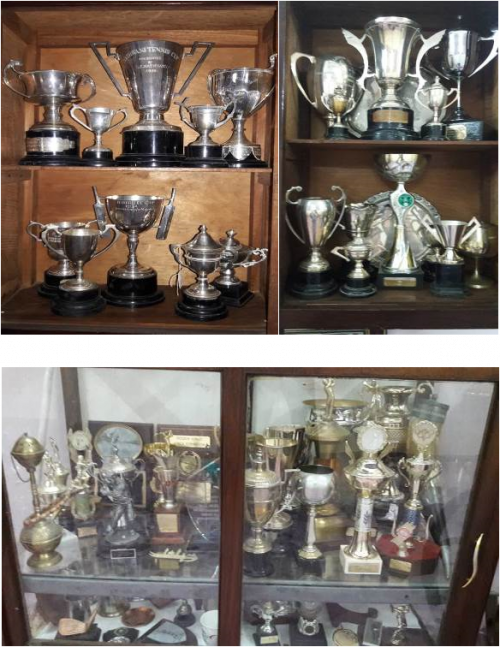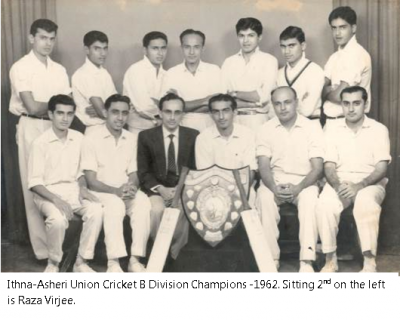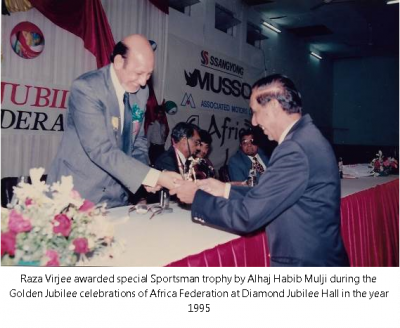 Sources: Razabhai Virjee of Dar es Salam
Zahrabai Ahmed Ali of Melbourne Australia (Daughter of Raza Virjee)
Union Sport Club Festival bulletin December 1984
SECRETARIAT
AFRICA FEDERATION ARCHIVES SECTION
07th September 2018/ 26th Zilhajj 1439 AH
Reference: https://gallery.mailchimp.com/5496132269473a782cfb7b798/files/206b2865-332e-442f-b6e3-aae7fa21941e/Biography_Raza_Virjee_1_.pdf