Mohamed Baqir Alloo
Birth & Death
Birth Date: In The Year 1928
Death Date: January 2, 2009 / 6th Muharram 1430
Brief Profile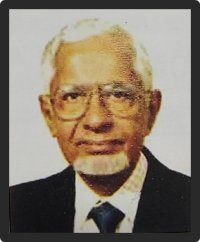 Alhaj MohamedBaqir Alloo, of Toronto, Canada was a rare example of a person who devoted his leisure time continuously in service of the community since his youth. His service in various spheres spanned over 65 years. Baqirbhai was a member of the large Alloo family, born Zanzibar in 1928. His grandfather had emigrated from India in about the year 1870.
Community Services
He started his voluntary services with the position of Presidentship of Muslim Students Association in Zanzibar for four consecutive terms. He brought students of different races and sects together in the form of seminars and debates. While in Zanzibar, he served as Hon. Secretary of the Ithna-Asheri Education Society for a number of years. He was one of the founders of the Society whose achievements were phenomenal and exemplary. The Society built and managed Ithna-Asheri Nursery School, which was the first purpose-built Nursery School in Zanzibar. It also took over the management of Datoo Hemani Girls School and turned it into one of the leading girls' schools with achievement of high results for admission to the secondary schools. The Society established Coaching classes for Standard 7 and 8 boys which brought in a higher percentage of success of our boys for entrance into Government Boys Secondary Schools. He established a Secondary School utilizing the Dharamsi Gangji Madressa building premises thereby increasing the number of our boys appearing in the Senior Cambridge Examination. This proved a catalyst for the community boys going abroad for higher education.
While in Mwanza, Baqirbhai served as Hon. Secretary of Mwanza Jamaat for eight years. He was one of the three members who undertook the building of a Multi-purpose Hall. This building housed the Madressa, a recreation hall with badminton court, table tennis, dart and other indoor games for gents and ladies plus social and educational functions. It also housed a self-contained apartment for newlyweds reducing the need and use of hotels for them. It also had four shops, which brought in good income to Jamaat.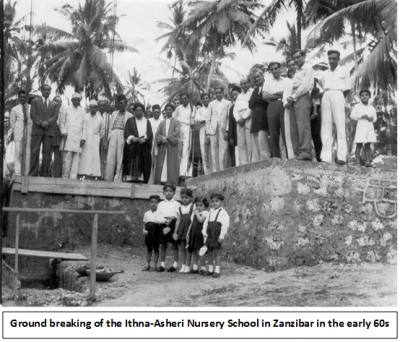 Achievements
Baqirbhai served as Hon. Secretary of Lake Secondary School Board for six years. He served as Chairman of Mwanza Chamber of Commerce and Industries for two terms of two years each. He also served as Vice-Chairman of Tanzania National Chamber of Commerce and Industries for 2 terms. He was nominated as a Member of Regional Price Control Board and also a Member of Regional Commissioner's Advisory Board for two years, both being government institutions. Baqirbhai's participation was regular as a Councillor in the Supreme Council and so was his attendance in the meetings of the World Federation. Baqirbhai was a representative of the Federation Samachar in Toronto for over a decade and was popular for his regular column of Dateline Toronto.
Retirement Life & Awards
After his emigration to Canada, following his retirement from business, Baqirbhai continued with his community service in Toronto despite his advanced years and delicate health. His services include as a Member of the Board of Directors of Ja'fari Islamic Housing Corporation, and Chairman of the Tenants Liaison Committee of the Crescent Village, and as a Councillor of the public H.G. Bernard School for three years. Baqirbhai welcomed the creeping old age with grace and dispelled the nagging thoughts of putting the long tradition of voluntarism behind him. So consistent with his age, he extended his services in form of Vice-Chairman of the Senior Citizen Group of the Toronto Jamaat. Baqirbhai also contributed towards tabligh initiatives through email correspondence with various groups belonging to various faiths. He took part in interfaith dialogues via email groups in which he took the opportunity to explain and remove misunderstandings regarding Islam and the Mazdhub of Ahlul-Bayt (A.S.) He was presented with several awards that reflected his selfless dedication to the community and society at large.
These awards are as follows:
• The Melvin Jones Fellow award from the Lions International Foundation for his dedication towards humanitarian services
• Muslim Heritage award from the Association of Progressive Muslims for his dedicated volunteer work in serving the Ithna-Asheri community
• Ontario Volunteer award from the Government of Ontario presented for his commitment of improving the quality of life for the citizens
Death
Baqirbhai passed away at the age of 80 years in Toronto, Canada on 2nd January 2009, 6th Muharram 1430 A.H leaving behind his lingering fragrance of services to the community where ever he domiciled and a role model for others to emulate.
May Allah SWT repose the departed soul in the abundance of His mercy and rest him amongst the chosen ones – Ameen. We request our readers to remember Baqir Bhai and all the Marhumeen with Sura-e-Fateha.

Article by: Murtaza Jivraj (Kerbala)
Article Source: Federation Samachar, Issue No.3 October 2005/Ramadhan 1426 AH & Mumtazali Kanji of Toronto, Canada
SECRETARIAT
AFRICA FEDERATION ARCHIVES SECTION
2nd October 2020 (14th Safar 1442 AH)
Resource: https://mcusercontent.com/5496132269473a782cfb7b798/files/075bb295-e597-4bf1-a46c-1314213eebba/Alhaj_Mohamed_Baqir_Alloo_003_.pdf