Mobina Jaffer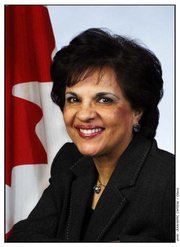 The First Muslim Senator
Senator Mobina Jaffer represents the province of British Columbia in the Senate of Canada, where she chairs the Standing Senate Committee on Human Rights. Appointed to the Senate on June 13, 2001 by Prime Minister Jean Chrétien, she is the first Muslim senator, the first African-born senator, and the first senator of South Asian descent. Senator Jaffer also sits as a member of the Standing Senate Committee on Rules, Procedures and the Rights of Parliament, and the Standing Senate Committee on Legal and Constitutional Affairs.
Public Service
Most recently Senator Jaffer chaired a Senate study on the sexual exploitation of children in Canada and the need for national action. A champion of Canada's linguistic bilingualism, she advocates measures to advance the use of English and French in communities across Canada. As public safety has assumed a significant place in national debate and policy, Senator Jaffer raised awareness on the abuse of profiling in counterterrorism measures and the fundamental imperative to respect privacy, human rights, and the rule of law. Communities are at the heart of any successful policy initiative and progress; Senator Jaffer works to engage communities in protecting human rights, celebrating Canada's diversity, and promoting progress.
Senator Jaffer served as Canada's Special Envoy for Peace in Sudan from 2002 to 2006. From 2002 to 2005, she chaired the Canadian Committee on Women, Peace, and Security. Senator Jaffer is often invited to speak at international conferences on security issues and the United Nations Security Council Resolution 1325, which "urges all actors to increase the participation of women and incorporate gender perspectives in all United Nations peace and security efforts" and "calls on all parties to conflict to take special measures to protect women and girls from gender-based violence, particularly rape and other forms of sexual abuse, in situations of armed conflict." As a grandmother, women's rights and children's rights are central to Senator Jaffer's advocacy.
Achievements & Awards
An accomplished lawyer, Senator Jaffer has practiced law at the firm Dohm, Jaffer and Jeraj since 1978. Appointed a Queen's Counsel in 1998, Senator Jaffer was the first South Asian woman to practice law in Canada and she has a distinguished record of service to the legal profession. The Women's Executive Network named Senator Jaffer among Canada's Top 100 Most Powerful Women in 2003 and 2004. In 2003, she received an Honorary Doctorate from Open Learning University.
Brief Profile
Senator Jaffer earned a Bachelor of Laws from London University in London, England in 1972. She has also completed the Executive Development program at Simon Fraser University in British Columbia. Born in Uganda, Senator Jaffer speaks six languages and is married with two adult children and two grandchildren.

Reference: http://mobinajaffer.ca/biography/