Kilimeru Gymkhana Wins the League Trophy 1969
THE SHINNING KILIMERU GYMKHANA TEAM WINS THE LEAGUE TROPHY 1969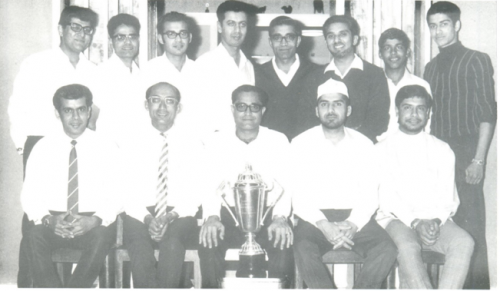 A group photograph of Kilimeru Gymkhana of Arusha dating back to the year 1969 when they won the league trophy the very first time they participated.
Sitting from left to right: Bashir Tejani, Amirali Somji, Nurali Jethabhai, Marhum Bwana Ali Sheriff, and Shakir Moledina.
Standing from left to right: Marhum Azad M.D. Kermalli, Habib Yusufali, Anverali Panjwani, Marhum Raza Versi, Hussein Walji, Marhum Yusuf Sheriff, Raza Pyarali and Marhum Bashir Lalji.

Source: Federation Samachar Vol. 31. Issue No. 5, Ramadhan 1420 A.H / December 1999
SECRETARIAT
ARCHIVES SECTION OF THE AFRICA FEDERATION
14th June 2016 (8th Mahe Ramadhan 1437 AH)
Reference: https://gallery.mailchimp.com/5496132269473a782cfb7b798/files/AFED_Archives_Kilimeru_Gymkhana_Wins_the_Trophy_1969.pdf