Jawad Khaki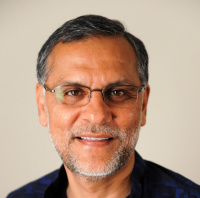 Invitation to Meet American President
Last night, I had a once in a lifetime experience: I was fortunate enough to be in the United States Capitol building to listen to President Barack Obama stand up for the values we all share as Americans. Seated alongside my Member of Congress, I was proud to hear the President affirm what I have always known and felt in my heart—that unity and coming together across differences is what makes us uniquely American. It's part of why I dreamed of becoming an American citizen, a decision and an opportunity that I've never taken lightly—and a dream I was able to realize in 1996.
I was humbled, surprised, and honored when Representative Suzan DelBene (D-WA) invited me to attend the State of the Union. I am proud to be an American who is actively engaged in fulfilling my civic duty to be an informed and active citizen, to give back to my community and to be a good neighbor.
Tenure at Microsoft
Following my tenure as a corporate vice president at Microsoft, I turned my time and energy toward community building efforts and humanitarian work. My faith, Islam, inspires me to succeed by serving others to succeed. And after all the gifts and opportunities that America and the world have given me, I am grateful to have the opportunity to give back.
But I have been troubled by the discrimination through religious and racial profiling Muslims in recent years have experienced along with the dramatic increase in bigotry and hate we have witnessed in recent months. As a concerned citizen, parent and grandparent, and a community leader, I am deeply concerned about the escalated hatred and bigotry that is putting the lives of many Americans in danger. We've seen more than 60 incidents targeting American Muslims and those who are perceived to be Muslim as well as houses of worship.
Jawad led development of operating Systems, networking and cloud computing software from 1979-2015. He is a 20-year Microsoft Corporation veteran where he served as a Corporate Vice President.
Trust in Nation
Our energies in our chosen country, which we admire and love so greatly, should not be exhausted in countering bigotry and hatred. Nor should our nation's resources be ineffectively directed on monitoring innocent Americans. Rather we need to be looking for more efficient and targeted solutions to stop and prevent extremist criminal violence. We can and should expect more from our public officials, who ought to be working to bring us together in these difficult times. President Obama's message last night reaffirms my trust in our nation when he called on all of us to face the future with confidence, not fear, by living up to the values from which our nation's strengths are derived. He has set an example for all those in leadership and public office to follow by defending our values of inclusion, diversity, and compassion. It was a great message urging our nation to work together to create opportunity for all as we rise to the challenges of the times in a manner consistent with our ideals.
"We need to reject any politics that targets people because of race or religion. This isn't a matter of political correctness. It's a matter of understanding what makes us strong. The world respects us not just for our arsenal; it respects us for our diversity and our openness and the way we respect every faith. His Holiness, Pope Francis, told this body from the very spot I stand tonight that 'to imitate the hatred and violence of tyrants and murderers is the best way to take their place.' When politicians insult Muslims, when a mosque is vandalized, or a kid bullied, that doesn't make us safer. That's not telling it like it is. It's just wrong. It diminishes us in the eyes of the world. It makes it harder to achieve our goals. And it betrays who we are as a country." — President Barack Obama, January 12, 2016
I hope that from this State of the Union address, we will move forward not as Democrats, Republicans, or Independents, but as Americans in one nation under God with liberty and justice for all! I look forward to continue to work across lines of faith, national origin, and immigration status to create better opportunities for all families, both in the greater Seattle area where I live, and far beyond. The history of America is a story of progress. Today, we can only continue to move forward if we recognize that we are stronger together.
Brief Profile
Jawad Khaki is a Seattle-area man who worked as a corporate vice president at Microsoft for 20 years. He is an entrepreneur and philanthropist who started the Khaki Foundation in 2003.Mohamed Jawad Khaki is an entrepreneur, investor, technologist and a community volunteer.
A native of Tanzania, Jawad has volunteered for various roles at non-profit organizations in Africa, Asia, Europe and now in the Greater Seattle area in the USA.
In 1997 Jawad helped establish the Ithna‐asheri Muslim Association of the Northwest (IMAN) and serves as its President. Jawad and his wife Kaniz established the Khaki Foundation in December 2003 to aid the most vulnerable members of society with essential needs and through educational endeavors to alleviate poverty and suffering.
Achievements & Awards
Jawad was recognized nationally with the sixth annual Walter Cronkite Faith and Freedom Award by the Interfaith Alliance Foundation in May 2003. He was appointed honorary professor by Beijing University of Post and Telecommunications in October 2003. In November 2012 he was conferred with a honorary Doctorate of Technology from University of East London.
Jawad is presently exploring how technology can improve access and raise standards of education. He envisions an America that, with its rich tapestry of pluralism, incorporating all ethnicities and religions, inspires not only those just within its borders but all those who inhabit our planet.

Source: I Listened to the President Stand Up for Our Shared American Values
Article By: by Jawad Khaki
Reference: https://www.muslimadvocates.org/i-listened-to-the-president-stand-up-for-our-shared-american-values/