Jaffer Allarakhia Rahim
Brief Profile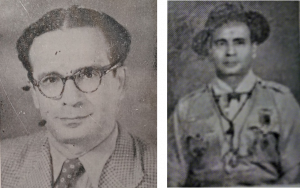 Marhum Jaffer Allarakhia Rahim will be remembered for his notable services to the Supreme Council since its inception. He also served as President of Kuwwat Jamaat of Zanzibar and as President of Education Board of the Federation. Jafferbhai was one of the elderly descendant of Ablani, one of the first Khoja converts. The Rahim family has a lot of contribution to its record in the field of social, religious and educational services to the community.
Achievements & Awards
After obtaining his primary and secondary education in Zanzibar, Jafferbhai joined a teachers' training college. He worked as a teacher for 12 years. In 1943, the Zanzibar Government sent him to School of Economics and Political Science at Cambridge, UK on scholarship. On completion of his studies he was appointed as Welfare Officer. He also served as Government Probation Office and Chief Commissioner of Zanzibar Boy Scouts Association. He worked as a scout for more than 36 years. He obtained his scout training in India and England. He was given several awards, including "Wood Badge" and Silver Award. He was also awarded "Guild Cross" in 1935 for saving a drowning person in Zanzibar harbour.
Community Services
As part of his work in the field of social services, Jafferbhai had an opportunity for world-wide travel. He visited many countries in Europe, Turkey, Middle East, India, Pakistan, Ceylon (Sri Lanka), South Africa and various African countries.
Jafferbhai had an excellent command of English language. His analysis of issues during Council meetings were inspiring and effective. He was a very eloquent speaker. His familiar motto was "March with Time" and he followed this motto during his whole life. He had a deep affection towards our faith and the community.
We pray to Allah (SWT) by His grace and mercy to grant Marhum Jaffer Allarakhia Rahim high status amongst His chosen ones. Please recite Sura-e-Fateha for all Marhumeen.

Source: Trade Directory
SECRETARIAT
AFRICA FEDERATION ARCHIVES SECTION
15th September 2017 (24th Zilhajj 1438 AH)