Ithna-Asheri Students' Union of East Africa at Aligarh Muslim University, India (1965 to 1974)
History of Students at Aligarh Muslim University
After the Zanzibar Revolution in 1964, about 7 students from Zanzibar with the support of their parents journeyed to India to pursue higher education at the Aligarh Muslim University, Aligarh - Uttar Pradesh, India. This was most profound idea. Later on, they were joined by several other students from Lindi, Mombasa, Moshi, Mwanza, Kampala and Zanzibar numbering to about 20 who were encouraged by their counterparts who took key initiatives earlier. Few among them received financial support from Supreme Council. At the time the AFED Secretariat was based in Mombasa, Kenya. Amongst the students who later pursued medical profession degrees at different Medical Institutions were Dr Asgharali Moledina from Mombasa, who is also the immediate past President of the World Federation, Dr Hassan Amirali, Dr Shabbir Karim and Dr Rafia Yusuf Juma, all from Zanzibar. Most of the students who studied at Aligarh Muslim University obtained their degrees in different professions and have thrived in their chosen fields: several have settled down with their families successfully in different parts of the world, some have decided to remain in East Africa pursuing their professions working for multinational companies and private businesses.
Introduction - Aligarh Muslim University (AMU)
Aligarh Muslim University (AMU) is a public central university. It was originally established by Sir Syed Ahmad Khan as Mohammedan Anglo-Oriental College in 1875. The Mohammedan Anglo-Oriental College became Aligarh Muslim University in 1920. The main campus of AMU is located in the city of Aligarh in Uttar Pradesh, India. Spread over 467.6 hectares, AMU offers more than 300 courses in both traditional and modern branches of education. In addition to this it has three off-campus centres at Malappuram (Kerala), Murshidabad (West Bengal) and Kishanganj (Bihar). The university comprises all castes, creeds, religions and genders, and is an Institute of National Importance provided under the Seventh Schedule of the Constitution at its commencement.
Late Allamah Dr Syed Mujtaba Hasan Kamoonpuri, who served as the Dean Faculty of Shia Theology at Aligarh Muslim University and Islamic Scholar used to recite majlises at the Centre where our students would attend. Allamah was the father of Dr Syed Qasim Kamoonpuri who was the Principal of Al Muntazir Islamic Seminary in Dar es Salaam, Tanzania for several years and recites majlises during Muharram and Safar in several parts of the world. His son, Syed Ali Hur Kamoonpuri has followed the footsteps of his grandfather and his father. He delivers lectures and recites majlises also.
Current Status of our Students in India
Of late, many students from East Africa have opted to go for higher education studies in Kasturba Medical College and Manipal University, both located in Mangalore, Karnataka district in India. These students are pursuing different faculties like medicine, health sciences, engineering, management, communication etc. Several students are supported with the AFED Education Board Loan Scheme for Higher Education (HELP).
At one time, there were about 45 girls and boys students in Manipal. Upon their request, the Education Board of AFED facilitated a Centre for these students where they would hold religious functions during the holy month of Ramadhan and Muharram and for their social get-together. This idea was brought up by the students themselves. Seeking assistance from AFED; the Centre is still being used by the students though the number of students has dropped. Sometimes parents visiting the students put up at the Centre, as most of the students live in the University Dormitory.
Some of these photographs have been sent by Br. Akber Amir Juma, who resides in Toronto, Canada. He was one of the early arrivals of foreign Ithna-Asheri students from Zanzibar in Aligarh, India.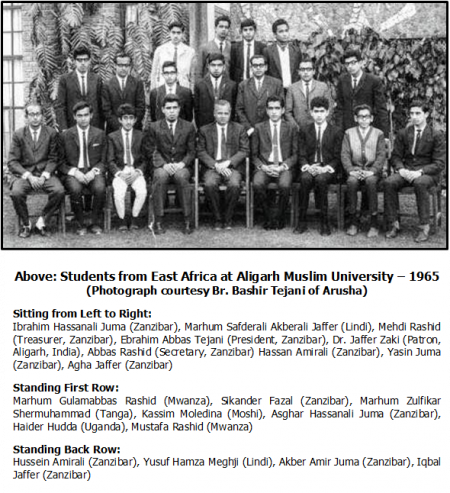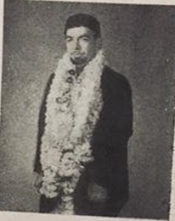 On the right is Mr. Qassim Moledina of Moshi garlanded on his election as a Cabinet Member of the A.M.U. Students Union.
The students from East Africa excelled in their studies and also in the leadership, taking leading roles at A.M.U.
They also organized Ashura Juloos from the Imambargha, where Muharram majlises were held and all our students took active part in the Azadari of Sayyidush Shohada, Aba Abdillahil Hussain (A.S.) during Muharram and Safar.
Aligarh Muslim University in Aligarh, India
May Allah (SWT) grant maghferat to the late students and the parents of the students who have passed away and place their souls amongst His chosen ones. Let us remember all the Marhumeen with Sura-e-Fateha for the maghferat of their souls – Ameen.

SECRETARIAT
AFRICA FEDERATION ARCHIVES SECTION
18th August 2017 (25th Zilka'ad 1438)
Resource: http://africafederation.org/oldafrica/publications/archives/1684-2017-08-23-07-41-04