Ibrahim Manji Haji
Birth & Death
Birth Date: November 6, 1934
Death Date: December 21, 1994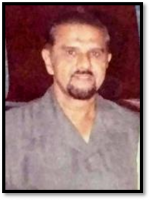 Brief Profile
Alhaj Ibrahim Manji Haji was born in Zanzibar on 6th November 1934. He was son of Hassanali Manji Haji and Rukiya Bandali Alibhai. His grandfather Manji Haji migrated from India to Tanzania with siblings Ladha Haji, Siwji Haji and Sakina Haji. Marhum Ibrahim spent his childhood in Zanzibar. In 1969 he migrated to Morogoro at a time when our community consisted of 40 people. Although the first community member had settled in Morogoro in 1936, settlement of other members had been very slow. One family moved in 1964, followed by only two families in 1968.
Life Journey
Alhaj Gulamhussein Meghji started holding majlis programmes at his house in 1968. One year later, in 1969, Ibrahim bhai moved to Morogoro and the majalis started being held at his house. His first residence was a two room house. After 3 years he moved to another residence where he continued to have majalis and other religious activities including amaal during Ramadhan, Iftar and nyaz on wafat/khushalis. Gradually, he converted two of the rooms of his house into full Mehfils. Marhum Ibrahim was a devout azadar and a very kind and hospitable person. He was a passionate servant of the community who spent a lot of his time and money in keeping the Morogoro community alive by fulfilling their spiritual and religious needs. He single handedly performed numerous tasks for the betterment of the community . His contribution remains unmatched. Todate his son Mohamed continues to run the Mehfil at his home. This year is the 50th anniversary of conducting majalis at his home. In 2013, following the demolition of the house where they lived for more than 40 years, the family moved to a new home where the Mehfil is still operating.
On a personal note, my first contact with Alhaj Ibrahim was in 1971 when I arrived at Morogoro as a 20 year old student joining the University of Dar es Salaam's Faculty of Agriculture which was located on the outskirts of Morogoro. After arriving there in the evening and introducing myself to him, he invited me to stay at his house overnight rather than go to the college dorm. This level of hospitality impressed me a lot. From that day on, during my three years of stay in Morogoro, he became my second parent, always inviting me to his house for meals and chat. During my first year when I did not have transportation, he encouraged me to come to the town late afternoon and spend the evening with him so that I could attend the night majalis. He was my mentor as far as training for Dua recitation is concerned. Although I had participated in Quran recitation in Lindi, I had never recited Ramadhan Duas. He showed me the various Duas and encouraged me to recite them during Ramadhan programs at his home. He also corrected my mistakes. I will be forever indebted to him for his training and encouragement.
Community Service
In 1989, when the population of our community in Morogoro reached 100 members, members decided to purchase a plot and build a mosque. The foundation stone for Morogoro Mosque Complex was thus laid on 20 January 1990. In addition to the contributions by members of the Morogoro community for the project, Marhum Mohamedali Kara of Dar es Salaam provided great moral and financial support. Alhaj Munawar Khalfan, a consultant engineer provided honorary professional services for the project for which the community is greatly indebted. The opening ceremony of the Morogoro Mosque Complex was conducted on 20th June 1993 by the Chairman of the Federation, Alhaj Habib Mulji who was also the Chief Guest. It was also attended by Chairman of Dar es Salaam Jamaat, Alhaj Aliraza Rajani and members of the Dar es Salaam community.
After the official opening, the Chairman of Morogoro Jamaat Alhaj Ibrahim Manji Haji took the visiting dignitaries who included the District Commissioner and the Mayor around the Complex which included a Mosque, lmambara, a flat for a resident Alim, Musafirkhana with self-contained rooms and a spacious terrace for organising social functions. A 4 acre Kabrastan plot had also been acquired by Marhum M. P. Ladha family.
Death
Alhaj Ibrahim continued his selfless services to the Morogoro community after the opening of the new mosque. However only 18 months after the mosque opening, he passed away in Morogoro due to a heart attack at the age of 60. He was buried at Dar es Salaam on 21 Dec 1994. This month marks 25 years since his passing. He left behind wife Rubab (d/o Hassanali Ahmed), daughter Farha and son Mohamed. His siblings were Mohamedraza, Asgher, Mohsin, Amina Kassamali Khimji, Sakina Ali Gulamhussein and Rehana Mustafa Chandoo.
Let us all remember Marhum Ibrahim Manji Haji and all the servants of the Community who have contributed towards keeping the Azadari of Imam Hussein (AS) alive in small and large centres. May Allah (SWT) reward the Marhumeen and their families for their efforts and grant the Marhumeen maghfirat and rehmat and rest their souls in heavenly abode in proximity of the Chaharda Masoomeen (A.S.), Ameen.

Article by: Mustafa Pirmohamed, Orlando
Source: Federation Samachar July 1993, Family
SECRETARIAT
AFRICA FEDERATION ARCHIVES SECTION
28th February 2020 (4th Rajab 1441 AH)
Resource:https://mcusercontent.com/5496132269473a782cfb7b798/files/6abdf68c-7322-4a40-87f7-2b0719983c40/Alhaj_Ibrahim_Manji_Haji_1934_1994.pdf