Husseinali Nurmohammad Ladha
Birth & Death
Birth Date: June 13, 1942
Death Date: September 2, 2005
Brief Profile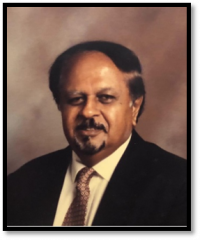 Alhaj Husseinali Nurmohammad Ladha was born in Bukoba on 13th June 1942. He was the fourth son in the family of Alhaj Nurmohammad Ladha. He started school in 1951 in Government Indian Public School and passed his senior Cambridge examination in 1962. At School he was friendly to all his fellow students of his age group and even of younger and older age groups. He was a distinguished scout and had won the Jamboree trip award. He was always in good books with the school authorities and served as school monitor almost permanently.
Life Journey
After completing senior Cambridge in 1962, he went to Poona Wadia College where he completed his Bachelor of Commerce Degree in 1968. He came back to Tanzania and was employed at the Directorate of planning by the Tanzania Government. But after the death of his father Alhaj Nurmohammad Ladha, he was obliged to leave public service very earlier and joined his brothers, the Ladha Brothers at Bukoba and became chief advisor and one of the main directors of family business of tenders and supplies to schools, hospitals and other Government and private institutions.
Family
He married in 1968 to Miss Marzia Ramzanali Jivraj of Kigoma. He was blessed with 3 children Noormohammed, Gulamabbas and Sakina.
A Philanthropist
Alhaj Husseinali Ladha was a man of great charisma and a friend of all, the poor, the rich, the young, the old, and people of all caste and creed. He was very humble and sat with any group of people and talked and joked with them on equal basis. He was a man who loved equity, justice and piety and respected all religions. Similarly, he had friends among Christians, the Sikh, Hindus and Muslims of all branches.
Being a philanthropist by nature he supported works for the pleasure of Almighty Allah (SWT) all his life. He served our Community as Managing Committee Member, Jamaat's Trustee, Represented Jamaat in many meetings within and outside our region and was also Bilal Muslim Mission's Coordinator. He also served under G.C.G., IY Mens' Union and also was very fond of sports and was Jamaat's Sports Conveyor, and he was also a member of Bukoba Gymkhana Club - Cricket was his favorite game.
Community Service
Since 22nd June 2002 he became chief organizer and supervisor of Masjid Noor Islamia, Kwembe village in Dar es Salaam, that was completed in a very short time and people have started praying in that Mosque.
The last time he had been at Masjid Noor Islamia was on Saba Saba Day (7th July 2005) when he personally supervised the foundation of the Madrassah. On the same evening his health deteriorated and travelled to India for further treatment at Jaslok Hospital. He was eventually called to the mercy of Almighty Allah (SWT) on Thursday, 2nd September 2005, at 4 a.m. local time on, Day of Meraj. All throughout his illness, his only concern was to see to it that Masjid Noor is completed with a Mosque, Madrassah, Islamic Library, Imam's house and a good place for wudhoo, he departed this world with good intensions of the noble work.
Death
He was buried in Dar es Salaam and a multitude of people from all communities attended his funeral. Marhum followed a simple life and was kind and generous.
May Allah (SWT) grant him high status and maghferat, Ameen

Source: Federation Samachar Issue No. 4 Rabi ul Awwal 1427/April 2006 (Title: Bringing Community Together)
Photographs: Courtesy of Murtaza Jivraj, Gulamabbas Rustamali Ladha and Gulamabbas Husseinali Ladha.
Article prepared by Murtaza Jivraj (Kerbala)
SECRETARIAT
AFRICA FEDERATION ARCHIVES SECTION
11th December 2020 (26th Rabi ul Aakhar 1442 AH)
Reference: https://mcusercontent.com/5496132269473a782cfb7b798/files/3a637b09-cf87-4a55-a735-0277781122a6/Alhaj_Husseinali_N_Ladha.pdf