Husain Khaki
Brief Profile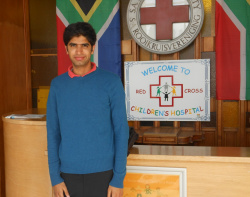 Husain Haiderali Khaki is an academic junior doctor working in London.
Research Interest
His research interests are in the translation of empirical findings to health policy and international development more broadly. Recent projects have included adressing barriers to RUTF use in malnutrition, home-grown school feeding and the interplay between HAART-Hunger-HIV.
Husain's emerging focus in Oxford, UK is on implementing digital health solutions (apps, wearables, big data analytics) at scale to address the world's burgeoning health problems across infectious disease and NCDs.
Husain trained at Imperial College (MBBS, BSc) and studied medical ethics at the Worshipful Society of Apothecaries (DPMSA). He was awarded the NRI International of the Year by TimesGroup/ICICI Bank, the Cochrane Prize by the Faculty of Public Health in the UK, the Global Health Young Leader of the Year award by the Royal Society of Medicine, as well as numerous medical school prizes at undergraduate level.