Hassim Rajpar Haji
Birth & Death
Birth Date: In The Year 1862
Death Date: In The Year 1931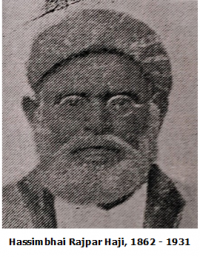 Life Journey
Hassim Rajpar Haji was born in Nangalpur, Cutch, India in 1862. At a young age, he travelled to Zanzibar by dhow and joined in the employment of Nasser Noormohamed. In 1881, he moved to Nosibe, where there was a branch office of Nasser Noormohamed in Madagascar. At that time Madagascar was ruled by a Queen. There was a tradition among the Sakalava tribe of Madagascar that upon the death of the Panjaka (King), his close friend would be buried alive with him to give him company in death. During this period, one of the Kings passed away and a Khoja Shia Ithna-Asheri was selected by the courtiers as a person to accompany the King in his grave. This terrified our brother and he vowed that should he be saved from this terrible eventuality, he would go for Hajj. Hassimbhai used his influence to contact the carpenter who was in charge of making the coffin. The carpenter reported to the courtiers that whenever he tried to drive nails at the section of the coffin where the friend's body would be kept, the nails would get bent. This was a sign of a bad omen and that the deceased King was not happy with the person selected to go with him. The courtiers agreed to carpenter's suggestion and they selected another person instead. After the funeral ceremony, tradition dictated that the King's subjects have their heads shaven. Hassimbhai and all people in the town had their heads shaved and had to go to the river to take a ritual bath for the following eight days. The traditional dress consisted of two wraps of clothes, similar to the ones worn during ihram. It was considered insulting to wear a shirt and trouser and anyone wearing them were in danger of being beaten by some hardline locals.
Family
Hassimbhai's first wife had passed away in India. He went to India again for his second marriage. His second wife also passed away in a short period. He then married the daughter of Gangji Dawood who lived in Mayotte, Comoros. She bore him a son Kassam who then lived in Diego Suarez. His third wife passed away during the Amabalavao battle. Hassambhai went to Nangalpur, Cutch to get married for the fourth time. He had four children with this wife; son Gulamhussein and three daughters Jenabai, Sakinabai and Sherbanubai. Unfortunately, the fourth wife also passed away. He then married Kulsumbai, widow of Mohamed Allarakhia Gulani of Zanzibar, resident of Mayotte (French colony). Kulsumbai was a daughter of Manji Murji Furdawala and had four children from this marriage: two sons and two daughters; Mohamedali, Sherali, Nurbanu and Maryambai. All the children of Hassimbhai reside in Madagascar. After ten years of this marriage, Hassimbhai passed away at Majunga in 1931
Community Service
Hassimbhai was a pious, generous and religious person. He was a Jamaat elder of Majunga Jamaat. He held the position of Chef de Congregation in the government representing our community. He had done many charitable contributions, both public and private. He had donated two buildings, one to be used as a school and one as a musafarkhana. Both these buildings were in need of renovations (reported in 1960).
Let us remember Hajji Hassimbhai and all the Marhumeens with Sura-e-Fateha for the maghferat of their souls, May Allah (SWT) shower His blessings and mercy on them all – Ameen.

Prepared by: Alhaj Mustafa Pirmohamed (Orlando), a member of the Afed Archives Section.
Article from the AF Trade Directory of 1960.
SECRETARIAT
ARCHIVES SECTION OF THE AFRICA FEDERATION
10th March 2017 (11thJamadi ul Aakhar1438 AH)
Resource: http://africafederation.org/oldafrica/publications/archives/1596-africa-federation-archives-haji-hassim-rajpar-haji-majunga-madagascar-1862-1931