Fatma Bai Amirali Amersi
Birth & Death
Birth Date: August 4, 1938
Death Date: November 18, 2021
Obituary & Tributes
Obituary by COEJ
On Thursday 18th November 2021, with great sorrow, we mourned the loss of Marhuma Fatmabai Amirali Amersi (age 83 years). She was interred at Carpenders Park Cemetery the following day. She was the daughter of Abdulrasul Merali Dewji and was married to Amirali Husein Amersi for 62 years. She was blessed with 4 children: Mohamed, Salim, Mustafa and Shabnam, 4 children-in-law, 5 grandchildren and 2 great-grandchildren.
Brief Profile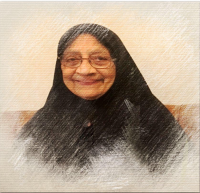 She was a warm and sweet-natured person who held her family together, always guiding and protecting it and sharing her life experiences. Marhuma was born in Mombasa on 4th August 1938, and she moved to London with her husband and family in 1976 for their children's education before returning to Mombasa 10 years later. Marhuma was well travelled and Masha'Allah performed Hajj, Umrah and Ziyarat.
She was a generous person, and it was only after her funeral that her family learnt of her charitable acts and the other good deeds that she regularly undertook. She practically lived the hadith of the left hand not knowing what the right-hand does. She loved interacting with people, asking them about their welfare, making connections and was known for her enriching stories providing great company to those she was around.
Personal Memories with Family Members
Reza Amersi, shares one of his fondest memory of his grandmother: every time there was an Arsenal game she would without fail recite a Tasbeeh in support of their win, only because he supports them and it would make him happy. Samina Merali Govani remembers a beautiful piece of advice from her grandmother: always greet people with a smile and ask about their well-being.
Such kindness was not only restricted to her family, the Marhuma is well remembered in her hometown of Mombasa. She hosted programmes for Senior Citizens at her home and provided space for ladies to exercise. Not only was a safe space provided in her house, but every week, the Marhuma would ensure that they all received fruits and refreshments at the end. In her unique way she encouraged healthy living. She is fondly remembered for her lovely smile, heart - warming voice and kind demeanour. She was also someone who loved to be hospitable and if anyone came to her house even just to drop something off, they would not be allowed to leave empty handed.
Some quotes from Marhuma's friends:
"A wonderful and kind - hearted person."
"A lively and jolly person with both young and old."
"A selfless lady with no pride. She did everything with utmost humility, discreetly helping many in need."
"She played many roles in my life such as being a neighbour, a close friend, a mosque companion and a confidante."
She is greatly missed by all she lived amongst.
We pray the Marhuma and all our Marhumeen are granted a lofty place in Jannah next to our 14 Ma'sumeen. Al-Fatiha
Resource: https://coej.org/the-council-of-european-jamaats-newswire-january-edition/