Enayat Ali Nathani
Birth & Death
Birth Date: November 22, 1975
Death Date: February 19, 2016
Brief Profile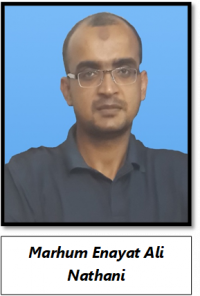 Marhum Enayat Ali Nathani was born on 22nd November 1975 in Karachi, Pakistan. He was the firstborn child of Wazir Ali Nathani and Naseem Zehra Nathani.
Education Skills
Enayat Ali went to Gulaman-e-Abbas School for early education and later switched to Maryam Academy and completed his Matriculation in 1992 in Karachi. He accomplished his Bachelor's Degree in Commerce in 1997.
Life Journey
He was keenly interested and actively engaged in sports activities, particularly cricket. He was also fond of reading and was proficient in computers having studied software programming. Being the eldest son, he was responsible and took good care of his family. He also provided tuitions to support the family financially. In 1997, Enayat Ali was offered a job by his uncle and thus moved to Lilongwe, Malawi.
In 2001, he married Masooma Bano and they were blessed with three children: Raza Mehdi, Mustafa Ali and Sania Zehra. Enayat Ali was an affectionate father and always balanced his time for work and family. He returned to Pakistan for a year, only to return back to Lilongwe in 2012 to start his own business. His specialised knowledge and good communication skills helped prosper his business tremendously.
Community Services
Enayat Ali was one of the founding members of Lilongwe Jamaat Jafri Muslim Association and devoted his valuable time in serving the community. In 2012, he took up the chairmanship as the president of Jafri Muslim Association.
Marhum was also a talented reciter in Arabic language, reciting duas and ziyarats at most programmes of the Jamaat. Alongside Enayat Ali, his wife Masooma Bano also served the community. She was the Madrasah teacher imparting religious education to the children in the early years when Lilongwe Jamaat did not have a resident Aalim or Zakira. She used to recite majalises for ladies in Malawi and continues to do so in Pakistan where she currently resides.
Achievements & Awards
One of the several achievements of Marhum Enayat Ali was his great interest to serve the local Shia population (Bilal Community). He worked tirelessly for their progress as well as provided extensive financial support for their upliftment resulting into an overwhelming outcome that there are over 850 Shia local families in Malawi today.
His Death
In December 2013 Enayat Ali's health started deteriorating, and after numerous consultations with doctors he decided to go to Pakistan for treatment. In April 2014, he was diagnosed with a terminal illness. He travelled from Malawi to Pakistan every 6 months for medical follow ups. However, In January 2016 his health deteriorated further and he was hospitalised. Enayat Ali passed away on 19th February 2016 and was buried in Lilongwe, Malawi.
Marhum Enayat Ali had a very practical yet passionate approach towards life. He was humble and had a pleasant nature and everyone who had the privilege of knowing him respected him for his humility and amiable personality. Although he is no more in this transient world, the Malawi Jamaat remembers him for his dedication. His meritorious contribution shall always be cherished for many years to come.
May Allah (SWT) grant Marhum Enayat Ali a high station in the proximity of Ahlulbayt (AS) where he continuously receives bountiful mercy and grace from Allah (SWT). Ameen.
Let us remember him and all other Marhumeen with Sura-e-Fateha.

SECRETARIAT
ARCHIVES SECTION OF THE AFRICA FEDERATION
Article Source: Hina Imran Jamani
Date: 1st April 2022 / 29th Shabaan 1443 A.H
Resource: https://mcusercontent.com/5496132269473a782cfb7b798/files/105ccc74-db29-0247-1e0b-6147c79b3a35/Archives_Bulletin_Marhum_Enayat_Ali_Nathani.pdf