Anjuman - e- Khuddamul Qur'an – 1937
Brief History
In the year 1937 the Anjuman-e-Khuddamul Qur'an was started in Mumbai, India with the aim of teaching Quran in proper recitation and with the translation. Selected Aya'ts from the Holy Qur'an were being translated in three languages English, Urdu and Gujarati. A special department was created to translate the Holy Qur'an according to guidance and hadith of Ayma-e-Tahereen (A.S.). Every Friday the translation bulletins were being circulated in all the mosques. The title of the bulletin was "Back to Qur'an". The bulletin became so popular that they had to increase the number. The distribution was solely being handled by Habib Esmail Benevolent Trust. The distribution department was being handled by Haji Dawoodbhai Habib, Haji Mohmmedali Habib, Haji Rajabali P. Ebrahim, Haji Dawood Haji Nasser, Haji A.U. Botawalla and Haji Abdul Hussein Thariyani.
Activities & Members
Trustees of Benevolent Trust were Haji Ahmed Habib, Haji Dawood Habib, Haji Mohmmedali Habib, Haji Gulamali Habib and Abdulhussein Thariyani.
Since the activities of the Anjuman expanded with popularity, Allama Sayeed Ibne Hassan Rizvi Jarchwi (M.A.M.O.L.B.T) from Lucknow on one night in Mehfil e Shahe Khorasan (Palagali- Mumbai) after the Majlis held a session to answer many questions by the guidance of the Holy Qur'an. The main question was about interest and Allama referred to Sura no. 30 ayat no. 39. This impressed the momineens and in the same gathering, it was decided that Anjuman, apart from teaching Qur'an recitation should work more on the translation in three languages English, Urdu, Gujarati. Momineen were wholeheartedly contributing to the activities of the Anjuman. Anjuman was open for all Muslims and became very popular as Qur'an learning centre and this proved wrong those who were spreading propaganda that the Shia follow the Ahlulbayt (A.S.) only and neglect the Holy Qur'an.
The following senior Aalims were fully involved:
1. Ayatullah Agha Sheikh Mohammed Hassan Najafi
2. Sheikatul Islam Aghae sheikh Mohammed Shariat(Damazillahu)
3. Allama Sayeed ibne Hassan Rizvi Jarchwi (M.A.M.O.L.B.T)
4. Maulana Mohammed Mustafa Afian Jawhar
5. Ayatollah Maulana Sayyid Mohammed Naqi (Naqan sahib)
6. Seyyid Ziaul Hassan Moosavi
7. Maulana Sayyid Jawadul Asgar Naqvi
8. Maulana Sayyid ibne Hassan Rizvi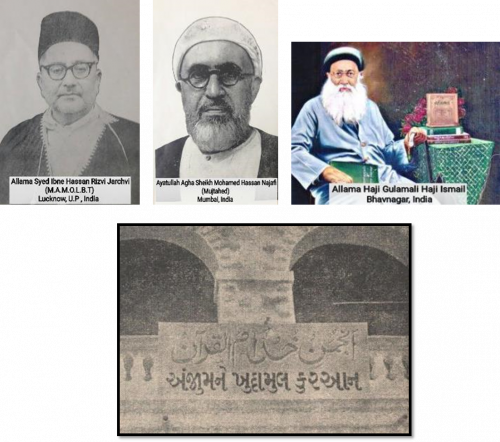 Anjuman - e- Khuddamul Quran Qur'an learning center Hall in Kharadhar – opposite Chagla Musfikhana Karachi Pakistan

In the year 1947 during partition, many Muslims migrated to the new country Pakistan. The Anjuman came into existence in Pakistan also, Karachi being the head office. All the dedicated volunteers who were running this Anjuman were originally from Mumbai, India and had experience on how to run the Anjuman. The Anjuman entrance was free and the cost of running came from the donation of Rajabali P Ebrahim Chairman of Anjuman Mumbai India. His nephew Anverbhai Japanwala used to receive funds from Mumbai India. 1949 was the year when Anjuman got fully registered when their activities were at the peak. Anjuman was known for its excellence which produced Qur'an scholars.

Both Anjumans of Mumbai and Karachi used to organize competitions for Qur'an scholars the following trophies were awarded on rotation basis:
1. Ayatollah Najafi shield
2. Allama Haji Gulamali shield
3. Ayatollah Sheikh Mohammed Hassan Najafi shield
4. Allama Haji Gulamali Haji Esmail Memorial shield
5. Sultanali Memorial cup
6. Writer Jafferali Aseer Memorial shield

The Anjuman's success was due to the dedication of the following brothers who gave voluntary services to the Anjuman in different sections of the Anjuman:
1. Akberalibhai Altaf Hussein
2. Haji Mohammedhussainbhai A Kalyan
3. Sheralibhai Fidahussein Noorani
4. Hassanalibhai Nishat Noorani
5. Mohammedrazabhai Haji Bhai
6. Akberalibhai A. Pethabhai
7. Gulamhusseinbhai Thaver
8. Gulamhusseinbhai A.V.D
9. Anveralibhai Rehmtulla Ziya
10. Haji Yusufalibhai G. Marbiwara
11. Munawaralibhai H Salil
12. Hassanalibhai Meharali
13. Anveralibhai Rehmtulla
14. Mohammedalibhai Rajanbahi
15. Haji Fazalbhai Hasanali
16. Rajabalibhai Hemani
17. Noormohamedbhai Janmoahmed
18. Haji Fidahusseinbhai G Bhojani
19. Amiralibhai H. Dilshad
20. Abdullabhai Nanji

In the year 1966 the silver jubilee of the Anjuman-e-Khudamul Qur'an was celebrated in Karachi Pakistan. Among several congratulatory letters sent to Anjuman, we have carried the following three letters:
a. Past President of the Supreme Council of the Federation of Khoja Shia Ithna Asheri Jamaats of Africa, Alhaj Mohamedali Meghji.
b. Ex-President of Khoja Shia Ithna Asheri (Pirai) Jamaat- Karachi, Alhaj Rahimali G. Chagla
c. President of Khoja Shia Ithna Asheri (Pirai) Jamaat Karachi, Alhaj Nazer Mooraj.
Let us remember all our past leaders and all Marhumeen with Sura-e-Fateh for the maghferat of their souls.
Source: Silver Jubilee book of 6-10-1966 Karachi, Pakistan.
SECRETARIAT
ARCHIVES SECTION OF THE AFRICA FEDERATION
19th January 2018 (1st Jamadi ul Awwal 1439 AH)
Reference: https://gallery.mailchimp.com/5496132269473a782cfb7b798/files/1994bf04-3335-44f8-a03f-aabbe1edfbf0/Anjuman_e_Khuddamul_Quran_1937_Final.pdf