Aliraza Bandali
Brief Profile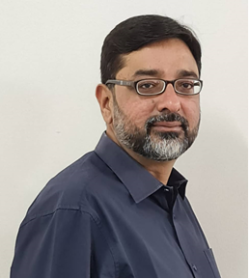 Aliraza is a forthcoming, experienced, and ambitious person who has developed a mature, systematic, and responsible approach to any task that he undertakes or situations that he is presented with. He works with I&M Bank (T) Limited and holds the position of Senior Manager. Aliraza holds IMIS Certificate in the fields of operation, programming & systems analysis, design & computer management.
Community Services
He has worked in various capacities as a volunteer within the KSIJ Dar es Salaam, which includes; Central Medical Board, Covid-19 Task Force Team, Medical Camps, Head of Julous, Blood Drive, Scouts, IUVC, and a number of Adhoc committees. In his personal capacity, he has been providing timely information and advice to the community and the public at large. He works very closely with other communities and provides his services for the sake of humanity. A number of community members know him for his advice, help, and generosity.
He prides himself on achieving the highest standard possible, at any given task and in any situation. He is accustomed to working in a challenging and fast-paced environment, particularly when dealing with multiple projects and priorities at the same time.
Appointment of the Africa Federation Central Health Board (CHB) Team for the Term; 2022 - 2025
The AFED Secretariat extends its heartiest congratulations to Aliraza Bhai and his team on their appointments and wishes them success in the accomplishment of the Board's goals and objectives set out for the term 2022 – 2025.
AFRICA FEDERATION ARCHIVES SECTION
SECRETARIAT
CIRCULAR NO: JMT/010/22
Date: August 29, 2022
Resource: https://mcusercontent.com/5496132269473a782cfb7b798/files/9683286e-ec04-b0aa-5b6d-8aa6fc3dfc8f/Circular_Appointment_CHB_Team_2022_2025.01.pdf