Abdullah Tahora
Birth & Death
Birth Date: August 19, 1919
Death Date: August 29, 1986
Brief Profile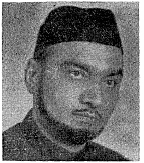 Born in Morondava, Madagascar, Haji Abdullah Tahora acquired his basic education in Gujarati and French at Morondava School. He had an excellent command of both of these languages. Encouraged by his father, Haji Abdullah was interested in becoming a Zakir from the young age of 13.
Religious Studies
Haji Abdullah worked very hard for the local Imambargah, Masjid and Madrasah. He learned to recite the Holy Qur'an and was trained in Islamic education from the resident Alim of Morondava, Sayyid Javad Ameli Najafi. He would also keep constant company of any visiting Ulamaa and acquire the keys to the treasures of Islamic education in this way. Haji Abdullah would collect all the wisdom that he gained from these personalities and prepare them into majalises in his own Gujarati language and present them to the Momineen of the Jamaat. He had a very amicable personality and recited majalises till his last breath.
Community Service
Haji Abdullah provided religious services in Morondava from 1940 to 1953. In 1953, he went to settle in Toliara and served the Jamaat there as Honorary Secretary. After that he became President of the Territorial Council. In addition, he also served the Jamaat in Reunion. Haji Abdullah has written religious books in both English and French and has also received medals from the Madagascar Government.
Haji Abdullah no doubt loved the Ahlul Bayt and reciting majalis was his passion. He was an avid reciter in Gujarati and delivered several majalises in Africa, Madagascar, India and Pakistan among other places. In 1983, he had come to Paris to recite majalis. However, on the 7th of Muharram, he became ill and could not finish the full 10 days. After some time, the Paris Jamat President went to Reunion and invited him to recite the Chehlum majalis.
Haji Abdullah replied that if God willed he would certainly complete the half-finished "ashra" that he had started in 1983. Alas, his wish was not granted. When he was diagnosed with heart disease, his family and friends requested him to cut back the number of majalis he used to recite. He told them that he was prepared to give up a lot of things due to his illness, however, he was not ready sacrifice his majalises saying: "I will always recite the majalises of Sayyeda Shohoda".
Death
The day he died, Haji Abullah was feeling very good. He met with friends and various guests and talked in a very pleasant manner with them. Before going to sleep, he recited a majalis by himself, then pleaded to the Almighty and immediately died.
Maulvi Abdullahbhai Tahora passed away in Reunion, Madagascar. In his memory, there was a gathering in which a few individuals paid tribute to his life: The Zakir-e-Ahlul Bayt, Abdullah Bhai was well known to many people.

Reference: E-Book of 12 Personalities
The World Federation of KSIMC
SENIORS ADVISORY BOARD
February 2006 / Muharram 1427