Abdulla Kanji (Bapu)
Birth & Death
Birth Date: In The Year 1881
Death Date: In The Year 1944
Brief Profile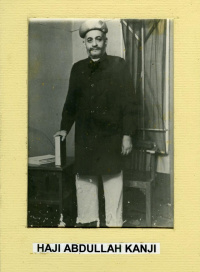 Born in Kutch, Bhuj (India) in 1881, Haji Abdulla Kanji was well known amongst the elders as "Bapu". A pioneer of Mombassa and a passionate philanthropist, Haji Abdulla first arrived in Mombassa in 1902 on a sailing dhow along with other Indians. He was soon to make important contributions to this budding city, leaving a legacy for years to come.
Business Skills
Soon after arriving in Mombassa, Haji Abdulla became a successful merchant along with his brother, Bandali Kanji. As his family grew in number, he became more established in the business world - setting up and managing a flourishing real estate company and import-export business until his death in August 1944 at the age of 63.
A Visionary
A visionary person, with great hopes for the future of Mombasa, Haji Abdulla was instrumental in shaping this new and growing community. He made intelligent decisions that were based on ethics and morality rather than financial and self-serving. He believed in equitable allocation of business commodities and equal distribution of wealth. He imported products and shared them with other businessmen within and outside the community with the precondition that the selling price of goods remain the same without undercutting on price.
Haji Abdulla invested much of his savings in purchasing land and building residential homes and commercial properties. With this background and experience, a great deal of the city's planning and construction was done under his personal supervision. Interestingly enough, the road comprising of houses which he built was named Abdulla Kanji Road (now known as Tewa Road off Moi Avenue).
Community Services
Always concerned about the welfare of others, Abdulla Kanji was an individual who benefited the people. His concern for the youth of the community was no doubt genuine as he sourced employment opportunities for them in the local shipping companies and banks through his many contacts. For those who were struggling financially and could not afford housing, he offered them free accommodation. In September 1926, he along with his associate, Marhum Fazalbhai Ladak Shivji donated a Musafarkhana.
In his lifetime, Haji Abdulla earned the nickname "Bwana Judge" as he was well known and respected for resolving disputes of all sorts. While he never took any official position in the community, leaders and elders always sought advice from him. Moreover, he always remained in the close company of Aalims – often hosting them and taking religious advice from them. In the community, he was well known for continually upholding principles and ideals without reservation and his charitable contributions to various communities were in confidence.
His Legacy
When Haji Abdulla left this world, the legacy that he left behind remained in the hearts of those whom he touched. Prior to his funeral and on the way to the Kabrastan, his coffin was brought to a halt three times by other communities and garlanded with shawls as a mark of respect. Today, Haji Abdulla's family continues his legacy in various ways around the world. Marhum's positive work and message is still echoed by elders within and outside the community.

Narrative: Hasnain Walji
Reference: E-Book of 12 Personalities
The World Federation of KSIMC
SENIORS ADVISORY BOARD
February 2006 / Muharram 1427