Nazir Jessa
From KhojaPedia
This page is incomplete and require further information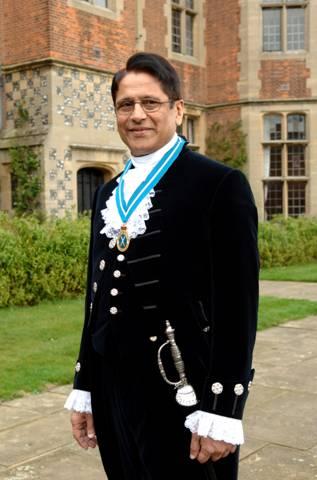 Birth
Nazir Jessa was born in Tanzania and came to the UK in 1964.
Achievements
Amongst many other activities, he set up a project to refurbish computers to donate to schools in his home country which is supported by the University of Bedfordshire's student volunteer programme.
In 1994 he founded the Hertfordshire Ethnic Minority Business Network and 2003 he founded the Luton Minority Business Network which he continues to run successfully.
Mr. Jessa is a court member of the University of Bedfordshire and an ardent supporter.
The newly-appointed High Sheriff carried out his first official engagement on 6 April when he attended the Mayor of Ampthill's Civic Service. Mr. Jessa will be in post until April 2009.
http://www.coej.org/secretariat/news/1010-nazir-jessa-appointed-bedfordshire-high-sheriff
Services
Well-known businessman Nazir Jessa has been installed as the new High Sheriff of Bedfordshire at a special ceremony on Thursday 3 April 2008 at the University of Bedfordshire's historic Putteridge Bury campus.
The former Chairman of Watford Electronics in Luton accepted the position in front of more than 70 guests including the Vice Lord Lieutenant of Bedfordshire, Colonel Colin Mason, Bishop of Bedford, the Right Reverend Richard Inwood, Justice of the Peace, Ann Rayment, Vice Chancellor of the University, Professor Les Ebdon and His Honour Judge Burke Q. C.
In his speech, Mr. Jessa (66) said: "I'm honoured to take up this position and I look forward to serving the community. I hope to do my job well and serve my county to the best of my ability." Mr. Jessa was flanked by his family members who had come from various parts of the UK and three different continents.
The historic office, which is appointed by the Queen, dates back to Saxon times (1000+ years) and used to have the powers now vested in judges, magistrates, local authorities and coroners. Today the unpaid role is mostly ceremonial - duties include welcoming and supporting Circuit Judges visiting the county, community work, supporting voluntary organisations and welcoming members of the Royal family during their official visits to the county.
Outgoing High Sheriff Dr Vaughan Southgate thanked the people of Bedfordshire for making it a memorable year. Brian Hall was appointed Under Sheriff for the year.