Africa Federation Sports Festival in 1984, Dar-es-Salaam

Inaugration
The First Africa Federation Sports Festival was held in Dar-es-Salaam from 22nd to 26th December 1984 introduced during the tenure of Alhaj Mohamed bhai Dhirani's Chairmanship of the Africa Federation. Alhaj Gulamabbas Janmohamed was then the President of Dar-es-Salaam Jamaat. This inaugural AFED Sports Festival truly made a Dream Debut leaving cherished memories with all the participants, officials and organizers.
The Festival was organized under the auspices of Ithna-Asheri Union headed by Alhaj Hussein H. Peera and Union Sports Club Chairman was the late Alhaj Ibrahim A. Jivraj. The present Vice Chairman of Africa Federation, Alhaj Aunali Khalfan was a member of the Organizing Committee of this first AFED Sports Festival.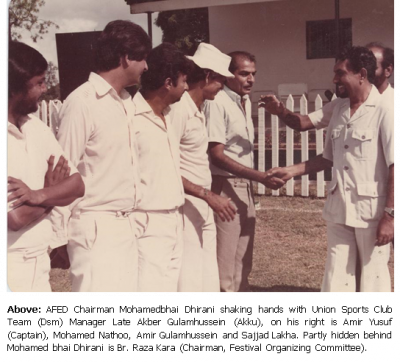 The holding of "All Africa Sports Festival is a milestone in this respect as it will gather sportsmen from all over Africa at one place. It will not only arouse greater interest in sports but will lead to strengthening the bonds between youths of different Jamaats.
(Extract of the Message of AFED Chairman Mohamed Dhirani – Sports Festival Souvenir Booklet)
The games of Cricket, Tennis, Volleyball and Squash were played, with participants from 11 Jamaats spread over four days of the Christmas Holidays.
Winners
Cricket: Mombasa Jaffery Sports Club
Squash: Munir Daya – Dar-es-Salaam
Tennis: Murtaza Kassamali – Mombasa (Single)
Murtaza Kassamali and Mahmood Khatau – Mombasa (Doubles)
Cricket Individual Awards:
Best Batsman: Mahmood Taki – Nairobi
Best Bowler: Sibtain Amirali – Mombasa
Best All-rounder: Munir Sheriff – Arusha
Best Fielder: Murtaza Virani – Dar-es-Salaam
Volleyball Individual Awards
Best Player (Final): Abbas Rashid – Nairobi
Best Players Semi Final: Roshan Walji – Mwanza and Abbas Khimji – Tanga

The Festival ended with a Grand Closing Ceremony which was graced by various dignitaries with the presence of Hujjatul Islam Agha Mohamedali Lavasani, Ambassador of the Islamic Republic of Iran to Tanzania and presided by Alhaj Mohamed Dhirani who in his speech said that the Festival was unique as it was held on the occasion of celebration of the 1400th Birth Anniversary of Imam Hussain (A.S.).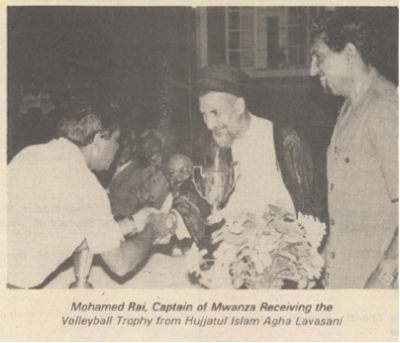 Extracted from Federation Samachar Volume 21 No. 1 of April 1985 and the Souvenir Booklet of the Festival (December 1984)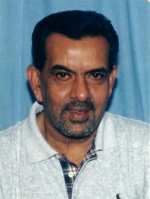 A reflection of the past by Br. Bashir A. Tejani
Bashir bhai, a talented all-rounder, was among the top and elegant cricket players of Union Sports Club of Dsm for many years. Bashir bhai presently lives in Arusha and is an ardent Golfer, speaking to the AFED Archives Sectional Secretary, he had the following to say on the occasion of the AFED Furaha Sports Festival which is being held in Nairobi, Kenya from 22nd to 29th December, 2017.
"Nothing can be so exciting and satisfying than playing for the Community Club, I recall the good old memories of the glory of the Union Sports Club of Dar Es Salaam and the support by the Club, Jamaat, Community members and the sports enthusiasts who were truly captivated to the game of cricket in the 60s and up to 90s in Dar Es Salaam and other cities like Mombasa, Nairobi and Arusha. Unfortunately, the game of Cricket has lost its popularity in these cities, in common with all the communities. I hope the Clubs will make efforts to revive the game cricket.
The Africa Federation Sports Festival is growing from strength to strength and infuses immense interest amongst the young sportsmen and sportswomen in our Community. Sports Festival such as Furaha instills wonderful and lasting memories, it also inculcates unity and friendship amongst the participants. This is a wonderful trend be continued to bring the youths of our community together on a common platform especially now that they are spread far and wide. During our era, we were playing cricket not as a team but as a family. If we could adopt the same spirit, with present talents in our youths, we shall have a bright future for our new generation. This should be an emphasis by our leaders when communicating to the youths during these Festivals. Wishing the AFED Furaha Sports Festival every success"

Down The Memory Lane
Below: Veteran and a fine cricket player Br. Mohamed Nathoo, captained National Tanzania team proudly receives "Sir Robert Menzes" trophy of Quadrangular Cricket Tournament at the Coast Gymkhana ground in Dar Es Salaam on 16th October 1984.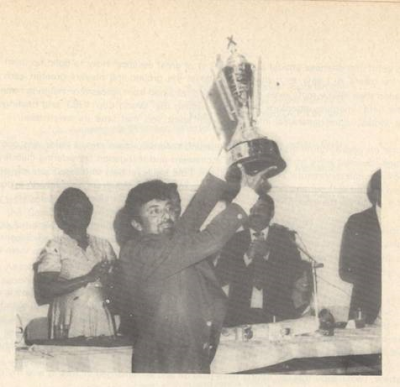 Secretariat
Africa Federation Archives Section
22nd December 2017 (3rd Rabi-ul-Aakhar 1439 AH)
Reference: https://gallery.mailchimp.com/5496132269473a782cfb7b798/files/9ed19ad8-5c54-4a85-bc1a-926ff8b07fa2/AFED_Archives_1st_Sports_Festival.01.pdf