Zehra Bai Damji (Singida)
Birth & Death
Birth Date: February 1, 1937
Death Date: March 3, 2022
Brief Profile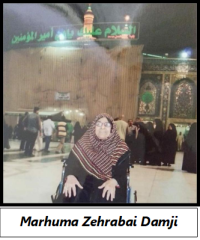 Serving others means to do something for the benefit and goodwill of another person or a community which in turn brings joy, satisfaction, immense happiness and a feeling of fulfilment to the doer. This goodwill also extends to impacting someone positively on an emotional, spiritual, or financial level is a great feeling of joy and satisfaction. It is also an honor and privilege to have such qualities. Whilst others work their way towards being different, certain individuals strive towards making a difference. Their passion and energy are unparalleled, and they become an inspiration and an example to others for posterity. One such personality is Marhuma Zakira Zehrabai Damji of Singida, originally from Zanzibar.
Zehrabai Damji was born on 1st February 1937 to Dhalla Abdulla Panju and Rukiabai Ali Gulamhusein Lakha Kanji. Her siblings are Abdullah Panju, Lailabai Panju, Asger Panju, Hussain Panju, Mohammad Panju, Zulfikar Panju. She completed her education at Datoo Hemani Primary School in Zanzibar. She got married at the age of 14 years to Akbar Ali Hassanali Khamis Damji in 1951 and they were blessed with three children: Mohsin Damji, Kaniz Damji (now Allidina) and Rukiya Damji (now Tejani).
A Keen Reciter
During the time of the Zanzibar Revolution, the family migrated to Singida. Zehrabai was a keen reciter of Nawha and Marsiya. Gradually she embarked on reciting Majalis in Singida. Whenever she went to places such as Dar es Salaam, Dodoma, Arusha or Zanzibar, she would be invited to recite Majalis in the mosques, mehfils and private residences. There were times when she visited the UK (Leeds, Peterborough, Birmingham, Leicester and London), there too, she would be invited to recite Majalis in the mosques and private residences. In Leeds, in 1984, Zehrabai established ladies Quran-Khwaani in the holy month of Ramadhan.
Due lack of good schools and health facilities in Singida emanating from 70s, the Khoja community members in Singida started to move to big cities, like Dar es Salaam, Arusha and Mwanza. Simultaneously the Bilal community started growing in Singida as the efforts of Bilal Muslim Mission intensified. This opened a new chapter in Singida, Zehrabai then started to recite Majalis, Marsiya and Nawha in Kiswahili to propagate and spread the mission of Imam Hussain (`a). She also supported the establishment of the Bilal Madrasah in Singida.

Community Services
Zehrabai also supported the Madrasah financially and in the running of the mosque in Singida. She inspired all her children and grandchildren to recite and spread the message of the Ahlulbayt (`a). Mohsin Damji, Zehrabai's eldest son, recites nawhas, marsiyas and majalis in Kiswahili to accommodate the Bilal community in Singida. In following his mother's footsteps, Mohsinbhai is also good supporter in the running of the Singida Mosque.
Some of Zehrabai's grandchildren, namely, The Tejani Brothers, are active reciters of nawhas, marsiyas and give lecture in the love of the Ahlulbayt (`a). The Tejani Brothers also serve the community widely via their website called https://nawhas.com/ where they have written more than 2000 lyrics of nawhas in Roman English.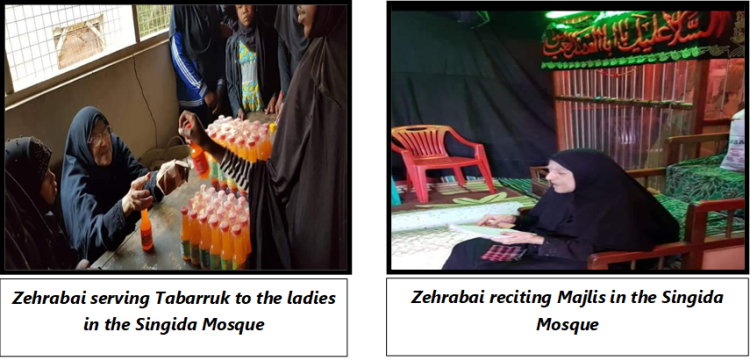 Death
Such was Zehrabai's dedication and love for the Ahlulbayt (`a) that till the last moments of her life, her lips were constantly moving in the dhikr of Allah (s.w.t). She passed away on 3rd March 2022 in Arusha. The Community shall always remember Zehrabai and her family who have remained in Singida till this day, whilst mostly all the Khoja Shia Ithna-Asheri community members have left Singida for greener pastures and other needs like education and healthcare.
May the Almighty Allah (s.w.t) reward her amply for her dedication and efforts rendered to the community and humanity at large and elevate her soul amongst His Pure and chosen ones – Ameen.
We request our readers to remember Marhuma Zehrabai Damji and all the Marhumeen with Sura-e-Fateha.

Source and Photo Courtesy: Mrs. Rukaiya Tejani
SECRETARIAT
ARCHIVES SECTION OF THE AFRICA FEDERATION
Date: 4th November 2022 / 9th Rabiul Aakhar 1444 A.H
Resource: https://mcusercontent.com/5496132269473a782cfb7b798/files/e5595b6f-99e5-8626-078b-437318b4ff84/Archives_Article_Marhuma_Zerabai_Damji.pdf