The Early Pioneers of Khoja Shia Ithna-Asheri of Somalia - Muraj Ukera (1838-1932)
Murabbi Muraj Ukera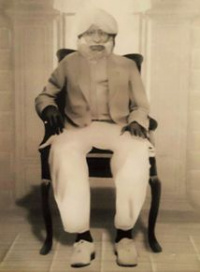 Birth & Death
Birth Date: In The Year 1838
Death Date: In The Year 1932
Brief Profile
Murabbi Muraj Ukera was born at Kapaya, Kutch, India in 1838. He started business after completing primary level education in the village primary school. He married Purbai with whom he had six sons and five daughters.
Life Journey
In 1881, he gave some money as capital to three of his sons namely Alidina (also called Ali), Haji and Mohamed and sent them to Africa to venture into business. All three of them ultimately established their business in Merca, Somalia. His sons Rashid and Ahmed migrated later. His daughter Khatija married Jaffer Parpia. Muraj's father Ukera Nanji and brother Peera (Pirmohamed) Ukera settled in Zanzibar while his brother Mohamed Ukera settled in Merca, Somalia. Muraj used to travel frequently from India to Zanzibar and Merca to visit his family members. In 1906, after reaching Africa, he did not return to India.
Community Services
Muraj was a humble servant of the community. He would not take leadership because of fear of hurting someone during leadership. As such, he used to frequently advise his children to serve the community like a slave and not like a leader. This quiet and sincere servant of the community passed away in Mogadishu in 1932 at the age of 94. We carry below the story of two of his sons, Alidina and Hajibhai.
Haji Alidina Muraj Ukera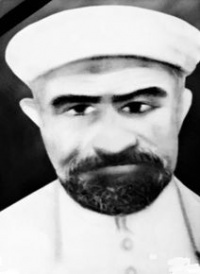 Birth & Death
Birth Date: In The Year 1863
Death Date: In The Year 1919
Brief Profile
Muraj's son Alidina was born in Kapaya, Kutch, India in 1863. He obtained his primary education in India, and then joined his father. In 1881, he led his two younger brothers on venture to Africa.
Life Journey
After landing at the port of Zanzibar, they came into contact with some Ithna-Asheri brothers. After some time, the three brothers converted from Ismaili to Ithna-Asheri faith. At that time there were very few Ithna-Asheris in Zanzibar. Although few in number they were quite strong in their faith and had progressed in the spiritual, social and secular fields. The three brothers were seen to have truly grasped the lessons of from the mission of Imam Hussain (AS) and the great sacrifice of Kerbala. They had become very devoted followers with a very strong faith – which they adhered to fervently until till the end of their lives.
From Zanzibar, the trio travelled to Merca where they jointly opened a business. Sultan Barghash of Zanzibar was the ruler of Somalia at that time. In 1890, Somalia came under Italian rule. In 1902, Alidina resigned from the partnership and joined his brother Hajibhai in Mogadishu as business partner. In 1910, he resigned from partnership and started his own business.
Family
Alidina got married in India and brought his wife Janbai to Africa. Through this marriage, they had one daughter Sherbanu and seven sons Gulamhussein, Juma, Kassamali, Suleiman, Ahmed, Ibrahim and Musa. One daughter died in infancy.
Desire of Visiting Madinah
Alidina was a very religious person and had deep affection for his brothers in faith. He was also very helpful and served fellow men with great devotion. When he went to Makah, Saudi Arabia for Hajj he had great desire to also visit Madinah for Ziyarat of the Holy Prophet (SAWW). However due to the First World War and the resulting difficulties in obtaining return sea transportation he could not go to Madinah. He had to go to Jeddah for his return trip back to Somalia. While sitting in the ship travelling home, he felt a deep sense of sadness for missing the Ziyarat. For three days, he kept on looking at the sea and the horizon during the day and the stars at night with great remorse. On the fourth day he could no more bear this feeling and jumped into the sea in the middle of the night. This desperate lover of the Holy Prophet was able to ride the waves. For three days, he stayed atop the waves. On the evening of the third day, some fishermen off the coast of Yemen saw him floating and were able to immediately take him out of water. Surprisingly, even after staying three days in water, Alidina's physical condition was weak but not too bad. The fisherman offered Haji Saheb food and water and as a result he gained consciousness. After some time, he realized the adventurous step he had taken. He thought about the power of the Almighty of saving him in such difficult circumstances and he found great pleasure in his heart. The family in Somalia had already started mourning when they first got the news from ship's captain of his jumping in the sea. They were therefore astonished to learn of his miraculous escape from death three days later. When his father Muraj learned of this in Mogadishu, he decided to travel to Aden to pick up him up and bring him back to Mogadishu.
Demise
Haji Alibhai Muraj was revered among the local population due to his faith and devotion. The local Somali people mention Haji Saheb in their Qasidas. Haji Alidina passed away in Mogadishu on 31 March 1919.
Haji Muraj Ukera (1869-1945)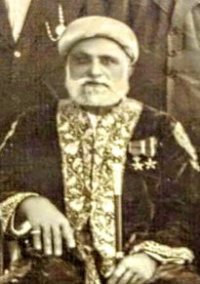 Birth & Death
Birth Date: In The Year 1869
Death Date: In The Year 1945
Brief Profile
Hajibhai Muraj Ukera was born in Kapaya, Kutch, India in 1869. His father sent him to Africa in 1881 with his two elder brothers Mohamed and Ali. After staying in Zanzibar for a short time, they were influenced by our Zanzibar community and they converted from Ismaili to Ithnaasheri faith.
Life Journey
They went to Merca where they started a partnership business. Their uncle Mohamed Ukera used to live in Merca. The trio ran the business for 20 years. Due to expansion of business in Merca, Hajibhai was sent to Mogadishu in 1902 to open a branch. After some time, Mohamed Muraj Ukera quit the partnership and Hajibhai continued with Alidina. In 1910, Hajibhai started an independent business.
Family
Hajibhai married Fatmabai, daughter of Hasham Visram in 1897 and with whom he had seven sons and seven daughters, namely Mohamedali, Hussein, Mohsin, Ahmed, Hassanraza, Aliraza. Zainab, Kulsum, Sakina, Sherbanu, Khatija, Zehra and Maryam.
Business Skills
The main business of Hajibhai was food items. He would import great quantities of food and grain from neighbouring countries and, due to his religious adherence, would sell them at very reasonable prices. Even during famine and war he would sell the items at government prices. He was very kind to the poor and would sometimes sell them at or below cost or give away free. Due to his honesty and integrity in business, he became very famous in government circles. His loyalty to the government led him to be made a representative of Indian community during any function when any colonial Italian government dignitary was received in Mogadishu. From 1930 to 1945, he served the community with deep devotion of time, energy and resources. The Italian Government recognized his great services by awarding him with the Title "Cavaliere" and the medals "Star of Italy" in 1930 and "Count of Italy" in 1934.
Educational Facilities
Hajibhai was very concerned with the lack of educational facilities in Mogadishu and used to constantly communicate his concern to the leaders of all Indian communities in Mogadishu. He was concerned that the Indian community had travelled all the way from India just to earn money and did not care about the educational progress of children. He therefore decided to bear the expenses of obtaining services of a teacher from Mumbai for educating the children of Mogadishu. The teacher, Rajabali arrived in 1925 and ran the school until 1930. All this time the expenses of the school were being borne by Hajibhai. The children of the Indian community were therefore provided with appropriate education in their mother tongue.
Demise
Hajibhai Muraj passed away on 24th November 1945. His funeral was well attended by members of all communities and the local population.
Let us remember the Marhumeens of Muraj Ukera family and all the Marhumeens with Sura-e-Fateha for maghferat of the departed souls.

Source: AFED Trade Directory 1960; & Br. Raza Suleiman
Secretariat
Africa Federation Archives Section
17th June, 2016 (11th Mahe Ramadhan, 1437 AH)
Reference: https://gallery.mailchimp.com/5496132269473a782cfb7b798/files/AFED_Archives_Bulletin_The_Early_Pioneers_of_KSI_of_Somalia_Muraj_Ukera_family.pdf