Rashid Versi (Lindi)
Birth & Death
Birth Date: In the Year 1893
Death Date: August 12, 1963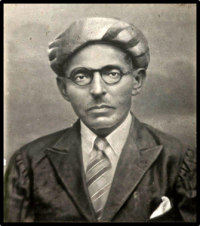 Brief Profile
Alhaj Rashid Versi was born in Cutch, India in 1893. He was son of Versi Gowa and had three brothers Remtulla, Bandali and Gulamhussein and two sisters Fatmabai and Sakinabai. His brother Remtulla was the first to migrate to Zanzibar and then to Lindi. Remtulla's first wife Virbai Manji Sumar died in Lindi in 1915 and was buried at the cemetery near PC House at the seashore as there was no community cemetery at that time. Remtulla died during visit to Cutch, India.
Life Journey
On their sea voyage to Africa, Rashid Versi together with his three companions from India, Mathuradas Kalidas, Nanji Kalidas and Yusufali Karimjee first arrived at Mombasa. Rashid worked for some time in Mombasa in a Mill doing the job of winnowing grains (kupepeta in Swahili). He then moved to Zanzibar and finally to Lindi. He travelled from Zanzibar to Lindi with Gulamhussein Kalyan in 1924. After moving to Lindi, Rashid started cloth-selling business. Later on, he started car garage business which thrived very well. He also owned a sisal plantation at Narunyu about 40 km from Lindi. Rashid constructed the house in which he lived in Lindi around 1933. At that time several houses were being constructed all with similar design. The cost of construction was Sh 25,000.
Community Service
Rashidbhai Versi served Lindi Jamaat as President for 27 years. He was instrumental in raising funds for the Lindi boarding house which was constructed to help students from upcountry towns and villages to be able to acquire their education in Lindi. Despite his ill-health, he together with Fazalbhai Ladha Dinani visited 10 Jamaats in company with the Federation's office-bearers in 1959 to raise funds for the Foundation Fund.
The team visited the following towns in the Southern region where our community members were residing:
In December 1959, Rashidbhai was honored with a Citation for his role in raising funds for the Foundation Fund during which the President of Africa Federation, Alhaj Ebrahim Hussein Sheriff together with his team visited 127 community settlements in seven countries of East Africa. About 45 people took part in this drive. (A Citation copy in Gujarati and it's translation is appended below). In May 1961, Rashidbhai was also honored with Citation during a flag raising ceremony in Lindi. The Jamaat President, Alhaj Gulamabbas Haji Jusab and the Hon Secretary, Alhaj Fidahussein Haji Mohamed Khaki honored Rashidbhai for his outstanding and dedicated role in the Jamaat and especially the construction of Haji Mohamed Jaffer KSI Trust Building and KSI Students Hostel. (A Citation copy in Gujarati is also appended below)
Death
Rashidbhai passed away on 12 August 1963 at the age of 70. With his death, the community lost a long-serving elderly figure in Lindi. He left behind wife Mongibai, three sons and five daughters: Hassanali, Mohamedraza, Jafferali, Kulsum MR Versi, Shirin MB Versi, Fatma MJ Pardhan, Sughra KB Versi and Nargis Mustafa Abdulrasul (all now deceased).
CITATION BY THE FEDERATION OF KSI JAMAATS OF AFRICA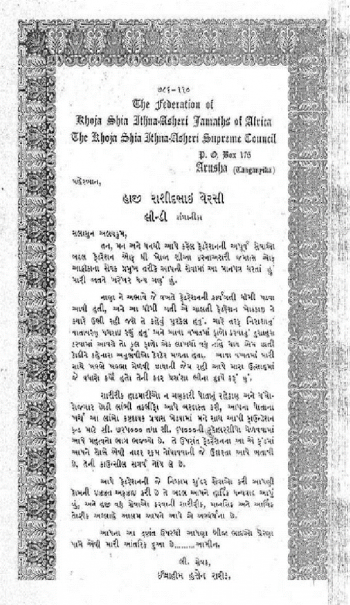 TRANSLATION OF THE GUJRATI CITATION BY THE FEDERATION OF KSI JAMAATS OF AFRICA
The Federation of Khoja Shia Ithna-Asheri Jamaats of Africa
The Khoja Shia Ithna-asheri Supreme Council
P O Box 175
Arusha (Tanganyika)
Honorable Sir,
Rashidbhai Versi
Lindi, Tanganyika
Salamun Alaikum As a servant of the community and its President, I consider it an honour to present to you this Citation on behalf of the Federation of Khoja Shia Ithna-asheri Jamaats of Africa, for your role in serving the community with utmost zeal, untiring physical efforts and great financial contribution.
Financial constraints had started to curb the activities of the Federation and there was a great possibility of these activities to come to a halt at any time. There was despair all around. There also arose people who confidently said that an observation of financial situation all around did not give any hope of raising more than Sh 100,000 if any efforts were made to start a collection drive. During these difficult times, you strongly encouraged us and stood shoulder to shoulder with us in our common aim. I wish to pay tribute to your enthusiastic encouragement with gratitude and deepest appreciation.
Ignoring physical challenges due to age and despite business commitments, you decided to leave the comfort of your home and join the team at your own expense, in the lengthy and arduous journey to collect funds. Due to your important contribution, the Foundation Fund was able to collect Sh 725,000 and the Scholarship Fund Sh 65,000. The Council would also like to note your considerable personal contribution to the Fund.
As a result of your selfless efforts, the community has attained great respect for which I wish to congratulate you sincerely. I pray to Allah that he continues to give you strength to serve the community with your physical efforts, great spirit and financial contribution.
I hope and pray that your efforts will be a source of encouragement to others in the community to follow suit.
Your servant,
President
Federation of Khoja Shia Ithna-asheri Jamaats of Africa
20 Jamadil Akher 1376
21 December 1959
CITATION BY LINDI JAMAAT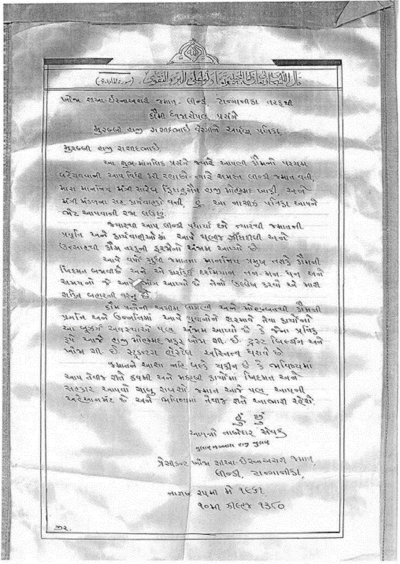 TRANSLATION OF THE GUJRATI CITATION BY LINDI JAMAAT
Translation of Citation Awarded by the Khoja Shia Ithnaasheri Jamaat, Lindi, Tanganyika to Murabbi Haji Rashidbhai Versi on the occasion of Flag Raising Ceremony
Murabbi Haji Rashidbhai,
On this auspicious occasion during which you will be raising the Flag of the Community, I am honored to humbly present to you this Citation on behalf of the all members of Lindi Jamaat, the Honorary Secretary Br Fidahussein Haji Mohamed Khaki and the Jamaat Secretariat.
Since your arrival in Lindi, the Jamaat has attained steady progress. You have infused new energy in the Jamaat activities which you have carried out with utmost zeal.
You have served this Community for a very long period as President of the Jamaat. The sacrifice that you have made through your physical efforts, in spirit and in financial contribution is enormous, beyond description.
You have shown great affection towards the community and carried out your duties with love and dedication at an old age which would put younger generations to shame. As a result of your hard work, we have the Haji Mohamed Jaffer KSI Trust Building and KSI Students' hostel.
The Jamaat not only hopes but is certain that in future you will continue to serve and assist the community in communal and religious activities. The Jamaat would like to express its deep appreciation and is ever thankful.
I am,
Your obedient Servant,
Gulamabbas Haji Jusab,
President, Khoja Shia Ithnaasheri Jamaat,
Lindi, Tanganyika
25th May 1961
10th Zilhajj 1380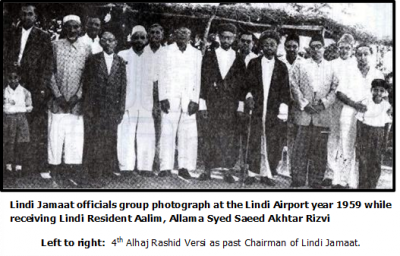 Let us remember Marhum Rashidbhai Versi and all the Marhumeen with Sura-e-Fateha for their Maghferat, May Allah (SWT) grant him heavenly abode in the proximity of Aeema-e-Tahireen (AS).

Article, translation and photographs courtesy of Alhaj Mustafa Y. Pirmohamed of Orlando, USA

SECRETARIAT
ARCHIVES SECTION OF THE AFRICA FEDERATION
22nd November 2019 (24th Rabiul Awwal 1441 AH)
Resource: https://gallery.mailchimp.com/5496132269473a782cfb7b798/files/dab84541-2e15-4b16-be12-0ecc78363b3e/Archives_Bulletin_Alhaj_Rashid_Versi.pdf