Ramazan Rajabali Jaffer (R R Jaffer)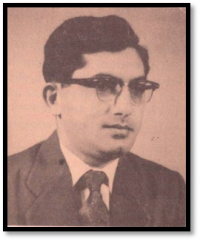 Birth & Death
Birth Date: January 07, 1925
Death Date: June 28, 1989
Brief Profile
Ramazan Rajabali Jaffer (R R Jaffer) was born on 7th January 1925 in Zanzibar. In 1949, he married Kaniz, daughter of Abdulrasool Chatoo (Malaika). The marriage was blessed with four children. Mohammed now resides in London and Maimuna resides in Houston. Zaid and Naazim are deceased. Ramazanbhai's exemplary dedication to education was signified by his children graduating in medicine, radiography, optics and pharmacy.
Life Journey
R. R Jaffer was dedicated to education from young age and he secured first class in Cambridge Certificate in 1946 in Zanzibar studying under the street lamps. He moved to Dar es Salaam in 1949 and started earning by teaching shorthand and typing. This enabled him to open the first optical shop in Dar es Salaam, Tanganyika in the year 1951 and named it Jaff's Optical House. His hard work, honesty and dedicated customer services enabled him to open a branch named Jaff's Optical House near Empress Cinema in the year 1960. The business was jointly managed by his wife Kaniz. In 1970 the business was expanded by amalgamation with U.K Company of Birmingham called Greams Optical. In 1970's he opened a third optical shop also called Jaff's Optical House next to present Walji's Travel near Khoja Shia Asheri Mosque in Makunganya Street.
Community Service
R.R Jaffer managed to contribute a lot of his time to the Khoja Shia Ithna Asheri Jamaat of Dar es Salaam with immense dedication. He participated in various Committees and was very active in the scout movement, sports and education. As a cricketer he played for Ithna Asheri Jamaat as batsman. His passion for education was apparent when he highly promoted the youths for further education and sought scholarships. He was awarded trophies for sportsmanship too. His unique ability to blend in with diversity of people was exemplified when he became the Deputy Mayor of Dar es Salaam after being councilor for many years. He was active member of TANU Party in Dar es Salaam. R. R Jaffer's humbleness and interest in assisting others enabled him to contribute to various organizations in Tanzania. He was the Chairman of the Advisory Board of Education of Tanzania, Secretary of the Football Association of Tanzania, Chairman for the Society of the Blind, Governor of the board of school, active member of the Lions Club and Secretary of the Rotary Club. His selfless and humble dedication to the society in general was exemplary.
His philanthropic contribution was aimed to the people in rural areas in eliminating blindness and providing spectacles to the people. He dispensed spectacles for 20 years to the satisfaction of local ophthalmic surgeon and for the government run Muhimbili Medical Eye Centre. This was in the faculty of Medicine, University of Dar es Salaam.
Achievements
In the year 1979 he migrated to United Kingdom to join his family. R. R Jaffer did not retire. He enrolled himself with City College and graduated as a qualified dispensing optician completing the fulltime course of two years. He was delighted to have achieved and named as Fellow of the Association of Dispensing Opticians (FADO) at the age of 58. He opened his own optical shop in Edgeware Road London called Jaff's Optical House. During this period, he even became the President of Khoja Shia Ithna Asheri Community to establish our first mosque in Hammersmith area London.
Death
Ramazanbhai Jaffer succumbed to the mercy of Allah on 28th June 1989 and was buried in Brookwood Cemetery in London U.K.
Let us remember Marhum Ramazan bhai and all Marhumeen with Sura-e-Fateha for the maghferat of the departed souls.

Sources: Federation Samachar Vol24/2 Jan 1990 Jamadiul- Akhar 1410
Sports Festival 22/26 December 1984 Ithna Asheri Union Bulletin
Opening Ceremony of Husseini Shia Islamic Centre Souvenir Issue Newsletter
Stanmore London December 1989 Rabiul Akhar 1410
Mohamed Ramazan R. Jaffer of London Stanmore
SECRETARIAT
AFRICA FEDERATION ARCHIVES SECTION
13th July 2018 (29th Shawwal 1439 AH)
Reference: https://gallery.mailchimp.com/5496132269473a782cfb7b798/files/b1b17a83-5b31-40dc-9cdf-333c9f5d5673/Archives_Bulletin_Ramazan_bhai_R_Jaffer.pdf