Pirbhai Visram - Lamu, Tabora, Bukoba, Kampala
Death
Death Date: June 26, 1960 / 1st Muharram 1380
Brief Profile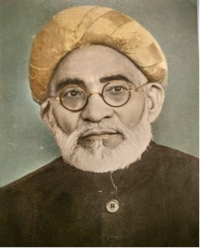 Pirbhai Visram fondly known as "Pirbhai Kaka" had submitted a settlement history of our community to the Secretariat of Africa Federation in 1953. His report covers four areas where he lived - Lamu (1897-1910), Tabora (1905-1909), Bukoba (1914-1945) and Kampala (1945-1953). His valuable contribution to the preservation of history of our community is deeply appreciated. We hereby submit his story:
Migration to Lamu (Africa)
Pirbhai Visram came to Africa at the age of 17. It was 1897 and Lamu was a major port on Eastern coast of Africa. He lived in Lamu for 5 years and the population of our community was 300.
Families of Lamu
The main families in Lamu were: Dewji Jamal of Bhavnagar - whose main business was in Mumbai but the family members had travelled to Africa around 1880. They had branches in Zanzibar, Mombasa, Kismayu and Lamu. Kanji Hasanhi was from Jam Khambhalia and was known as such. They came to Lamu around 1885 and their descendants were Dewji Kanji, Daya Kanji, Panju Kanji, Shamji Kanji and Ramji Kanji. Each of the five brothers had his own business and they were 70 in total. Their main business was import and export and had dealings with Arabs and Indian traders upcountry and with whom they had developed mutual trust. The family of Hemraj Ladhani consisting of 40 individuals had moved in from Bagamoyo. They were four brothers: Rawji Hemraj, Abdulla Hemraj, Bandali Hemraj and Hasham Hemraj - each with his own business. They came to Lamu between 1880-1890 from Bagamoyo. They were originally from Kutch, India. Apart from businesses, they also owned farms.
The family of Jessa Bhimani had arrived from Jamnagar around 1880-1890. The main families among them were Nasser Jessa, Mohamed Jessa and Moti Jessa. Their main business was in the upcountry towns of Siyu and Faza from where they used to bring grain and foodstuff to Lamu.
The family of Bhimji Kanji of Dabasang arrived somewhere around 1880-1890 from Jamnagar, India. Their business was concentrated at a village called Pokomoni on Tana River. Two enterprising individuals in this family were Hassan Walji and Hirji Walji. The area of Pokomoni was inhabited by people with primitive customs. There were a lot of wild animals in this area. Tana River was full of crocodiles and we can envisage the adventurous nature of these two individuals who crossed this river on regular basis. Their bravery was indeed praiseworthy. The sixth family was of Dhanji Samji who arrived around 1885. Their business was at Mkunumbi, opposite the island of Lamu. In order to travel to Lamu, they had to go on foot or on mules after which they would travel by small canoes. Business was very good and was spread out to the surrounding area of Witu. There were 20 individuals in this family. The three brothers Molu Ramji, Walji Ramji and Damji Ramji had also arrived during the same period. There were 20 individuals in this family, mainly dealing in Khanga and textiles. They were a farsighted and enterprising people. Instead of sitting at their shops waiting for customers, they would pack bundles of textiles and clothing and would go to their customers' shops and homes in the countryside and deliver the merchandise. They became very prominent and successful in this business and this led them to be nicknamed "Chittilesso" dealing with special type of cotton cloth. The locals still know them by this nickname.
Hirji Bhanji, Alibhai Bhanji, Merali Bhanji and Nanji Bhanji of Jodia arrived in 1890. The arrival of these four brothers was a blessing to our community as they had some knowledge of English language and this came as a relief to the community. Three of the brothers lived at Mkunumbi while Hirjibhai lived in Lamu and traded mainly with Somalis who had a nomadic lifestyle. Hirjibhai used to buy beads from them and sell a special type of cloth called Marikani. Apart from this business, he used to own canoes and buy and sell goods with traders from islands across Lamu. The family of Jamal Jessa arrived in Lamu around 1885. There were 15 members in this family and the family of Ismail Kalyan arrived around 1890.
Jiwan Rajan and his uncle Mawji Daya, together with about 20 farmers from the Sindhi and Ahir community, both Hindu and Muslim, arrived in one dhow. They brought Indian farming equipment with them. The District Commissioner of Lamu at that time, Mr. Rogers was a kind man and he provided the two - uncle and nephew - with 50 acre plot for farming on a temporary basis. The devotion by the pair and with the hard work by the farmers, accompanied by adequate rainfall, led them to an excellent harvest. Just as the time to reap the harvest was due, there arose a fierce disagreement amongst the farmers. In the looting that followed, all the harvest got destroyed. The farmers were deported to India. Although this pair did not succeed in their venture into agriculture, but their efforts must be applauded. We also had the concern of Issa Thawer who was the agent for ships and dhows who had managers and agents only and no family members.
Apart from the above, there were quite a few of our community members who were involved in small business and retail trade. There were also three Bhatia families in Lamu. They were known as sailors and they were involved in bringing cargo from Mandvi, India. There were a large number of the Bohra community members who were mainly involved in iron and wood products and as tin-smiths of travel/storage trunks and lota (watering can). The Bohras had established themselves as solders and welders, akin to what they were famous for in India. We did not have a resident advocate in Lamu. As and when necessary, Br Alimohamed Sheriff used to come here from Zanzibar to sort out legal issues. Br Alimohamed Sheriff had also written a book called "Kusanp" giving his perspective on a serious discord in some members of the Lamu community.
The government had not given much importance to education and there was no school or educational establishment in town. Pirbhai Kaka's elder brother Jiwan Visram started a private class teaching Gujarati and Arithmetic (mathematics). After staying in Lamu for five years, Pirbhai proceeded to Tabora.
The Tabora and Bukoba Venture
At the age of 22, Pirbhai Kaka left Lamu for Tabora where he arrived in 1904. He worked for four years as Manager in the firm of Sheth Omar Abdulkarim & Sons. It took him 45 days to travel by foot from Lamu to Tabora via Bukoba.
Families of Tabora
There were six main families in Tabora which he can remember. Sheth Nasser Virji was running a booming business and their merchandise went to distant places like Ujiji, Rwanda and Bujumbura. Arabs used to be their major customers. At that time it would take about 45 days for merchandise to reach Tabora from Bagamoyo, the main port. The goods were carried by porters who had to pass through dense forests amid danger of attack by wild animals. Sometimes the porters would be looted by raiders. There was no way to get any news of the movement of goods. It is only when the porters would reach Tabora that they would tell of their escape. Under such difficult circumstances, the company was still able to expand its business and had branches at Mwanza, Bukoba, Biharamulo, Dar es Salaam, Kigali, etc. They were considered King among the businesses in Tanganyika and they had a great influence on the German government of the time.
Merali Remtulla's family moved from Bagamoyo to Tabora around 1900. They too had business connections in Ujiji and Bujumbura. Some of our community businesses had been established in Bagamoyo at the time of Sultan Barghash, before the occupation of Tanganyika by the Germans. Abdulla Allarakhia's family moved from Bagamoyo to Tabora around 1900. They had booming business with Ujiji and Bujumbura towns. It would take porters about 20 days to carry goods from Tabora to Ujiji.
Sheriff Jiwa with his brother Jeraj Jiwa arrived in Tabora in 1902 after travelling from Bukoba via Biharamulo. Sheriff sailed from Tithwa, Kathiawad, India in 1899. He worked at Allidina Visram for one year and then started his own small business. His honesty and business acumen led to steady progress. In a short time, they had branches in Mombasa, Bukoba, Mwanza, Ujiji, etc - all being business hubs at that time. Due to their friendly nature and hard work, they soon became part of the major business firms of the time. Nazarali and his son Mohamedali started a soda factory in Tabora. The business was very successful. Unfortunately Kaka does not remember Nazarali's father's name.
Apart from the above, there were some small retail shops belonging to our community. Arabs were the main buyers and our community members were their main suppliers. There were about seven Ismaili families and about two Hindu families, mainly artisan e.g. carpentry. In 1909, Pirbhai Kaka left Tabora for Bukoba where he stayed for a month before leaving for India. In 1914 he returned to Bukoba where he lived upto 1945. He writes, "Bukoba was a completely new settlement. At the German Government offices (Boma) some officers were carrying out their duties in grass-thatched huts.
Family Business (Bukoba)
The following businesses had been established in Bukoba at that time:
Sheth Nasser Mawji - Established in 1904
Sheth Nasser Virji - Already in the third successful year since it s establishment.
Sheth Sheriff Jiwa - Also in the third year of success
Sheth Walji Bhanji - Established in 1907 and growing very well
Sheth Pirbhai Gulamhussein - Arrived in 1908
Sheth Amarsi Kurji - Arrived in 1912
Some more community members kept on arriving and opened up small businesses. By 1914, the community had grown to 150 people. Once the Government allowed business with Rwanda-Burundi, the following opened their branches in Kigali:
Pirbhai Gulamhussein & Co
Life Journey
This section covers our community in Uganda, Congo, Ruanda-Urundi (presently Rwanda and Burundi). In 1940, Pirbhai Visram (Kaka) who lived in Bukoba opened a branch in Kampala, Uganda. The branch started growing steadily and it ventured in coffee business in 1942. Pirbhai's eldest son Gulamali operated the business. Gulamali was known for his diligence, knowledge and business acumen. They sold their Bukoba Coffee Factory to Rashid Moledina and moved to Kampala. Pirbhai Kaka then lived in Kampala till his death. Relating to the settlement of our community in Kampala, Kaka writes: "Although I moved to Uganda in 1945, I travelled to Kampala quite often after Tanganyika came under British mandate in 1918. I will therefore try to recall about families settled in Uganda:"
Community members started establishing their business from 1902 onwards. Sheth Bahadurali Mawji established business in Jinja and Kampala in 1904. Hasham Jamal Rattansi started their business in Mbale and Kumi between 1905 and 1910. By 1920 they had built cotton ginneries. Sheth Abdulla Nathoo opened a business during the same period in Jinja. Cotton farming had started in Uganda and he built a cotton ginnery in Busoga district. Haji Mehralli family had business in Jinja and had started constructing the ginneries and had made a valuable contribution to cotton industry in Uganda. Sheth Walji Bhanji had established themselves in Teso district by constructing ginneries.
Jamal Ramji was like a jewel among the businesses of our community. They started their business in 1910 dealing with clothes. Due to their hard work and diligence, they made huge progress and by 1920 had established ginneries. By 1930, they involved themselves in Coffee business and are ranked top in coffee business. Sheth Jamal Walji, Ladha Kassam, Jaffer Pardhan and others had migrated from Malia, Kathiawad, India in 1920. All of them had cotton ginneries. Sheth Rashid Nurmohamed had arrived in 1910 and their business was considered among the top ones in the country. Sheth Amarsi Sunderji and Kurji Jetha had spread out their busineses too. At Hoima we had Kassam Mohamed and Alibhai Rattansi and at Masindi we had Mawji Walji and Alibhai Mawji. Establishing businesses in these areas between 1910 and 1920 led to their development. At Toro, business activity was on increase during the period 1910-1920 as a result of settlement of our community including Sheth Pardhan Jivraj and Sheth Abdulrasul Moledina.
Some joint business ventures had spread out in the countryside in Ruanda and Urundi. At that time the countries were under German rule. These adventurous companies had reached the far-flung Gisenyi port on Lake Kivu. On the opposite side of the lake was Congo, which was governed by the Belgians. There was lot of business activity between the two. Pirbhai Gulamhussein had several branches in Congo. Our community's businessmen in Bukoba were very successful people in trade around this area. All export and import from Bukoba was done by our community members while there was only one concern of the Ismaili community, Alidina Visram, who were winding up their businesses.
Like Bukoba, our community were very successful in Ruanda. There were a few Hindu artisans who lived in Bukoba and Ruanda. The reader, in the comfort of his coach and under electric lighting, can imagine the Africa at the time we lived in - unknown and dark. Every step taken by residents was fraught with danger of attack by wild animals. In the heavily humid climate, there was fear of sickness due to malaria and other diseases and absence of reliable medical treatment and facilities. Even if one was to imagine such conditions, very few would be able comprehend vividly the immense difficulties which were faced by our community and how they stood firm in the face of these difficulties. Their risk and bravery has resulted in bringing the country to its present stage of the development and their contribution needs to be most appreciated. This area was the one of the battle fields during the First World War (1914). Tanganyika and Ruanda-Urundi, both being German territories were under attack. Movement of merchandise had stopped during the war. Most of the centres and large towns were looted. Being the top business community, our community suffered most. Others, who had minimal property or business, had little to lose. Germany lost the war. Ruanda-Urundi came under Belgian and Tanganyika under British jurisdiction. British administration led to sense of stability and security in the country. Africa became famous as a result of this war and Indians in India, being used by the British administration; they found it easy to migrate to East Africa.
Between 1920 and 1930 there was a lot of migration of Hindu, Ismaili and other communities from India. This tide of humans led the British government to enact Immigration Act. Due to political situation and the looting suffered by our community during the war, our leadership in business started to decline. There are some businesses in Bukoba still holding sway e.g. Rashid Moledina, Sheriff Jiwa, Kassamali Allarakhia, Suleman Jaffer, among others. In 1925, Pirbhai Kaka left the concern of Pirbhai Gulamhussein and started his own business in the name of Pirbhai Visram. In 1930, he ventured into industry and installed machinery for coffee, oil and flour. Pirbhai was the first person to venture into industry in Bukoba where most of the businessmen had never shown interest in industries. By 1920, most of our community had established in the Ugandan countryside. There were a lot of Ismailis, most of them businessmen. There were a few Hindus mostly as accountants, clerks, agents or civil service in the government.
Starting 1920, after the establishment of British administration following the defeat of Germans in the war, there was a lot of migration from India to Kenya and Uganda as was the case in Tanganyika. Most of the migrants from India were Lohanas, Vaniya and Patidar community. Sheth Nanji Kalidas and Vithaldas Haridas constructed sugar factories at Lugazi and Kakira around 1920. They were also involved in the cotton industry. British rule had brought security and people found safety in venturing into business. The great businessman of Uganda, also considered a King business community, Alidina Visram passed away in 1916. His death resulted the slipping of his power and several others rose in his stead. By 1925 the business had closed down.
Pirbhai Kaka does not remember when Br Kassamali Jaffer left Jamnagar, India for Zanzibar and then Mombasa. His son, Habib famously known as H K Jaffer started as a clerk at Standard Bank in Mombasa. He later obtained agency from the South British Insurance Company for Jinja and Kampala branches. Thanks to the efforts and business acumen of Habibbhai, this insurance business expanded and it eventually became the top insurance company in the country. Habib bhai is the member of the legislative assembly of Uganda for the last 15 years. Kaka says that although he does not know about his education level, his oratory power and excellent control over English language is praiseworthy. He is influential in government circles and this has helped the community a lot.
Our community may have undergone some setbacks due to circumstances, but a few have continued to be in leading positions in business during the period 1940-1953. Jamal Ramji & Co was leading in Tea and Coffee farming and cotton industry and they also did buying and selling; Jamal Walji & Co was leading in Tea and Coffee farming and cotton industry; the families of Habib Walji and Jaffer Pardhan were leading in spare parts for motor vehicles; Hasham Jamal family were leading in Saw Mills and Cotton business; Ladha Kassam in Cotton and Grocery; Sunderji Jetha's descendants Alibhai Sunderji in Oil and Soap business; Gulamhussein Kurji in Saw Mills business; and Merali Dewji are foremost in the Cotton industry.
At the end of the letter detailing the history of our community, Murabbi Pirbhai Visram (Kaka) writes (in 1953): "I would like to clarify that this should not be considered a complete historical document as this is only from my memory. Members of our community from Zanzibar, Kenya and Tanganyika writing an official history, in proper sequence, may find information in this document helpful in filling in the blanks. I would consider myself fortunate for such consideration. Since I have not lived in most of the parts of Zanzibar, Kenya or Tanganyika, I have written only about Lamu. I end my report by hoping that a chronological history will be written by my scholarly brothers." Pirbhai Kaka passed away on 26 June 1960 (First Muharram 1380) at the age of 80 and is buried at Kampala Cemetery.
Please recite Sura-e-Fatiha for the Maghferat of Pirbhai Kaka and the Marhumeens mentioned in these 3 parts of the article and all the Marhumeens who have served our community who played important roles in the development of our community in Africa we see today.
Source: 1960 Trade Directory
Secretariat
Africa Federation Archives Section
(Published in 3 parts)
12th February 2016 (3rd Jamadi ul Awwal 1437 AH)
19th February, 2016 (10th Jamadil Awwal 1437 AH)
27th February, 2016 (18th Jamadil Awwal 1437 AH)
Reference: https://gallery.mailchimp.com/5496132269473a782cfb7b798/files/AFED_Archives_Bulletin_History_of_Lamu_KSI_Community_Pirbhai_Kaka_Part_1.pdf