Murtaza Mohamed Hussein Rashid Hasham (Daktari)
Birth & Death
Birth Date: In The Year 1962
Death Date: October 22, 2006 / 29th Mahe Ramadhan 1427 AH
Brief Profile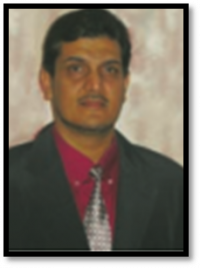 Dr. Murtaza Mohamed Hussein Rashid Hasham fondly known as "Daktari" was born in Mombasa in 1962. He graduated from University of Nairobi, in 1987. Doctor Rashid owned and practiced at Pwani Medical Clinic where his philanthropy work was well known.
Community Services
Dr. Rashid was very active in community activities from his youthful years to promote Islam; serving in Ithna Asheri Young Men's Union and Husayni Madrasah in Mombasa and was part of the Torch Editorial Committee. Dr. Rashid took active part in the Muslim Students Association of the University of Nairobi, together with others such as ex-Mayor of Mombasa Taib Ali Taib. His philosophy was that "No one can complain about the status of the community affairs and then do nothing about it; you have to walk the talk by taking active part in the leadership of the community" and he lived on to it! His busy schedule did not preclude him in any way in serving the community diligently and was a Secretary of the Jamaat when he bid farewell to this transient world.
He initiated and single headedly brought Mombasa Jamaat into the digital age with the start of the now famous Mombasa Jamaat Samachar and email bulletins that kept the community abreast with events. Indeed, his passion for serving the community was immense. He was the founder of Junior Volunteer Corp and rallied the young boys to serve, as well as took them for outings and camping. He was head of Students Welfare Section of Husayni Madrassah. He was instrumental in starting the Itikaaf practice which now happens annually in Mombasa in Mahe Ramadhan. He was also a member of the marriage reconciliation committee and took keen interest in Tabligh activities and promoted many programs of Bilal Muslim Mission of Kenya including medical programs that he initiated at Bilal.
Death
Dr. Murtaza Mohamed Hussein Rashid Hasham (MBBS) left us for his final abode on 29th Mahe Ramadhan I427, 22nd October 2006. He will be fondly remembered by all younger members of the community for his jovial character and for his immense efforts in youth activities. His last hours are remembered by most of the members of Mombasa Jamaat playing cricket at the Jaffery Sports Club. The passing away of Dr. Murtaza Mohamed Hussein Rashid is a loss not only to his family but to the entire community.
May Allah SWT repose the departed soul in the abundance of His mercy and rest him amongst the chosen ones – Ameen.
Let us remember Dr. Murtaza Mohamed Hussein Rashid and all the Marhumeen who have served in various Jamaats/Institutions in different capacities with Sura-e-Fateha and for their maghferat.

Article by: Murtaza Jivraj (Kerbala)
Article Source: Federation Samachar, Issue No. 5, Rabi ul Awwal 1428 / April 2007

SECRETARIAT
AFRICA FEDERATION ARCHIVES SECTION
9th October 2020 (21st Safar 1442 AH)
Reference: https://mcusercontent.com/5496132269473a782cfb7b798/files/9404d3bf-e05c-44bb-89b4-15568da096ce/AFED_Archives_News_Bulletin_Marhum_Daktari_Dr._Rashid_final.01.pdf