Muhammadhussein Sachoo Lalji (Mzee Lalji)
Birth & Death
Birth Date: In The Year 1925
Death Date: July 18, 1989
Brief Profile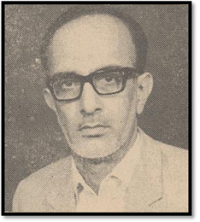 Alhaj Muhammadhussein Sachoo Lalji was popularly known as Mzee Lalji in Arusha. He was a dedicated social worker who devoted his entire life imparting religious knowledge to our children. Born in Zanzibar in 1925, Marhum Mzee Lalji actively participated as a Maalim of Faize Ithnaasheri Night School (Madressa) and also held the post of Headmaster for one full term. He was methodical and passionate in teaching, and had vast knowledge in Islamic history and Fiqh. His other services in Zanzibar include Ithnaasheri Volunteer Corps, Sabil-e-Hussein management and organization of Hussein Day.
Community Services
He migrated to Arusha in 1968 where he continued his community services, particularly in the field of religious education. He was in charge of the Madressa run by the Jamaat and took a leading part in religious ceremonies; he led Namaz-e-Jamaat whenever required, conducted Aamals on special occasions and assisted in the Kafan Dafan. He was also an active member of the Supreme Council team of advisors on moon sighting, which has proved to be most beneficial to the Community.
His death deprived Arusha Jamaat in particular and the whole community in general of a most valued elder whose guidance and wise counsel on religious and social matters will be very much missed.
We pray to Allah by His grace and mercy to grant maghferat and rest Marhum's soul in eternal bliss within the proximity of our Chaharda Masumeen. Ameen.
Federation Samachar Volume 24 Issue No. 2 – Jamadiul Aakhar 1410/January 1990
ARCHIVES SECTION OF THE AFRICA FEDERATION
28th October 2015 (14th Muharram 1437)