Mohsin Mohamedhussein Rajabali Alidina (Maalim)
Birth
Birth Date: April 10, 1943
Last Eid ul Fitr with Maalim
It was on Friday, 9th August 2013 (1st Shawwal 1434 AH) on the day of Eid ul-Fitr, as we entered the Dar es Salaam Mosque, the voice of Professor Mohsin Alidina, popularly known by the title of Maalim, a familiar voice coming from the inner self echoed throughout the mosque while he was reciting "Dua-e-Nudba", one could feel the poignant serene of the surrounding as people started to assemble in the Mosque for Salatul-Eid Happy on one hand for the Eid celebrations and sad on the other hand to bid farewell to the blessed month of Ramadhan.
Maalim was a regular visitor to Dar es Salaam, after migrating to the USA in 1993. He would be seen briskly walking to the Mosque clad in a traditional Khanzu and Kofia from across the street to the Mosque where he stayed. A friend of late Maalim, Br. Mohamed Nathoo was seated next to Maalim in the mosque, he recalls - "My last conversation I had with Maalim is when the Resident Aalim Sheikh Murtadha Alidina narrated in Eid Khutba the incentive being offered by the Dubai authorities to its nationals to curb down obesity in Dubai by reducing their physical weight during the Holy Month of Ramadhan, they are awarded 1 gram of gold for every 1 kg weight loss. Jokingly I murmured to Maalim that I went down by 1 kg in weight, would I not deserve 1 gram of gold, as spontaneous and stylish as always, he said "Mohamed wewe si mwarabu". This was his last sentence uttered to me, sadly 20 minutes later he suffered cardiac arrest while seated and listening attentively to the Eid ul-Fitr message of the Chairman of the Africa Federation which was being delivered by Alhaj Zulfiqar Chandoo, the Hon. Secretary of the KSI Jamaat of Dar es Salaam".
Brief Profile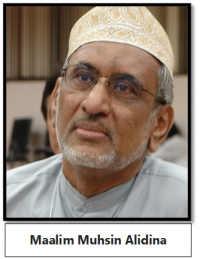 Maalim was born on 10th April, 1943 from a religious and a humble family of Alidina in Zanzibar. During the time before the Zanzibar Revolution in 1964, the community were actively involved in religion, secular education and sports was also given prominence in Zanzibar by mostly all Asian communities in Zanzibar, including the Arabs, Persians and Comorians. Maalim was gifted with all the three, religious, secular and also sports.
Educational Skills
Late Maalim had his primary education in Sir Euan Smith Madressa and completed his Secondary education at the King George VI Grammar School (1957-1962) in Zanzibar. He was naturally talented and gifted and always came out with flying colors in the exams, he as recognized as an outstanding student in the entire school. His desire of acquiring education did not end in Zanzibar and the journey continued to mainland where he pursued his Bachelors of Arts Degree studies in Nairobi and Masters Degree at Dar es Salaam University. As ambitious as always in the field of education, he pursued PHD degree in New York after his migration to USA in 1993.
Community Services
While in Zanzibar he volunteered and offered his services as a teacher in the Madressah (famously known as School Faize). He also taught at Husseini Madressah in Dar es Salaam, before joining the Dar es Salaam University as a Researcher/Lecturer. He was also a teacher in Shaban Robert and Mzizima Secondary Schools, prior to joining the University of Dar es Salaam.
Maalim Mohsin Alidina was a key player in the establishment of Al Muntazir Islamic Seminary of the KSI Jamaat of Dar es Salaam, he was among the team of committed members of our community who brought up the idea to the Jamaat when the education standard in the country had dropped drastically, he was joined by others, namely Raza Gulamhussein, Mohamed Virani, Hassan Hirji, Dr. Mohamedraza Dungersi, Hussein Dewji, Kermalli H. Kermalli and Pyrarali Champsi who were the prime movers in the establishment of the Seminary. The work started from 1982 and the Seminary was registered in February, 1986 and Dr. Mohamedraza Dungersi was the first Chairman of the Board of the Seminary and Mohsin Nathani was the Hon. Secretary. The Seminary came into stream during Alhaj Aliraza Rajani's period of leadership of the Dar es Salaam Jamaat. Today, the community feels proud of the excellent facilities and the high standard of education provided by Al Muntazir Islamic Seminary under the CBE of KSI Jamaat of Dar es Salaam. The seeds sowed by the past members and leaders have obviously bore fruits as the new members continues to raise the standards of the Institution and academic performance to new heights of success. Number of students have thrived since then, and continues to grow each year.
School Faize in Zanzibar was earlier located next to the Kuwwatul Islam Jamaat Mosque and later on shifted to Kiponda behind the Mosque when the late Alhaj Hussein Dharamsi Gangji donated a building for the School Faize to the Jamaat in 1959. Murabbi Hussein bhai Dharamsi with some of the Madressa teachers including Mohsin Alidina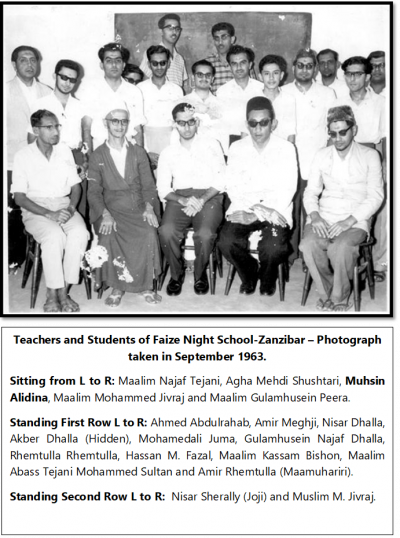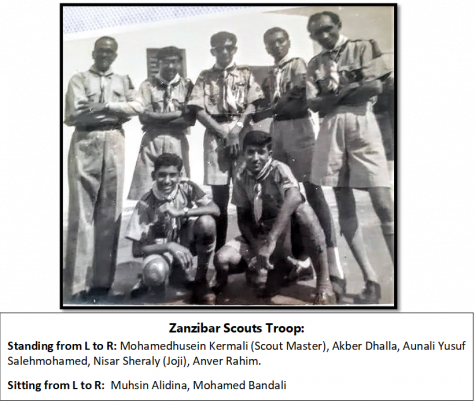 Education Services
Late Maalim was employed by Al-Khoe Benevolent Foundation in New York, USA, until his departure from this material world; he occupied the position of the Director of Education Services comprising of three schools, they are: A State-accredited Al-Iman Elementary, Junior High and High School from Pre-K to 12th Grade, Al-Iman Saturday School for religious studies and Al-Iman Summer School for academic tutoring and religious courses. He was the overall supervisor and advisor to the Principals of the three schools, overseeing policies, administration and curriculum development. Maalim's main focus has always been the education; here are some of the information of his career and services:
1. Principal/Teacher (Al-Iman Elementary, Junior High and High School)
- Period of his service: January 2010 – Present (3 years 8 months)
2. Professor of Swahili Language (New York University)
- Period of his service: September 1996 – Present (17 years)
3. Professor of Swahili Language (Hofstra University)
- September 2000 – June 2002 (1 year 10 months)
Sportsmanship Skills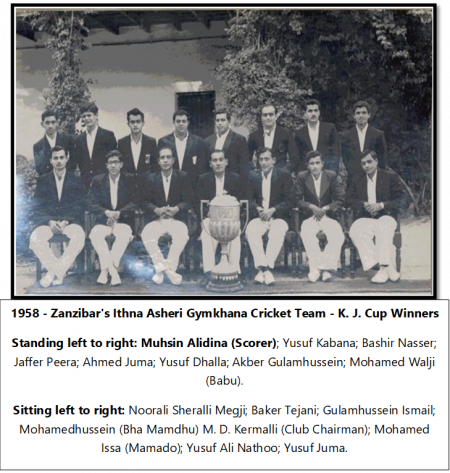 Br. Mohamed Nathoo narrates – "In the game of cricket, Maalim used to be an opening bowler during the tennis ball cricket days. His bowling action was identical to Fazel Mahmood, hero of the Pakistan team during 50's and 60' and he was nick named Fazel Mahmood then. His dedication and love to serving the community commenced at a very young age where he was a scorer of Ithnasheri Gymkhana "A" in Zanzibar. He was quite meticulous in keeping the records that other clubs used to borrow data and records. He also represented the club in cricket in second string of the club".
Joining Union Sports Club when he moved to Dar es Salaam, he was quite active as a player, committed administrator and a regular spectator, a devoted and a staunch supporter of Union Sports Club - "Come-On Champions" was his pet callout at the top of his voice to applaud the Union Sports Club on the cricket ground. He was instrumental in the restructuring of the Union Sports Club Constitution and introduced Discipline Code (Green Book) in the Club while he was a Chairman of Union Sports Club Selection Committee in 1980 where in that season the club clinched all the trophies of Dar es Salaam Cricket Association tournaments.
Obituary & Tributes
Tribute by Hon. Secretary of the Africa Federation, Aunali Khalfan
The Hon. Secretary of the Africa Federation, Aunali Khalfan whilst expressing his deep sorrow and grief to the family of late Maalim Mohsin, recalled an important function of "Maulidi" held for the first time in the KSI Jamaat Imambargha in Dar es Salaam in 1991, during the period Alhaj Aliraza Rajani's was the President of the Jamaat, and Aunali Bhai was the head of the Organizing Committee of the Miladun-Nabii (SAWW) hosted by the Jamaat on a grand scale. The then President of the United Republic of Tanzania, Alhaj Ali Hassan Mwinyi was the Chief Guest. Maalim Mohsin was in Dar es Salaam at the time when Aunali Bhai requested him to be the Master of Ceremonies and also to deliver a speech in Kiswahili, Maalim as confident and versatile as always made a moving speech by briefly explaining the role played by Africa (in Abyssinia) in the year 622 when the Holy Prophet of Islam advised his followers to go to Abyssinia for protection to escape the persecution and hostilities by the enemies of Islam.
Tribute by H.E. Alhaj Ali Hassan Mwinyi
H.E. Alhaj Ali Hassan Mwinyi was impressed with Maalim's oratory and his control of Kiswahili language; after the function, His Excellency congratulated Maalim for the impressive and inspiring speech.
Tribute by Br. Sajjad Bashir Tejani
(Former Dar es Salaam Husseini Madrasah Student, presently lives in London, U.K.)
My earliest memories of him go back to 1982 when Union Sports Club (USC) had arranged a charity walk from the mosque in Dar-es-Salaam to the Dar-es-Salaam University roughly about 15 kilometers. I am sure it must have been his idea and after the walk had finished he invited the players to his residence at the University campus for a chat and of course I was there accompanying my father.
Besides Cricket, I was honored to be one of his students in my last year at Madressah in the year 1992. Maalim was our Aqaid/Fiqh teacher. This is when I realized his scholarly aptitude and his style of teaching was one I had not come across even in my secular school. After all he had a PhD in Kiswahili and was a senior lecturer at the University of Dar-es-Salaam. He taught Aqaid so eloquently and dissected the books written by Syed Saeed Akhtar Rizvi so well, I wished the classes were recorded. He increased our conviction in our Aqeedah by going deep into the roots of our religion. Thinking back, we were so blessed to have Madressah five days a week and teachers of his calibre. Once in the subject of Fiqh, my classmate Hussein Hussein (now in Australia) and myself told him that we have come across in the books of Fiqh that reciting verses of the Holy Quran is Makruh in the state of sajda. He said he had not come across anything like that. The following week, before commencing his topic, he admitted it was true and quoted the rule number from the different Maraajaaes' Risalas going back to Ayatullah Burujerdi. He thanked us for drawing his attention and I can imagine him if we were in class now, he would have crossed his arms on his chest the way a cricket umpire would when his decision is incorrect proved by the Decision Review System (DRS). On another occasion, he was quoting some scholars and the tremendous merits of Salatul Layl. So, we questioned him, "Do you practice what you have just told us?". He said, "Yes, I try not to miss it." upon which we jumped and said "But you are supposed to keep it secret!". He immediately responded that "You are right but I am saying this in class because you asked and to encourage you to perform the prayer. I would not say this in public." he reiterated and then quickly moved away from the topic. There is a lot to write about our beloved Maalim, but suffice it to say that "We know not of anything but good of him" and this what everyone attending his funeral must have recited in the Salaat-ul-Meyyit.
This day of Eid-ul-Fitr will be full of his memories shared amongst friends and family. He will always be remembered as our Maalim and let us pray to the Almighty to bless his soul and raise his status in heaven to be granted a place near the 14 Masoomeen (AS). May Allah (SWT) reward him for all his good deeds and may He pardon all his sins. Finally, the words of Imam Ali (AS) "I am a slave of he who teaches me one letter of the alphabet. If he wishes, he may sell me; if he so desires, he may set me free; and if he cares to, he may deploy me as a slave".
May Allah (S.W.T.) rest the departed soul in the abundance of His mercy and in the proximity of Aeema-e-Tahireen (A.S.). The death of Maalim Mohsin Alidina is not only a loss to the family but also to the community that he dearly loved and served readily for many years, going back to Zanzibar, Dar es Salaam and New York, USA.
We request the readers to remember Marhum Maalim Mohsin Alidina and many other personalities in the above photographs who have preceded us to the next abode with Sura-e-Fateha
Photographs by courtsey of Br. Mohamed Nathoo/Jaffer Dharamsi
Archives Section
The Federation of KSI Jamaats of Africa
Dar es Salaam
Resource: http://africafederation.org/oldafrica/publications/archives/790-late-maalim-mohsin-mohamedhussein-rajabali-alidina-a-brief-profile