Mohamedhussein Gulamhussein (Lamu)
Birth & Death
Birth Date: In The Year 1912
Death Date: December 16, 1987
Brief Profile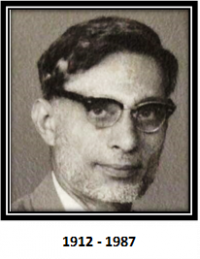 Alhaj Mohamedhusseinbhai was born in 1912 in Lamu - a luxurious, tropical island at the mouth of River Tana. Lamu was once a prosperous trading centre and Mohamedhusseinbhai's grandparent, Daya Kanji, an indigenous of Khambaria of Kathiawar Province of India landed in Lamu in 1890. Daya Kanji opened a small duka in Khumumbi, in the interior, dealing in course of time in Zanzibar cloves, Gafa (a raffia mat once used for packing and drying cloves and copra), Ghee, Chora beans and Indian Cowries.
Life Journey
Haji Mohamedhussein's father died during his infancy and was brought up along with two elder brothers by their grandfather, Daya Kanji. Gradually as the grandchildren grew up, Daya Kanji extended business to import and export with the neighboring countries. A small fleet of four dhows served as carriers plying between these countries. Soon after 1922 the business came to be known under the name of his elder brother, i.e. Kassamali Gulamhussein & Bros. The prominent Daya Kanji family are associated with the cousin families of Merali Dewji Kanji, Alibhai Panju Kanji and Velji Khataw Kanji who are also popularly known as Lamuwalla, being their first place of residence in Africa. A century ago, the Kanjis settled in Lamu and have been true to the soil.
With the growth of British influence in Mombasa; the port gained in importance. Simultaneously Kassamali Gulamhussein & Bros. with their hard work, enterprise and adventure were restless within the medieval boundaries of Lamu. In 1938, it was considered a natural step, under the shadows of great war and recent world depression having had its toll, that Mohamedhusseinbhai moved to Mombasa to open a branch. Success had its way and another branch was established in Mogadishu, Somalia in 1942 (closed in 1970). Mohamedhusseinbhai's first visit overseas was in 1948. Since then, he travelled extensively in course of family business more often to the Middle East countries where his business carried him. Acceptably fluent in Arabic and Persian, he was an accepted match for the Arabs for his business acumen and hard bargains.
Personal Life & Family
Mohamedhusseinbhai was an excellent companion. His jokes and kindness won friends and kept the company attached to him. He was a willing, all-ear listener. If you had a pet theory to expound, do it before him, but watch out at the end of the theory. There would be a barrage of questions. Invariably the theorist ends up with holes in his half-cooked theory and naturally a little wiser. Friends having abandoned theories in favour of his jokes and wise cracks.
Mohamedhusseinbhai was married and blessed with 16 children though hardly looked over the fifty bracket with his black hair streaked with white and active as a much younger man. His face magnificent in its lines and hollows and on it written the experience and hardship of time.
Community Services
He enthusiastically served Mombasa Jamaat under various capacities, including as Committee member, Treasurer, President in the year 1973 and as a Councillor. He was also Mombasa Jamaat Trustee elected on 17th March 1986. His and his family's contribution to Mombasa Jamaat and Bilal Muslim Mission of Kenya is noteworthy.
Mohamedhussein Gulamhussein Daya passed away on 16th December 1987 in Mombasa.
May Allah SWT repose the departed soul in the abundance of His mercy and rest him amongst the chosen ones – Ameen. We request our readers to remember him and all the Marhumeen with Sura-e-Fateha.

Article Source: Federation Samachar September 1975/ Ramadhan 1395 AH Vol. 15 No. 2
SECRETARIAT
AFRICA FEDERATION ARCHIVES SECTION
30th October 2020 (13th Rabi ul Awwal 1442 AH)
Refference: https://mcusercontent.com/5496132269473a782cfb7b798/files/494a8b32-19f7-4910-9aa3-ca1222e7f645/AFED_Archives_News_Bulletin_Haji_Mohamedhussein_Gulamhussein_of_Lamu.pdf