Masoomeen Sports Club (Kinshasa - Congo)
Existence of Sports Club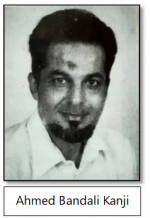 The Masoomeen Sports Club came into existence in 1985 with the opening of the new Mosque in Kinshasa. It was perhaps the youngest Club of our community where volleyball, cricket, table-tennis, badminton and tennis were being played.
The Volleyball team under the captainship of Salim Bhalloo, organized regular practice sessions and friendly matches with other clubs. It also took part in interclub volleyball competitions in Kinshasa. Cricket was played on seasonal basis - between March and September. Chances for competition were limited as there were only two cricket teams in Kinshasa. Nevertheless, spearheaded by the Captain Rizwan Rawji, the team was full of enthusiasm and the players just loved to play cricket.
Table-Tennis and Badminton was played as and when the members got time on week days and weekends. Tennis is basically one-man show. Ahmed Bandali Kanji (photographed), took keen interest in the game and practiced regularly. He also took part in Tennis Tournament in Kinshasa. Besides playing tennis, he also played volleyball and cricket. A man of pleasant personality. Ahmed was liked by all and the Club was proud to have him as a member. He was "THE OUTSTANDING SPORTSMAN" of the Club.
The basic Aim of the Masoomeen Sports Club was to promote Friendship and Brotherhood.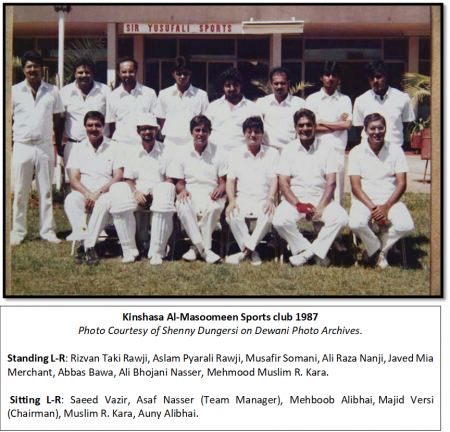 These are the sportsmen who have made our community proud in the sports arena. Our young and upcoming sportsmen should emulate their zeal and accomplishment.
Let us remember with Sura-e-Fateha all our Community Sportsperson who are not with us anymore and all our Marhumeen. Al Fateha.
Article Source: 2nd AFED Sports Festival (25th to 28th December 1985) Bulletin Produced by Jaffery Sports Club Mombasa, Kenya.
Prepared by: Marhum Murtaza Jivraj (Kerbala)
SECRETARIAT
AFRICA FEDERATION ARCHIVES SECTION
23rd April 2021 / 10th Ramadhan 1442 A.H
Resource: https://mcusercontent.com/5496132269473a782cfb7b798/files/2d69b520-957d-4d9a-8a08-1fc701e5010a/Archives_Masoomeen_Sports_Club_Kinshasa.pdf