Marziabai Ramzanali Jivraj (Marziabai Husseinali N Ladha)
Birth
Birth Date: In The Year 1940
Brief Profile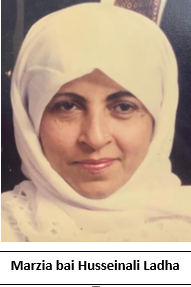 Marziabai Ramzanali Jivraj was born in Ujiji/Kigoma in 1940's. She was the 3rd born of 12 children of Ramzanali and Mariambai Jivraj. She did her primary and secondary education in Aga Khan School in Kigoma. At that time, Kigoma could offer education upto Standard 10 only, so she had to go to Bukoba for her 11 and 12. She was staying with her father's uncle Nurmohamed Ladha Asser in Bukoba. In the year 1963 she did her Std. 12 Senior Cambridge Examination in Bukoba and excelled with good grades. In 1964, she went to Bombay, India and completed her graduation in 1968 in Bombay Hospital College and qualified as a Midwife and Nursing.
Life Journey
In 1969, she got married to Husseinali Nurmohamed Ladha and settled in Bukoba. They were blessed with 2 sons and 1 daughter Nurmohammed, Gulamabbas and Sakina. In the year 1970 she joined the dispensary of Dr. Kiaruzi on voluntary basis. Later on she joined the Regional Government Hospital. In the year 1975 Lions Club opened a Dispensary in Bukoba through Dr. Kanabar. She joined this dispensary under Dr. Habib Bhanji and worked on voluntary basis upto 1986.
Community Services
Her routine work was at nights to visit the Senior Citizens who were sick and required medicines and injections. She used to serve people of all the communities and all her services were on voluntary basis. She was also active in communal work. From the year 1976 to 1986 she was the Principal of Ithna-Asheri Nursery School. At the same time, she was also the secretary of the Ladies Managing Committee and Husseini Madressa of Bukoba Jamaat in the 1980's. In the year 1986, she settled in Dar es Salaam and was the secretary of LMC - Dar es Salaam Jamaat for the term 1987 – 1989. In the year 2005 she migrated to the United States of America and settled in Boston with her son Nurmohammed. She is also a Zakira and recited majalis, nawhas and qasidas in Bukoba and Dar es Salaam and still continues to do so in U.S.A.
We pray to The Almighty for her good health and her continued services to the community.
Source: Federation Samachar Issue No. 4 Rabi ul Awwal 1427/April 2006 (Title: Bringing Community Together)
Photographs: Courtesy of Murtaza Jivraj, Gulamabbas Rustamali Ladha and Gulamabbas Husseinali Ladha.
Article prepared by Murtaza Jivraj (Kerbala)
SECRETARIAT
AFRICA FEDERATION ARCHIVES SECTION
11th December 2020 (26th Rabi ul Aakhar 1442 AH)
Reference: https://mcusercontent.com/5496132269473a782cfb7b798/files/3a637b09-cf87-4a55-a735-0277781122a6/Alhaj_Husseinali_N_Ladha.pdf