Kanize Zehrabai Gulamhussein Chandoo (Muallima Kanizbai/Baiji of Tanga)
Birht & Death
Birth Date: In November 1927
Death Date: December 12, 2009 / 25th Zilhajj
Brief profile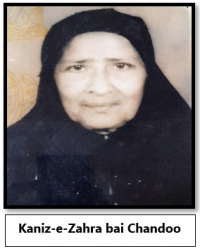 Kanizbai was born in Zanzibar in November 1927. She was the eldest of five children, of Late Fazal Meghji and Fatmabai Alibhai. She was initially brought up in the house of her grandfather, Marhum Alibhai Dhanji, but had to return to her father's house upon the demise of her mother. Back home she took over the caring of her father and raising her three siblings Rubab, Haider and Gulamabbas. At 18 years of age, Kanizbai got married to Gulamhussein FK Chandoo in Zanzibar. They were blessed with four surviving children - three sons and one daughter. After the birth of their first child, Kanizbai migrated from Zanzibar to Tanga to join her husband.
Community Services
In Tanga, Kanizbai started a Madressa from her home teaching Quran recitation and Dinyat to children of our community. Many fondly remember this madressa at Street No. 8, in Ngamiani area of Tanga. As it grew, and upon the request of the Jamaat, the Madressa was then shifted to the community mosque and Kanizbai went on to be a teacher and continued teaching Quran for many years therefrom.
With her passion for serving, and dedication, she was nominated as the Chairlady of the Ladies Managing Committee of Tanga Jamaat in 1972 and served continuously for 20 years until retiring in 1993. Her services to the Jamaat in Tanga were numerous, including attending to social and family matters, running the Madressa, partaking in the ghusl/kafan of ladies and also teaching the community ladies how to undertake this liturgy, hosting visiting zakiras, running the Ladies Quran Darsa in Ramadhan, among others. Many members of Tanga Jamaat and community members at large passing through Tanga knew that Kanizbai's house and family would be open to assist them in need at any hour – any day.
Legacy of Community Services
Kanizbai's family followed her legacy in serving the community.
Her sons Mohammed – being the Secretary and Trustee of Tanga Jamaat;
Aunali – Teacher at the Madressa in Tanga and Dar es Salaam as well as Joint Secretary and Treasurer of Dar es Salaam Jamaat;
(Late) Hassan – Lifetime Volunteer in Tanga Jamaat; and
daughter Sidikabai – Ladies Chairperson in Zanzibar Jamaat, Quran Teacher and a Zakira;
Grandsons Fazleabbas – being Secretary General of Africa Federation and Vice President of Nairobi Jamaat and
Zulfikar – currently serving Dar es Salaam Jamaat as Hon. General Secretary;
Jawad – served Education and Tabligh Boards in Dar es Salaam Jamaat and
Mujahid – Member of Kafan Dafan Team of Dar es Salaam Jamaat.
At her retirement, Kanizbai was honored as the Mother of the Jamaat for her selfless and dedicated services to the Jamaat in Tanga. She finally passed on to her final destination on 12th December 2009, the eve of 25th Zilhajj.

Article Source: Zulfikar Mohammed Chandoo (Paternal grandson)
Hon. General Secretary of Khoja Shia Ithna'asheri Jamaat of
Dar Es Salaam
Photograph Courtesy: Zulfikar Mohammed Chandoo
Article Prepared by: Murtaza Jivraj (Kerbala)
SECRETARIAT
AFRICA FEDERATION ARCHIVES SECTION
15th January 2021 (01st Jamadiul Akhar 1442 AH)
Reference: https://mcusercontent.com/5496132269473a782cfb7b798/files/45cce805-676c-4d47-84c6-547d2e839075/Mwaalima_Kaniz_e_Zehra_Gulamhussein_Chandoo.pdf