HUSAINY TRUST OF MADRAS (CHENNAI)- SOUTH INDIA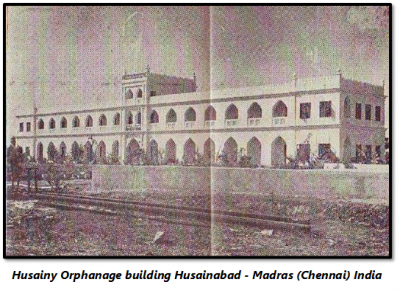 Trust Formation
In the year 1954, an appeal was received from the Husainy Trust of Madras (Chennai) for the funds to build the orphanage in Husainabad - Madras (Chennai). The appeal was made to our Khoja Shia Ithna Asheri brothers of Zanzibar and British East Africa. A team was formed in India of the prominent members of the Bombay Jamaat and the trustee of Board of the Husainy trust.
They were:
• Ramzanali P Ebrahim - President of Khoja Shia Ithna Asheri Jamaat Bombay
• Haji Razaali P Ebrahim - Chairman of Haj Committee
• Agha Mohammed Karim Isphahani - Managing Director of Habib Ismail Memorial Trust Bombay
• Maulana Sheikh Alhaj Gulam Muhammad Mahdi Khan Qibla - Trustee
• Khan Bahadur Mohamed - Chief Shia Qadhi Government of Madras (Chennai) and President of Husainy Trust
• Amin Khaleeli - Trustee
• S.V. Mir Ahmed Ali - Ex-Sheriff of Madras
• Haji Mirza Ahmed Namazi - Trustee
• Aga Sayeed Isphahani
• Mir Ahmed Ali - Trustee
• Mir Muhammed Ali - Trustee
Haji Razaali P. Ebrahim and Ramzanali P Ebrahim played the major role in contacting our brothers in Zanzibar and British East Africa for the funds.
The funds were organized by the following:
Zanzibar
• Haji Sabzali Thaver
• Mohamed Saleh Versi
• Haji MohamedJaffer Sheriff Dewji
• Anverali Hassan Virji
• Muhamad Hussein Alibhai Dhanji
• Sayeed Muhamed Taki Hussain Al Marashi
• Sayeed Muhammud Ali Al Marashi
Mombasa
• A. H Nurmohamed - AFED Chairman
• Muhammed Ali Noor Mohamed - President Ithna Asheri club
• Hussein Jethabhai - Vice President Quwattul Islam Jamaat
• Hussein Ahmed Bande Ali
Tanga
• Anver Ali K M Tharoo
Kampala
• Roshanali Darweshali
Arusha
• Sugrabai
Scout Troops of Dar es Salaam donated separately though R.R Jaffer.
The ladies of our community came forward in big numbers to donate towards this noble project. Many became the members of the Trust as yearly contributors.
Kindly click here to view [[1]] the list of ladies who donated.
The Husainy Trust, Thousand lights, Madras India, Donation Report 1955

SECRETARIAT
AFRICA FEDERATION ARCHIVES SECTION
18th January 2019/ 11th Jamadi ul Awwal 1440 AH
Reference: https://gallery.mailchimp.com/5496132269473a782cfb7b798/files/fcae6439-0baf-4a9f-8910-f88f68cdc12f/Archives_The_Husainy_Trust_Orphanage_of_Madras_India.pdf